Ryanair has said Dublin Airport operator daa should temporarily use land it owns around the airport for car parking over the summer period, to relieve an ongoing shortage in space.
The airline said daa owns a lot of land immediately surrounding the airport and some of this could be opened as a temporary parking facility at very short notice.
It said this would release pressure on car parking and keep costs lower for customers.
At peak times in recent weeks, daa has warned that it has no parking space available for passengers due to high demand and constrained supply.
Instead, it has urged them to take public transport or other alternatives to get to the airport.
Daa is currently awaiting a decision from the Competition and Consumer Protection Commission about whether it can purchase the former QuickPark facility near the airport.
It has over 6,000 spaces and was run as a car parking facility until the pandemic struck, but has been closed since then.
In a statement today, a spokesperson for daa said it rejects the "simplistic view" that it can simply open up fields at Dublin Airport this summer and conjure up additional car park spaces.
"Car parking requires infrastructure which requires planning permission. We are running the fifth largest transatlantic hub airport in Europe, not a county fair," the spokesperson said.
As it waits for the decision, Ryanair said Minister for Transport Eamon Ryan should instruct the daa to open land it owns for temporary peak time parking.
"Minister Ryan should also instruct the daa to withdraw its bid for the QuickPark car park to encourage other investors to introduce much needed competition for car parking availability at Dublin Airport," it said.
Ryanair also rejected daa's arguments that it needs a passenger price increase to fix staffing shortages in its security operations, claiming instead that the airport operator needs the extra revenue to pay for a new tunnel under the taxiway to the west apron.
We need your consent to load this rte-player contentWe use rte-player to manage extra content that can set cookies on your device and collect data about your activity. Please review their details and accept them to load the content.Manage Preferences
In its statement today, daa said its plans for the construction of a vehicle underpass in the middle of the airfield is required to improve access and safety on the airfield, allowing for the segregation of aircraft and vehicles, and the movement of vehicles to the west apron, which is now restricted following the opening of the new north runway.
"Our focus is ensuring that everyone has a positive passenger experience at our airports over the busy summer months ahead.
"We have had a very stable operation at Dublin Airport for several months now with over 90% of our passengers going through a resilient security operation in less than 20 minutes," the airport operator said.
Eddie Wilson, the chief executive of Ryanair, has strongly criticised the operators of Dublin Airport over the availability of parking at the airport this summer.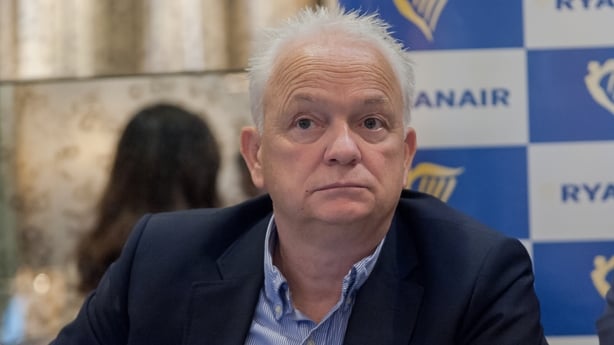 Speaking on Today with Claire Byrne, Mr Wilson accused daa of "always seeming to have some excuse".
He said last year the problem was that too few security staff were hired in time to respond to the strong rebound in passenger numbers following Covid, which resulted in long delays at the airport.
This year, he said, it is about "not having the foresight to do something about car parking well in advance".
Mr Wilson said Ryanair "put together a relatively straightforward solution for them [daa] to explore rather than them just making a list of excuses".
He said it is up to daa to run the airport and to ensure it has sufficient car parking space and it should have had the foresight to do something about it "months ago".
Mr Wilson said the security queues of last year are "largely fixed" for this summer but now the problem is car parking.