The Irish Fiscal Advisory Council (IFAC) has urged the Government to stick to its spending rule in October's Budget.
In its latest assessment report, the budgetary watchdog says spending more "risks repeating the mistakes of the 2000s" and could fuel inflation further.
Despite the billions flowing into the Government's coffers, the council thinks there is little room for manoeuvre in the upcoming Budget.
This is because with full employment and high inflation, pumping even more money into the economy now might add to inflation and could lead to "poor value for money" if spent on public infrastructure projects.
But the Government will also feel a squeeze because inflation will eat away at any planned increases in core spending and income tax measures.
IFAC estimates that if the spending rule is applied, which limits the overall increase in public spending to 5%, there may be a €1.3 billion shortfall in meeting the cost of just maintaining public services and there will be a higher income tax burden.
This means the Government may have to juggle spending priorities, tax measures, increases in social welfare and public sector pay to stay within the 5% rule.
IFAC urged the Government to establish the spending rule into law as "a first line of defence" in protecting the public finances into the future.
Responding to today's report, the Tánaiste reiterated that the public finances are strong.
"So we will have a strong budget, we are very conscious of the advice of IFAC of the need to watch inflation, that we do not fuel inflation," said Micheál Martin.
"On the other hand, we have to balance that against the fact that a lot of people are are under a lot of pressure in respect of the cost of living and in respect of access to services, and so forth, the cost of services," he added.
The Tánaiste said there will be tax relief in the budget and additional expenditure in terms of public services.
"The precise details of all of that will have to be worked out by the Government and the first step step will be the summer economic statement that we will have in a number of weeks.
"The Irish economy so far has proven to be resilient, but we're conscious that other markets that we export in to are going through choppy waters right now.
"So we will be conscious that anything we do will be sustainable and also strategic in terms of investment in infrastructure and also investment in the whole area around climate and sustainability there, but also in terms of rail, roads and in terms of housing in particular that we continue to make sure we have capital reserves to do those kinds of things right into the long term," the Tánaiste added.
We need your consent to load this rte-player contentWe use rte-player to manage extra content that can set cookies on your device and collect data about your activity. Please review their details and accept them to load the content.Manage Preferences
This report is IFAC's response to the Stability Programme Update (SPU) published by the Department of Finance earlier this year. The SPU sets out medium-term forecasts for the economy and some budgetary parameters.
In its report, IFAC says the line between "core" and "non-core" spending in the Government's budgetary plans is "becoming blurred".
---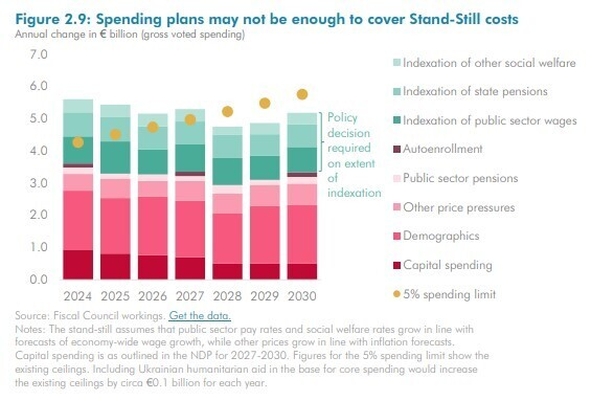 ---
It says some Covid spending and some of the once-off allocations for Ukrainian refugees should be incorporated into core spending as they are likely to be continued for some time.
It also says more transparency is needed to explain where the funding for once-off packages like February's cost-of-living measures comes from. It says the rationale for additional cost-of-living measures "is waning" as energy prices are falling. It also notes that only a quarter of the cost-of-living measures since Budget Day were targeted.
IFAC is particularly critical of the decision to extend the lower rate of VAT for the hospitality sector.
"Using revenue buoyancy to reduce taxes is the textbook definition of procyclical fiscal policies..." the report states.
IFAC does praise the Government's intention to introduce a National Reserve Fund.
It says it has the potential to become a "landmark reform".
---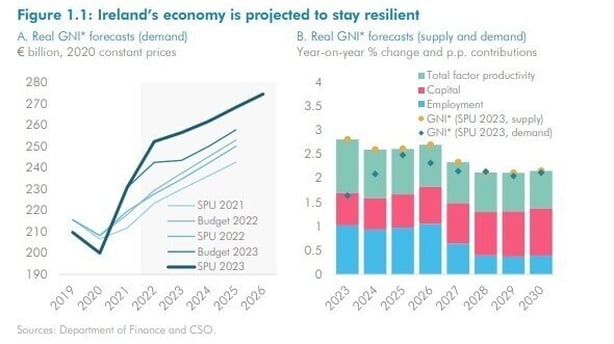 ---
IFAC says decisions over how it operates and how much is saved are political ones. But it suggests the fund should be tied to particular needs in the future, like ageing costs and climate change.
It also supports saving all of the estimated 'windfall' in corporation tax as "...the justification for using any of these receipts for other purposes is weak and poses substantial risks to the economy and public finances."
Speaking on RTÉ's Morning Ireland, IFAC chairman Sebastian Barnes said the economy has recovered quite strongly and inflation is coming down, "but that means that we have record low unemployment. So, these capacity constraints in the economy are becoming much more binding, particularly in construction.
"So, we need to be very careful in the way we manage that.
"On the other hand, we also have this big inflow of corporation tax money, and that's basically money on the worldwide profits of these companies, so this is money coming into the economy.
"We need to be very careful that that's not going to lead to overheating by pushing on these capacity constraints".