Ryanair has handed in a petition with 1.1 million passenger signatures to the European Commission, demanding that it take action to protect overflights across the union during air traffic control (ATC) strikes in order to keep skies open.
The airline claims customers are "fed up" with the delays being caused by work stoppages, particularly by ATC operators in France.
So far there have been 57 days of ATC strikes this year, which have led airlines including Ryanair to cancel thousands of flights.
Ryanair Group chief executive Michael O'Leary today delivered the petition to the offices of EU Commission President Ursula von der Leyen in Brussels, although she was travelling elsewhere at the time.
Michael O'Leary said Ryanair is not asking the EU Commission to take legal action against France, as it would take too long.
Instead, he said the EU Commission should put pressure on France to replicate the actions of other countries like Spain, Italy and Greece, which use minimum service legislation to ensure overflights are protected during ATC strikes.
And if cancellations are required, it should be domestic or short-haul flights to and from the state concerned that should be affected, he claimed.
He said it was "manifestly unfair" that overflights were cancelled at the expense of domestic ones.
"It is unacceptable that ATC strikes can result in the cancellation of thousands of EU passengers' flights, while France and other EU member states use minimum service laws to protect their domestic flights," Mr O'Leary said
"Europe's passengers are sick and tired of suffering unnecessary overflight cancellations during ATC strikes," he added.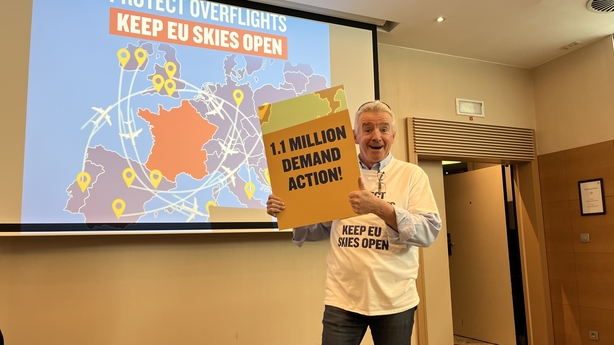 "The EU Commission must now act upon the petition of more than 1.1 million EU citizens and insist that all states protect overflights during national ATC strikes as is already done in Greece, Italy and Spain," he added.
Mr O'Leary said Ryanair is not trying to get the rights of ATC staff to strike taken away as it respects the rights of unions to take action.
But the airline does want 21-days notice of strike action and enforced arbitration for ATC disputes before industrial action can take place.
He said the EU has an obligation to protect the free movement of passengers and the single market for aviation.
Mr O'Leary also pointed out that if Ryanair and other airlines did not have to go around French airspace during strikes, it would have a huge environmental gain.
"We would save enormous amounts of fuel," he said.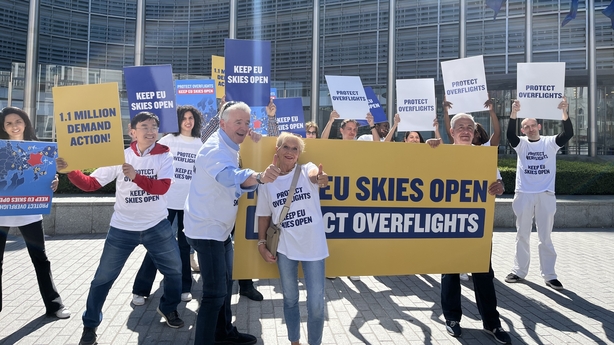 In a statement, the European Commission said it had taken note of the Ryanair petition.
It said that industrial action during the summer cannot be ruled out and the right to strike is a fundamental right that the EU fully supports.
"However, experience in some countries (such as Italy and Greece) has shown that it is possible to ensure that national air traffic management strikes do not have a disproportionate effect on the overall European network," a spokesperson said.
"In 2017 already, the Commission issued a communication calling on member states to take measures to preserve overflights, and notably to ensure 100% continuity of service for flights crossing the airspace of strike-affected Member States, having no part in the strikes."
"It is essential that people can travel freely across Europe and to guarantee the proper functioning of the Internal Market, in full respect of the right to strike."
The spokesperson added that with that in mind, the Commission is liaising with relevant member states to assess whether and how service continuity for overflights could be improved in the event of strikes.
But the Commission also called on the European Parliament and the Council to speed up progress on the reform of the Singe European Sky – the EU's plan to unify air traffic control management across the union which has been stalled by opposition in some members states for some time.