New figures from the Central Statistics Office show that passenger arrivals here in April are now up 4.2% on pre-pandemic levels in April 2019.
The CSO said that a total of 1,785,000 passengers arrived in Ireland on overseas routes in April this year.
This marked a substantial increase of 20.9% on April 2022, when 1,476,600 passengers arrived on overseas routes.
The CSO said the growth is even more substantial when compared with April 2021 when just 69,400 passengers arrived on these routes and when many Covid-19 restrictions were in place.
A total of 1,676,600 passengers arrived by air and 108,300 by sea last month, the CSO noted.
Today's figures show that the recovery in passenger numbers were seen in both air and sea travel, although the air recovery is more pronounced as passenger numbers jumped by 21.8% in April of this year compared to the same month last year.
The recovery is also spread across all major routes, with transatlantic traffic up 40.6%, increasing from 120,800 in April last year to 169,800 in April this year.
---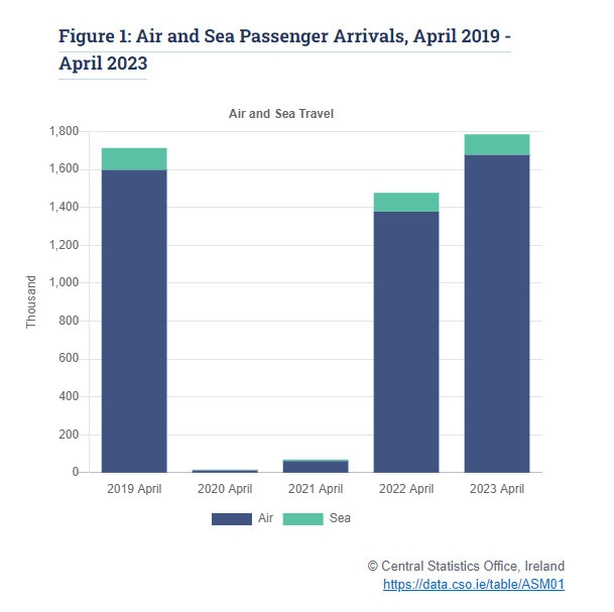 ---
Among the continental routes, Spanish routes remain the busiest, with 245,900 passengers arriving on these routes in April 2023, a 24.4% increase compared with the same time last year.
Great Britain remained the most important departure country for overseas travel to Ireland, with 634,500 passengers arriving on air and sea routes from there in April 2023, compared with 548,300 in April 2022.