The podcast 'Wind of Change' tells an incredible tale of rock and roll high jinks and Cold War shenanigans.
Its title comes from German metal band Scorpions' 1990 hit of the same time. I won't spoil the story.
The song's lyrics are all about the winds of revolutionary change sweeping down the Moskva River to Gorky Park as the old Communist era comes to an end.
We also have the Germans to thank for the phrase 'Energiewende', which means energy turnaround.
It was coined to describe the ambitious transition the country undertook to move to renewables in the past decade.
Unfortunately, it's been wending in the wrong direction in the past year.
One of the reasons is that, in its headlong rush to renewables, Germany ditched nuclear power and was caught out badly in its overreliance on Russian gas when that country invaded Ukraine.
It was forced into a scramble for energy last year that saw it burn more coal from fossil fuel plants that were to be decommissioned.
It has also improvised a big increase in the consumption of LNG gas which arrives from the Gulf and the US via tankers.
It all led to an increase in emissions from its energy sector last year.
Ours went up too, for other reasons. So easy on the schadenfreude (rejoicing).
It's a salutary tale of how the best dreams of revolutions and the right intentions can go horribly wrong.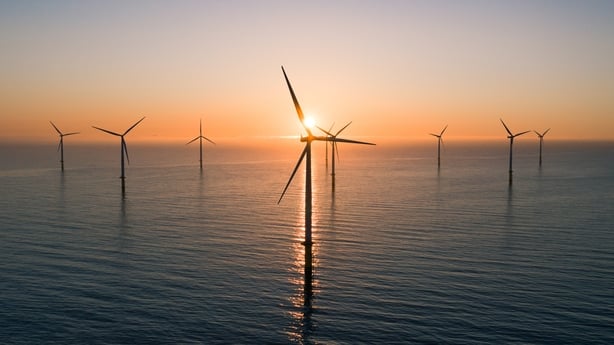 Our own wind of change took a big step forward last week.
EirGrid announced the results of the country's first auction for offshore electricity generation.
There was some surprise that SSE Renewables' Arklow Bank project was not successful.
It does, after all, run the country's only existing offshore turbines, also off the coast of Arklow.
These were built 20 years ago (I know, I was there bobbing up and down in a very small boat!) to show what could be done with offshore wind.
But the technology remained too expensive at the time to be considered as part of Ireland's gradual push towards renewable power.
Now, that's all changed.
The price struck in Thursday's auction was actually less than the most recent onshore wind power auction.
It took many experts by surprise and ran contrary to some media speculation in the run up to the auction.
The price was just over €86 per megawatt hour (MWh) of electricity produced. That's fixed for 20 years.
The average price of wholesale electricity struck at daily auctions in April was €125.60, according to SEMO which runs our all-island electricity market.
At the height of the energy crisis last year, it went almost as high as €400MWh and averaged around €200MWh.
The long-run average price of electricity before the crisis precipitated by the Russian invasion of Ukraine, was around €40MWh.
So sure, the price struck at the auction was more expensive than recent offshore auctions in the UK, but it's not that much off.
Also, there are more extensive provisions to allow for inflation to increase prices paid to generators in the UK over time.
The other difference with how the price was structured in this auction, and indeed in recent onshore auctions, is that if the market price goes over the fixed price then the wind power operators will have to pay the State back the difference.
In other words, the widely criticised 'excess profits' made by wind operators under older contracts (which are now subject to a windfall tax) won't be made again.
So far, so good from a price perspective, unless you think we're going back to a world where electricity will cost €40MWh. I don't think we are in the immediate future; who knows beyond that?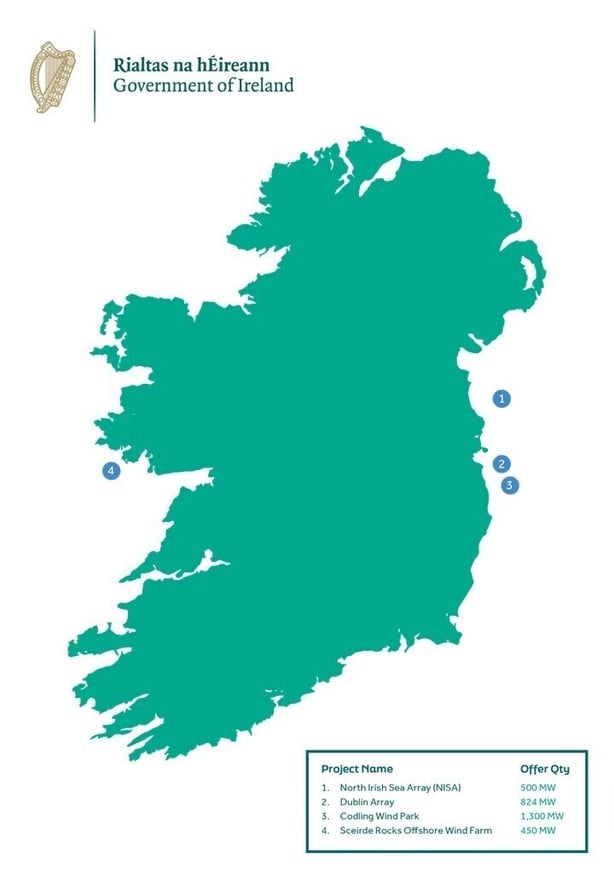 The other factor in Thursday's auction is size.
When completed, the four successful projects have the potential to make up a quarter of Ireland's project energy demand by the end of this decade. That's good from an energy security perspective.
We will still need gas. But we should need less gas. And that should mean fewer emissions of greenhouse gases.
The final and not inconsiderable factor in realising our wind of change moment is the planning process.
All of these projects now have to go through planning.
The new agency that was meant to oversee this, the Marina Area Regulatory Authority (MARA) is not fully up and running yet.
Industry sources fret a lot about planning and worry about the capability of our system to work through what are enormous infrastructural projects.
A lot of work that goes into planning submissions has already been undertaken by the companies involved.
But it's also clear there's huge concern from both environmental and fishing interests about these offshore projects. This will all take time to work through.
Finally, let's not forget the sheer scale of what's envisaged here.
The east coast of Ireland could have approximately 185 turbines standing an incredible 300 metres tall off the coast of Skerries and stretching from the south of Dublin Bay to Wicklow.
The coast of Connemara will see several dozen turbines of this scale too.
And this is just the start.
Work is already under way on plans for offshore wind in the Celtic Sea, off our southern coast.
This is a whole new industry if its potential can be harnessed into Irish ports and supply chains.
It's also a whole new way of imposing ourselves on our coastline and its marine ecosystem.
---
Read more:
Four successful bidders in first offshore wind auction
Wind farms 'a win', but concerns over marine wildlife
Ireland 'a laggard' on offshore wind energy - researcher
Can Ireland lead the offshore renewable energy race?