Exports by Enterprise Ireland (EI) backed companies grew by a record 19% last year to €32.1 billion, fuelled in part by the inflationary environment.
It was the highest level of year-on-year export growth recorded by EI supported firms.
"These are significant exports results and reflect the incredible innovation and ambition of the Irish enterprise sector," said Enterprise Ireland Chief Executive, Leo Clancy.
"While the record 19% year-on-year increase in exports is influenced by inflation in certain sectors, the results released today demonstrate the continued strength of Irish products and services in international markets."
When asked how much of that growth in exports was driven by inflation and how much was volume growth, Mr Clancy said it was a mix.
He gave the food sector as an example.
"In this sector we have seen a 23% growth in exports and that is consistent with what you are seeing from dairy companies' own results in recent weeks, so certainly inflation was a big factor there," he said speaking on Morning Ireland.
"But if you look at exports in the tech sector which were up 18%, or the industrial life sciences sector, up 14% - we are seeing strong growth there that isn't as inflation linked," he added.
Mr Clancy said today's export figures for last year follow the strong growth reported in 2021, when inflation was not as big of a factor.
We need your consent to load this rte-player contentWe use rte-player to manage extra content that can set cookies on your device and collect data about your activity. Please review their details and accept them to load the content.Manage Preferences
The value of goods exported to the UK climbed by 13% to €9.2 billion, with 29% of all exports from EI firms now going there, despite the disruption caused by Brexit.
"I think we can often forget in the discussions about Brexit, that we are the UK's closest neighbour and we would expect that we will continue to do well in the UK - and we are delighted that is the case," Mr Clancy said.
The eurozone accounted for €7.9 billion of the exports, an increase of 28%.
There was a 13% rise in exports by EI backed businesses to North America, bringing that total to €5.5 billion.
17% of the total exports from EI assisted companies now go to the North America.
Exports to Asia-Pacific increased by 11% following a flat year in 2021, while Latin America exports grew by a quarter, with the value of goods being sent to the Middle East, Africa and India climbing 13%.
"In recent years Enterprise Ireland initiatives have focused on assisting companies to diversify their export markets, with a particular focus on growth in the Eurozone," said Mr Clancy, referring to moves away from the UK market prompted by Brexit.
"Looking ahead we are very conscious of the current and emerging uncertainties for business in global markets."
"We are working with clients to help them anticipate and transform their business models to address areas such as sustainability, financing and skills."
Growth occurred across all overseas regions and in individual industry sectors, EI said.
Food and sustainability related exports increased by 23%, technology and services rose by 18% and industrial and life sciences climbed by 14%.
Exports of food now account for 50% of the total exports by EI clients, while engineering goods make up 21% and technology and services 16%.
EI backed company Soapbox Labs now exports its speech recognition services all over the world.
"We power voice interactions," founder Patricia Scanlon explained on Morning Ireland.
"So our technology is integrated into an app or a service that children interact with, so they can use their voice to interact.
"So it could be a reading app or its teaching them a language, they can practice and recall sounds or read a sentence and the audio is sent to our servers - so we power that voice interaction."
Ms Scanlon said the US is now its biggest export market.
"The majority of our services are exported and the US is a huge market for us.
"The US is quite advanced digitally in terms of kids and education - and as a result it is an ideal first big market for us," she added.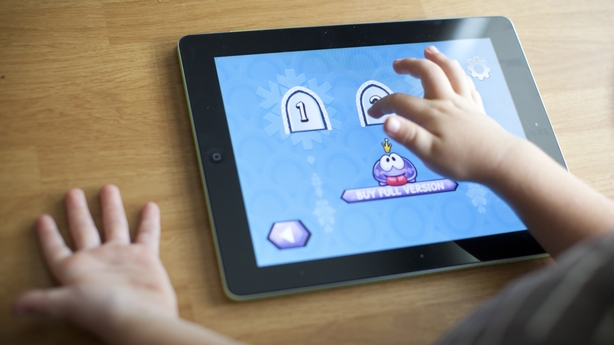 "We continue to see increased adoption of 'powered by SoapBox' products in school districts across all 50 US states, thanks to our expanding client relationships.
"Today, our voice engine powers the preK-12 reading and dyslexia screening products of some of the most prominent education companies in the US and globally," Ms Scanlon said.
While the US market is the primary focus for the company, it also has a global client base, serving more than 50 education publishers and edtech companies in the UK, Europe, and Asia.
According to Enterprise Ireland, the mood among Irish businesses is very positive.
"The businesses I have spoken to this week are really optimistic and are expressing interest in moving forward and exploring new markets," Mr Clancy said.
But EI is also warning that many challenges persist, including around inflation and market uncertainty, the Ukraine war and resulting geopolitical tension, climate change and the evolution of technology.
"Irish business faced another challenging year in 2022, with energy costs, inflation and supply chain disruption impacting the trading environment," said Simon Coveney, Minister for Enterprise, Trade and Employment.
"However, with a record €32bn in export sales, Irish business has demonstrated its ability to absorb global economic disruption and continue to compete and win in international markets."
Enterprise Ireland backed companies now employ more than 218,000 people in every region and county in Ireland.
Additional reporting by Gill Stedman