The annual rate of residential property price increases slowed nationally to a 22 month low of 5% in February, compared to 6.1% in January.
Property prices in both Dublin and the rest of the country fell marginally last month for the second month in a row.
According to the Residential Property Price Index from the Central Statistics Office, prices in Dublin slowed to an annual increase of 3.2% while properties outside Dublin slowed to 6.4%.
The figures show that prices continued to rise on an annual basis for both houses and apartments in all regions except for Dublin City where the price of houses has fallen by 0.5% compared to a year ago.
Prices for all property types across the Dublin region have fallen by 1.8% over the past three months while prices outside Dublin have stalled.
Today's figures also show the price of new properties continued to rise towards the end of last year as the rate of price increases of second-hand homes declined.
In the last three months of last year, the price of new homes was 10% higher than the same time in 2021. This was higher than the 9.1% recorded in the third quarter.
Price increases for second-hand homes declined to 8.3% in the fourth quarter of last year compared to the same time in 2021. This was slower than the 12.6% recorded in the third quarter of last year.
Today's figures also show that the volume of transactions declined in February.
There were 3,351 properties purchased in February and filed with Revenue. This was 6.5% down compared to a year ago and 8.8% down compared to January.
The total value of transactions was €1.2 billion, the CSO said.
Existing dwellings accounted for 83% of transactions, which was down 8.4% compared to February 2022 while the balance of 569, or 17%, were new dwellings which represented an increase of 3.8% compared to year ago.
The figures also show that in the year to February, 49,948 properties were purchased and filed with Revenue.
---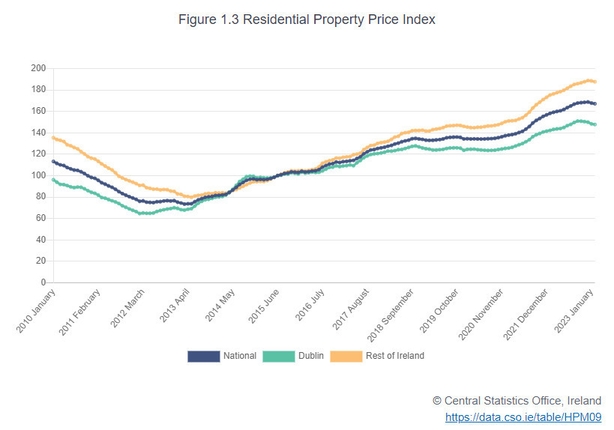 ---
Of these, 33.4% were first time buyers, 53.8% were former owner-occupiers while 12.8% were non-occupiers which include local authorities, housing bodies and investors.
In February, there were 1,166 purchases by first-time buyers. This was an increase of 1% on the figures for February 2022.
Their purchases were split between 313, or 27%, new builds and 853, or 73%, existing properties.
Today's figures show that the median price of a property nationwide was €310,000. This rose to a median price of €432,000 in the Dublin region ranging from €630,000 in Dún Laoghaire Rathdown to €402,000 in South Dublin.
The lowest median priced property was in Longford at €152,000.