The Government must invest in ports in order to make them capable of developing offshore wind energy projects, or risk seeing investment go elsewhere, a new report has found.
The study produced for Wind Energy Ireland by consultants Gavin & Doherty Geosolutions also claims such support from the State is common and widespread across Europe.
But the analysis claims a failure by the Government to act means offshore wind projects, due to compete in an auction next month, still have no idea if any Irish ports will be available to construct the wind farms.
It claims that this uncertainty will push up prices resulting in Irish electricity consumers paying more for their power for decades to come.
The document outlines how several ports, including Rosslare, Cork Dockyard and Shannon-Foynes, have plans to expand their port infrastructure in order to be used to build offshore wind farms.
However, it also points out that these improvements will require significant amounts of investment.
"Support from the Irish Government would de-risk upfront investment and could plug any funding gaps," said Paul Doherty, Executive Director of Gavin & Doherty Geosolutions.
"This support could be in the form of direct funding from the exchequer, a low-interest loan scheme or access to funding vehicles such as the Ireland Strategic Investment Fund (ISIF) and the European Investment Bank."
The report found by looking at case studies that the issue of State aid is not a problem.
"The Irish Government can choose to do this or it can choose not to," said Mr Doherty.
Last year's National Ports Study showed Belfast to be the only port on the island of Ireland that is currently fully equipped to serve as a construction base for offshore wind farms.
"We want to build Irish offshore wind farms in Irish ports," said Noel Cunniffe, CEO of Wind Energy Ireland.
We need your consent to load this rte-player contentWe use rte-player to manage extra content that can set cookies on your device and collect data about your activity. Please review their details and accept them to load the content.Manage Preferences
"Our members - both ports and developers - are absolutely united on this. That is the best way to create jobs at home and to deliver offshore wind energy at the lowest possible price. But the Irish Government needs to want this as well."
Mr Cunniffe added that without more ports capable of being used for building offshore wind projects, Ireland will either completely miss its 2030 climate targets or the wind farms will be built from ports outside of Ireland.
"Instead of growing jobs in Wexford, Cork and Limerick, our wind farms will be creating employment in Great Britain and France," he said.
Today's report recommends that ports, the offshore renewable energy industry and State agencies be brought together under the Offshore Wind Delivery Task-force to identify solutions, including the possibility of designing an Irish Strategic Port Investment Model.
It also suggests updating the National Ports Policy to enable the State to invest in port infrastructure for offshore renewable energy.
While it also says that the Government could work with industry and the Ireland Strategic Investment Fund to support the development of port infrastructure for offshore renewable energy.
"No one is looking for a blank cheque from Government, but whether it is through the Strategic Investment Fund, EU funding or from the State, the reality is that financial support is necessary to give confidence to private investors that Ireland is serious about developing the infrastructure we need to build offshore wind energy," said Mr Cunniffe.
In a statement, a spokesperson for the Department of Transport said it is committed to ensuring the State's commercial ports are positive contributors to the Offshore Renewable Energy industry, and that Ireland meets the ambitious targets of 7GW of offshore wind by 2030.
It said the key actions of the Offshore Wind Delivery Taskforce include to actively explore funding streams available to Irish ports for the delivery of offshore wind.
But Fianna Fáil MEP, Billy Kelleher, warned that Ireland may fail to meet its own long-term wind energy generation targets if it continues down along its current path.

"At present, we don't have the necessary, deep water, port infrastructure in the Republic that is needed to build our offshore windfarms," said Mr Kelleher.
"The industry cannot bear the entire cost alone and will need government investment. It is in Ireland's strategic national interest to ensure offshore wind generation gets up and running as quickly as possible."

"This is yet another example of Ireland's lack of long term planning for future needs, and risks undermining our renewable electricity potential."
Responding to the report, Conor Mowlds, Chief Commercial Officer with the Port of Cork company, said the port can be a key enabler for Offshore Renewable Energy (ORE) as it is the only port in the Republic of Ireland with planning permissions already in place for quay infrastructure developments to support ORE.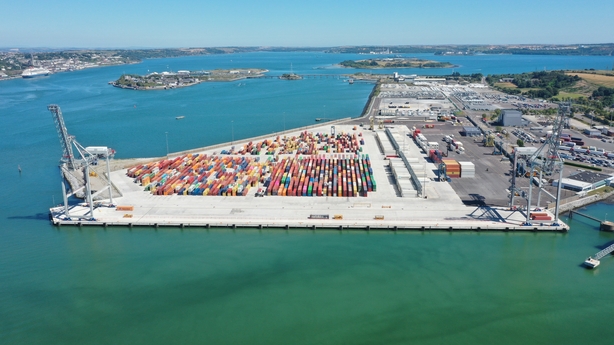 "To make this happen we are working closely with a number of stakeholders, including funding partners," Mr Mowlds said.
He said the development of onshore infrastructure to aid the ORE industry is a major focus for the Port Masterplan to 2050 which has recently been through a public consultation process and is due to be officially launched in a matter of weeks.
As well as the development of onshore infrastructure, he said plans to support the renewable energy sector within the Port Masterplan to 2050 also include taking advantage of the port's deep water channels and berths.
It also plans to reclaim land to accommodate large project cargoes for offshore wind marshalling and assembly activities, leasing landside and/ or near shore storage and providing access to berth and quays for operation and maintenance activities.