Activity in the manufacturing sector weakened in March, as demand dropped, new figures show today.
The latest Purchasing Managers Index from AIB shows that new orders and factory production fell.
On a more positive note, price and supply pressures eased.
The index dropped to 49.7, from 51.3 in February.
Readings above 50 indicate overall growth in activity.
The contraction was the first in three months and signalled a loss of growth momentum across the sector.
---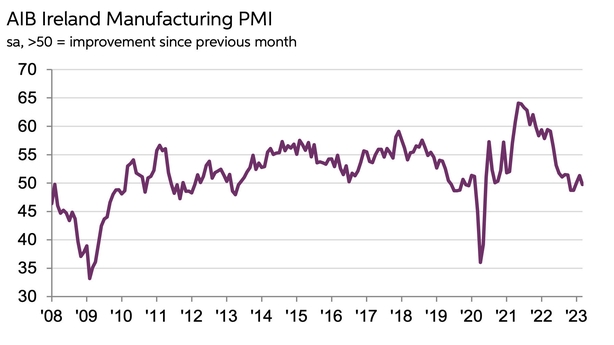 ---
The Irish March reading was again above the flash manufacturing PMIs for the US, euro zone and UK.
These came in at 49.3, 47.1 and 48, respectively, pointing to continued subdued manufacturing activity globally.
"A primary factor behind the weakening in Irish manufacturing in March was renewed declines in both orders and output, reflecting subdued underlying demand conditions," said Oliver Mangan, AIB Chief Economist.
"New exports orders remained particularly weak as a result of sluggish global demand.
"With order books declining, spare capacity is becoming increasingly evident as backlogs of work continued their steep decline in March," he added.
Meanwhile, stocks of finished goods fell for the first time in eight months, while firms continued to scale back purchases of inputs.
Today's data also shows that employment continued to expand, albeit at a modest pace, while supplier delivery times shortened as supply chain issues abate.
In terms of costs, there was an easing of inflationary pressures in both input and output prices, amid reports of moderating raw material and energy prices.
"There was a particularly sharp fall in both the indices in March, which are now approaching levels that would signal a stabilisation in prices," Mr Mangan said.
According to today's report, manufacturers continue to be optimistic about the future, with sentiment on the outlook for the coming 12 months remaining close to its highest level in the past year.