More than 1.2 million passengers arrived in Ireland on overseas routes last month, up over 1% on the same month in 2020, pre-pandemic.
New figures from the Central Statistics Office show the vast majority of passengers travelled by air, while just under 45,000 arrived by sea.
"These passengers, comprising foreign visitors arriving in Ireland and Irish overseas travellers returning home, represented a very substantial increase on February 2022, when 787,300 passengers arrived on overseas routes," said Gregg Patrick, Statistician in the Tourism and Travel Division at the CSO.
"The increase is even more substantial when compared with February 2021 when just 54,800 passengers arrived on these routes," he added.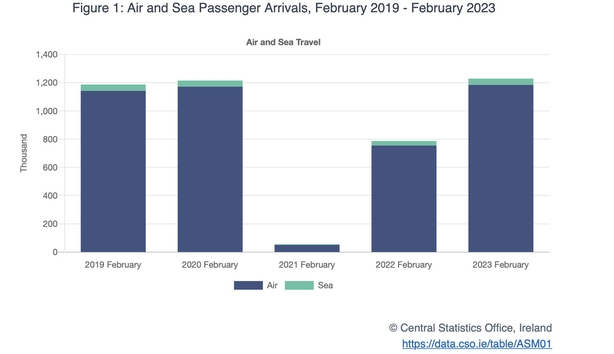 The data shows that the recovery is spread across all major routes.
Great Britain remained the most important departure country for overseas travel to Ireland.
493,100 passengers arrived on air and sea routes from Great Britain last month, compared with just 318,500 during the same month last year.
Transatlantic traffic is up most in relative terms, increasing from 38,100 in February 2022 to 75,300 last month.
Among the continental routes, Spanish routes remain the busiest, with 134,100 passengers arriving on these routes in February, an increase of over 42% on last February.