UBS Group has rehired Sergio Ermotti as CEO to steer its massive takeover of neighbour Credit Suisse.
The surprise move seeks to take advantage of his experience in rebuilding the bank after the global financial crisis.
His immediate challenges will include laying off thousands of staff, cutting back Credit Suisse's investment bank and reassuring the world's wealthy that UBS remains the best place to park their cash.
Ermotti, the current chairman of Swiss Re, will take the helm from April 5. He was chief executive of UBS from 2011 to 2020.
He takes charge weeks after UBS bought rival Swiss bank Credit Suisse in a shotgun merger engineered by Swiss authorities to stem turmoil after Credit Suisse ran aground.
That deal made UBS Switzerland's one and only global bank, underpinned by roughly 260 billion francs ($170 billion) in state loans and guarantees to underpin the new group, a risky bet that makes the Swiss economy more dependent on a single lender.
Vontobel analyst Andreas Venditti said Ermotti's experience paring back UBS's investment bank after the financial crash more than a decade ago made him well equipped for the job.
Current CEO Ralph Hamers was a notable absentee from the announcement of UBS's takeover of Credit Suisse on March 19.
The deal was backed by more than 200 billion francs ($217 billion) of state cash and guarantees engineered by the government, central bank and regulators.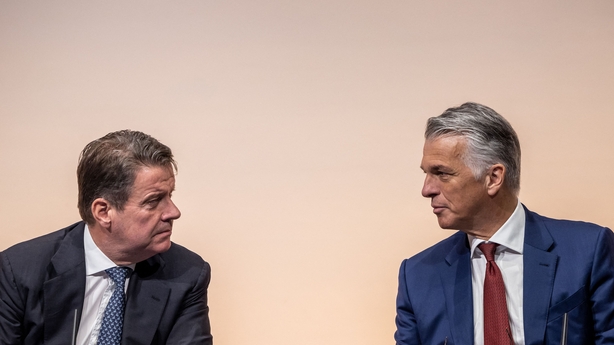 The next day, Hamers looked bleary eyed as he described the end of Credit Suisse as a "sad day" that nobody wanted.
Hamers, who succeeded Ermotti in November 2020, "has agreed to step down to serve the interests of the new combination, the Swiss financial sector and the country," UBS said in a statement.
"The board took the decision in light of the new challenges and priorities facing UBS after the announcement of the acquisition," UBS added.
UBS ditched Hamers, who had no big-ticket M&A experience under his belt and faced the task of combining two banks with $1.6 trillion in assets, more than 120,000 staff and a complex balance sheet.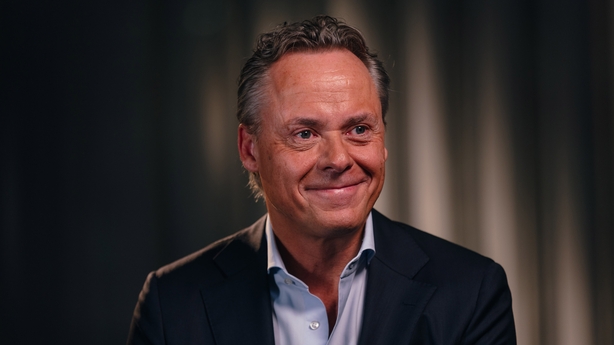 Ermotti said he was looking forward to integrating UBS and Credit Suisse.
"The task at hand is an urgent and challenging one," Ermotti said in a statement.
"In order to do it in a sustainable and successful way, and in the interest of all stakeholders involved, we need to thoughtfully and systematically assess all options," he added.
A nearly 30-year veteran of Dutch lender ING, Hamers had been a surprise choice when he was appointed to lead UBS, as he had little experience in investment banking or wealth management.
At ING, Hamers was seen as a tech-savvy boss who spurned the image of a stuffy banker for a young, modern and approachable CEO, and there he was credited with overseeing a digital transformation.
The digital success at ING is what attracted UBS's then-chairman Axel Weber to poach him, at a time that some analysts said UBS's progress was stagnating.
---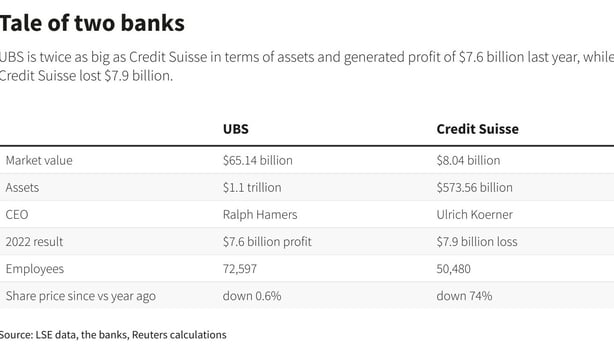 ---
Five facts about the 62-year-old banker Sergio Ermotti
- Swiss national Ermotti began his career as an apprentice at Corner Bank, before getting his first big break in 1987 with a role at Merril Lynch, where he opened their Swiss capital markets operation from scratch.
- Described as suave, charismatic and impeccably dressed, Ermotti, who hails from Switzerland's Italian-speaking canton of Ticino, had thought about becoming a skier or a footballer but decided to stay in banking.
- He joined UBS in 2011 after being passed over for the top job at Italian lender UniCredit. Within six months of joining he was appointed interim CEO in the wake of a $2.3 billion trading scandal, before he was picked to run UBS on a permanent basis until 2020.
- Ermotti, with long experience in investment banking and wealth management, is credited with executing UBS's turnaround and scaling down its investment banking operations after a series of scandals and losses nearly caused the bank's implosion.
- A self-described "lazy reader", he has said he prefers skiing down the Swiss slopes of St Moritz and that he can watch the same film over and over again, citing "The Sting" as his favourite.