Asking prices for homes fell 0.3% between January and the end of March, according to new data from property listings website, Daft.ie.
This was despite an ongoing shortage of properties available to buy, with just 13,000 listed for sale on March 1.
Daft says the drop in prices represents the first time in ten years that listed prices have fallen during the first quarter of the year.
The decrease left the average asking price for a home nationally at €308,497, it said.
---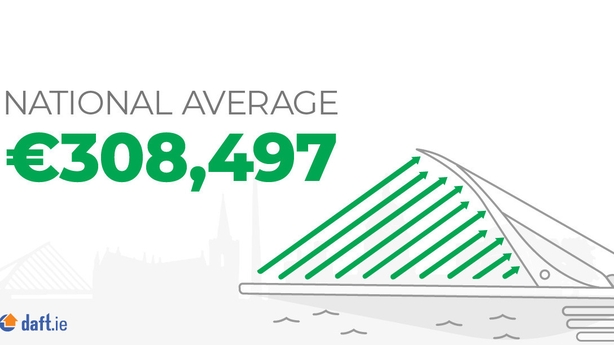 ---
This is a 2.7% rise on the same three-month period last year.
"The change in market conditions over the last 12 months is clear from the figures in this latest Daft.ie House Price Report," said report author and Trinity College Dublin economist, Ronan Lyons.
"A year ago, double-digit inflation in housing prices was still prevalent across much of the country."
"Now, very few markets are seeing prices more than a percentage point or two higher than a year ago – and those increases largely reflect increases seen March-June last year," he said.
We need your consent to load this rte-player contentWe use rte-player to manage extra content that can set cookies on your device and collect data about your activity. Please review their details and accept them to load the content.Manage Preferences
Looking across the cities, the largest decreases during the quarter when compared to the final three months of 2022 were recorded in Galway, at 1.5%, and Waterford at 0.8%.
Prices in Dublin were 0.4% lower versus the previous quarter, while in Cork city they were 0.5% weaker.
Limerick was the only major city where prices remained stable.
Munster was the only one of the five main regions where prices rose quarter on quarter.
In Leinster they fell 0.5% and in Connacht/Ulster they dropped by 0.6% over the three months.
Supply is increasing, with 13,000 properties advertised on March 1st, a 30% increase on the same date a year ago.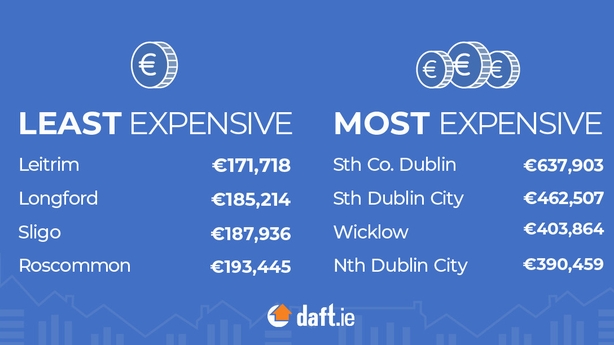 ---
However, the availability of property to purchase is still down significantly on the 24,200 advertised on March 1 in 2019.
According to Daft, the rate at which availability has increased has also slowed over the last number of months.
"Thus, while this year is unlikely to bring any substantial increases in housing prices, underlying issues stemming from housing shortages will persist," said Mr Lyons.
In the report Mr Lyons also explains that while over the last couple of years there was typically little difference between average listed price and the ultimate sales price, early last year the closing price grew to around 4% above the advertised price.
However, he added that in the last 12 months that premiums has largely disappeared, falling back to 1.3%.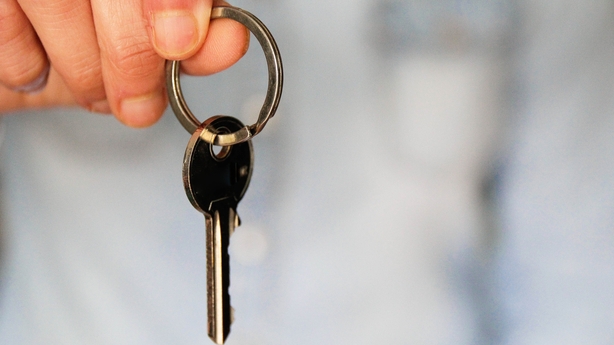 Owen Reilly, a Dublin estate agent has said it looks like less new homes will be built in Ireland this year than last.
On RTÉ's Drivetime, Mr Reilly said that the market is strong for first time buyers spending €450,000 in the city centre and suburbs.
He said he would welcome a report that indicates price inflation is cooling but said this report is based on asking price data, not selling price.
Mr Reilly said different types of properties in different locations and price points are performing very differently
He said that house prices were still 3% above asking prices in the first quarter in Dublin,
Outside Co Dublin, he said that where first time buyers are most active, the market is still robust but rising interest rates are impacting affordability.
He said that expectations might fall a bit in the time ahead, and if interest rates continue to rise, it's hard to see how prices can stay resilient in the face of that.
For the time of year, the number of properties on the market in Dublin is still low and sellers are not reacting to the time of year, he said, while for new homes, inflation in construction and rising interest rates were combining in the worst possible moment.