IT management and security software developer, Kaseya, has doubled the number of people it is aiming to employ in Dundalk over the next two years to 1,000.
The company announced 250 new positions in a technical centre of excellence in the County Louth town last July and subsequently revised that target up to 500.
Since then, it has recruited 150 people there, including 75 engineers, and now it plans to grow its presence further, including adding customer support and sales roles.
"Given the early success that we've seen and the quality of the talent that we have on board, our CEO has asked me to put together a plan to get us to 1,000 over the next 24 months," said Kaseya Chief Operating Officer, Joe Smolarski, speaking to RTÉ News from the company's headquarters in Miami.
"And that's exactly what we're trying to do in in the Dundalk side of the operation."
The growth of the Dundalk site would be on top of the 100 people already employed by the company in a sales centre of excellence in Dublin, where it has had a presence since 2016.
The company signed a lease on a new office last week that will enable it to double its space in the capital and thereby grow its headcount by another 100 over the next 12-18 months, bringing its total workforce in Ireland to around 1,200 in two years' time.
"We view Dublin as our sales centre of excellence, and fantastic multilingual skills and some great attributes that allow us to keep, you know, growing that operation," said Mr Smolarski.
PayPal announced earlier this month that it plans to close its office in Dundalk and let 27 staff there go, a development which may provide an opportunity for Kaseya.
"We actually toured the PayPal office and are contemplating whether that's something that we can take on and are looking at that," the Kaseya COO said.
However, he added that the housing situation in Ireland has presented challenges, so much so that Kaseya is having to assist new staff with renting and finding suitable accommodation.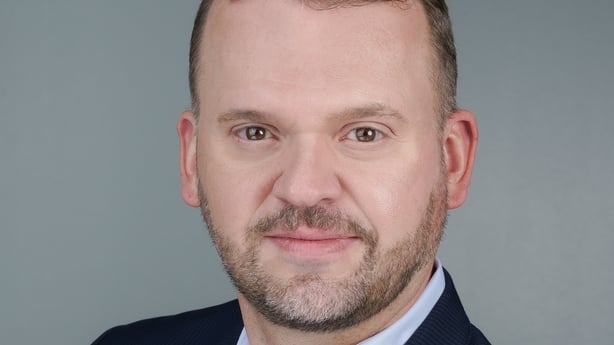 During a visit to Dundalk last week, Mr Smolarski met with county officials and was given details of the steps that are being taken locally to boost housing delivery into the future, including new access roads.
But while housing is a challenge, Mr Smolarski said securing sufficient talent is not, with the slowdown in the tech sector probably helping that effort.
"We've obviously done a tonne of hiring globally and seeing that very difficult...employee market," he said.
"But ever since we've started in Dundalk we've seen plentiful talent and really have not struggled, you know, certainly not on the junior to mid-level."
"I think on the senior level for technical talent, there's still a very good market out there and from an employee-based perspective."
"So it's a little bit more challenging for senior technical talent, but overall we've been quite pleased, hence us raising the goal from 500 to 1,000."
To date Kaseya is not seeing a dip in demand for its products, despite the slowdown taking place across the tech sector, and is in growth mode.
Indeed, Mr Smolarski thinks the situation in the sector is playing into the company's hands.
"It plays to our advantage in in certain areas, you know, Kaseya has many great things about our technology and our platform," he said.
"But one of the core tenets for us is, you know, we can do things more cost effectively for our clients and we can help them save money."
Nonethless, Mr Smolarski believes the next 12 months in the sector will be "bumpy".
"I think we'll see continued turbulence in the macroeconomic markets and in particular in tech," he predicted.
"When times are good, you know, people treat money like it's free and, you know, throw around a lot of, you know, money at places that are very questionable."
"And I think you have the right sizing of a lot of organization that, you know, realise they can't operate that way, and they need to get back to some of the basics of running a good business."
"And I don't think we're done."
The ongoing evolution of the IT security challenge is keeping businesses like Kaseya busy though.
"No doubt will, it certainly keeps everybody up at night," said Mr Smolarski.
"And that fear is a good thing because it means we work our tails off, to make sure that we put ourselves and our customers in a great position."
A year and a half ago, the company recruited former FBI special agent, Jason Manar as Chief Information Security Officer.
"That investment has paid off many times over," said Mr Smolarksi.
"Just making sure that Kaseya is protected, making sure that we've got the knowledge, maybe a little bit ahead of the game as to what's going on out there and how do we protect ourselves against it."