The European Central Bank is pressing Austria's Raiffeisen Bank International to unwind its highly profitable business in Russia, five people with knowledge of the matter told Reuters.
The pressure comes after a top US sanctions official raised concerns about Raiffeisen's business in Russia on a visit to Vienna last month, said another person familiar with the matter.
The push from Washington and the ECB is upping the stakes for Austria and its second-biggest bank.
The bank plays a key role in the Russian economy but also an increasingly contested one as Moscow's year-long war in Ukraine drags on.
Many Western companies, including French bank Societe Generale, have already left Russia.
While the ECB is not asking Raiffeisen to leave the country immediately, it wants a plan of action for unwinding the business, two of the people said.
One person said such a plan could include the sale or closure of its Russian bank.
"We have been asking banks to keep closely monitoring the business in Russia, and ideally, reduce it and wind it down as much as possible," a spokesperson for the ECB said, adding it had been doing the same with all institutions concerned since Moscow launched its invasion of Ukraine.
Raiffeisen, however, does not intend to present such a plan yet, the people said, and some Austrian government officials see the moves as unwarranted foreign meddling.
A Raiffeisen spokesperson said that it was examining options for its Russia business "including a carefully managed exit" and that it was "expediting" its assessment, adding that it had also reduced lending in the country.
The Austrian lender is now the most important Western bank in Russia, offering a payments lifeline and accounting for roughly one quarter of euro transfers to the country, although other banks, such as Italy's UniCredit, are still present.
ECB officials are reluctant to pressure Raiffeisen into an immediate sale, fearing the financial hit it could trigger, one person said, after a week of global banking turmoil.
A spokesperson for Austria's finance ministry said that while there could be no return to the status quo in relations with Russia, "most" international companies, including banks remained there.
"There is substantial trade going on between Russia and the rest of the world in commodities like grain, fertilisers, oil, gas, nickel and other metals, which require payments," said the spokesperson.
In January, the US sanctions authority launched an inquiry into Raiffeisen over its business related to Russia.
Two people with direct knowledge of the matter told Reuters that the probe concerned potential breaches of Western sanctions. Raiffeisen said the inquiry was of a general nature.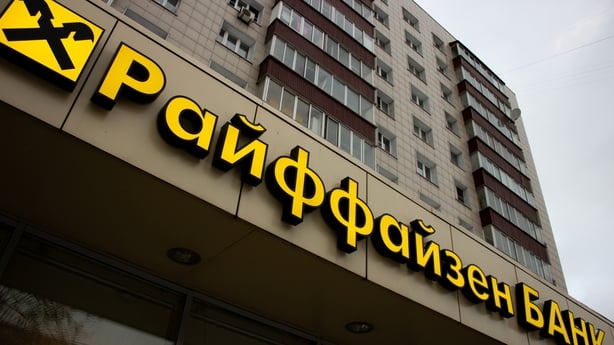 The inquiry, which has strained relations between Vienna and Washington, could prove perilous for Austria, which had modelled itself as a bridge between east and west, turning Vienna into a magnet for Russian money.
James O'Brien, a senior sanctions official with the US Department of State, spelt out American concerns over Raiffeisen and its business with Russia during discussions in Vienna in February, one of the people said.
"Ambassador O'Brien and Austrians discussed our close cooperation on sanctions in response to Russia's illegal further invasion of Ukraine," a State Department spokesperson said when asked about the visit.
The Raiffeisen spokesperson said that the bank was in the "early stages" of collecting information to respond to the inquiry letter from the US Treasury Department's Office of Foreign Assets Control (OFAC).
During Austrian President Alexander Van der Bellen's visit to Kyiv last month, Ukrainian President Volodymyr Zelensky criticised Austrian businesses still operating in Russia, singling out Raiffeisen, for supporting Moscow.
The bank has also been sharply criticised by investors after participating in a Russian scheme to grant loan payment holidays to troops fighting in Ukraine.
Although the stakes are high, some Austrian officials hope they can hold out long enough for a negotiated resolution to the war, allowing for a resumption of normal business with Russia, three of the people familiar with the matter said.
Austria's foreign minister Alexander Schallenberg has said that while it is "legitimate" for US authorities to approach Raiffeisen, Austria had primary responsibility for enforcing sanctions.
US authorities can go as far as preventing a bank from processing dollar transactions, a step that would deal a serious blow to Raiffeisen and that euro zone regulators fear could destabilise the bank.
Latvia's ABLV Bank quickly unravelled after being placed under US sanctions in 2018 due to concerns about illicit activity connected in large part to Russia.
Some Austrian lawmakers are also critical of the government's stance.
"Supervisory authorities must examine the risks from Raiffeisen's activity and that from day one of the war," Stephanie Krisper, a lawmaker from the liberal Neos opposition party told Reuters last week.
"For many years, connections to Moscow permeated our political system - now, the economic and political dependence on Russia has finally become visible."