The annual rate of inflation rose to 8.5% in February compared to 7.8% in January, according to the latest figures from the Central Statistics Office.
Consumer prices rose in the month by 1.62% reversing two consecutive months of price declines.
Prices rose across all categories of goods and services, except for Communications services, where prices declined slightly by 0.1%.
Core inflation, which strips out energy and food, rose strongly by 1.9% over the month to bring the annual rate to 6.2%.
Prices in restaurants rose by 1.3% last month while the price of accommodation in hotels jumped by 6.1%.
Food prices continued to go up and the price of clothing and footwear rose with the ending of the sales season.
On an annual basis, the price of food rose by 13.3% with notable increases in certain products like pasta which is up 20.5%, poultry, which is up 17.1% and sugar, which is up 30.8%, all on an annual basis.
The national average price for a large sliced white pan of bread is now 24 cent higher at €1.68.
A pound of butter is 69 cent dearer at €3.84 while two litres of full fat milk is 48 cent more expensive at €2.27 all compared to a year ago.
---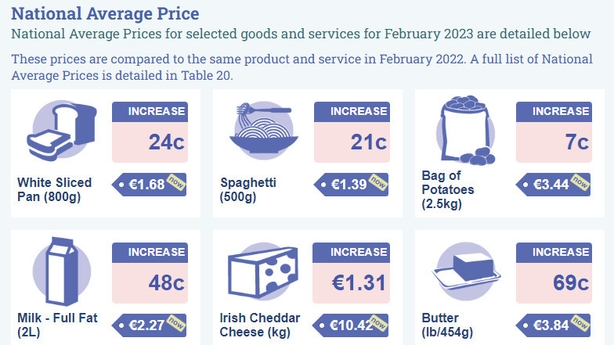 ---
Higher utility bills are still a big contributor to the annual rate of inflation. While the price of utilities did not budge last month, electricity is still up 63% compared to last year while gas is up 92%.
Petrol rose last month but it is still 6.8% down on where it was in February last year while diesel declined slightly over the month but is up 2.1% on an annual basis.
Mortgage interest costs took a big 10.4% increase over the month of February as recent European Central Bank rate rises fed through to variable and tracker mortgage rates.
Mortgage interest costs are up 31.6% compared to last year.
Meanwhile, private rents rose further and are now up 10.6% on an annual basis.
The Central Bank forecast last week that inflation would grow at a slower than previously forecast 5% this year before falling towards 2% by 2025.
Later today the European Central Bank is widely expected to increase interest rates by a further half a percentage point in an effort to bring inflation across the euro area back to its target rate of 2%.