European shares had their worst day in over a year as a selloff in bank stocks resumed on renewed investor concerns about stresses within the sector, with Credit Suisse plunging to a fresh record low.
The pan-European STOXX 600 index closed the day 3% lower, a day after recording its best day this year.
The banks sector index plunged 7.1% to log its steepest one-day drop in over a year.
Spain and Italy's lender-heavy indexes lost over 4% each.
Efforts by regulators and financial executives to assuage contagion fears following tech-focused lender Silicon Valley Bank's sudden collapse have failed to calm investors' nerves.
Credit Suisse's shares tumbled 24.2% and fell below 2 Swiss francs after the lender's biggest shareholder said it could not raise its stake beyond 10%, citing regulatory issues.
"It always feels like they're (Credit Suisse) just teetering on the precipice ... why European banks are utterly clobbered this afternoon," said Chris Beauchamp, chief market analyst at IG Group.
Due to the Credit Suisse stock rout deepening worries over the European banking sector's health, traders now increasingly see the European Central Bank increasing interest rates by 25 basis points on Thursday, down from the 50 bps hike expected prior to the SVB collapse.
"It's too early for them to stop entirely, but it would be probably a bit foolhardy to go for 50 basis points tomorrow," Beauchamp added.
Meanwhile bank shares in Dublin were also much weaker, with Bank of Ireland sinking 7.9%, while AIB slumped 4.7%.
The Swiss National Bank declined to comment on Switzerland's second-largest bank, after its largest investor said it could not provide Credit Suisse with more financial assistance because of regulatory constrains.
We need your consent to load this rte-player contentWe use rte-player to manage extra content that can set cookies on your device and collect data about your activity. Please review their details and accept them to load the content.Manage Preferences
Germany's financial supervisory authority (BaFin) said it saw no direct risk of contagion and the German banking system appeared robust and capable of digesting higher interest rates.
"Our main focus is currently on some smaller banks with little surplus capital and increased interest rate risks - we are closely monitoring these institutions," a BaFin spokesperson said.
In the US, regional banks also fell, with First Republic Bank down 16%, Western Alliance Bancorp down 8% and PacWest Bancorp off around 24%,
Big US banks such as JPMorgan Chase & Co, Citigroup and Bank of America slid by between 3.5% and 5.5%.
BlackRock chief executive Laurence Fink warned today that the US regional banking sector remained at risk, and predicted further high inflation and rate increases.
Fink described the financial situation as the "price of easy money" and said in an annual letter that he expected more US Federal Reserve interest rate increases.
He said that after the regional banking crisis "liquidity mismatches" could follow because low rates have driven some asset owners to raise their exposure to higher-yielding investments that are not easy to sell.
"It's too early to know how widespread the damage is," Fink wrote, adding: "The regulatory response has so far been swift, and decisive actions have helped stave off contagion risks. But markets remain on edge."
Rapid rises in interest rates have made it harder for some businesses to pay back or service loans, increasing the chances of losses for lenders who are also worried about a recession.
However, European Central Bank policymakers are still leaning towards a half-percentage-point rate hike tomorrow, a source told Reuters, as they expect inflation will remain high.
Investors had begun to doubt the ECB's commitment to another big rate hike as SVB's collapse rattled markets.
But the source said the central bank was unlikely to diverge from its plan to raise rates by 50 basis points on Thursday because doing so would damage its credibility.
Unease sparked by SVB's demise has prompted depositors to seek out new homes for their cash.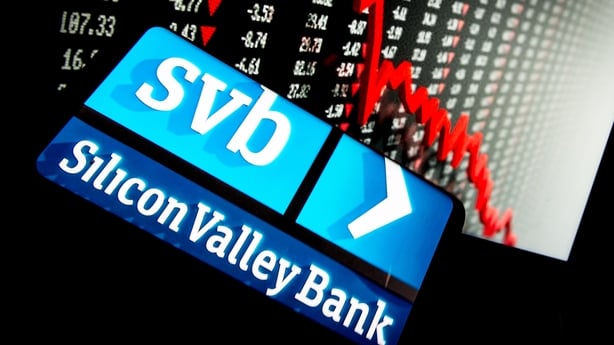 Ralph Hamers, CEO of Credit Suisse rival UBS, said it has benefited from market turmoil and seen money inflows.
"In the last couple of days as you might expect we've seen inflows," Hamers said. "It is clearly a flight to safety from that perspective, but I think three days don't make a trend."
Deutsche Bank CEO Christian Sewing said that the German lender has also seen incoming deposits.
In the US, the focus is shifting to the possibility of tighter regulation of banks, particularly mid-tier ones like SVB and New York-based Signature Bank, whose collapses triggered the market tumult.
Moody's Investors Service yesterday revised its outlook on the US banking system to "negative" from "stable", citing heightened risks for the sector.
SVB's shutdown prompted President Joe Biden's assurances that the US financial system is safe and emergency steps giving banks access to more funding.
In Britain, HSBC's top bosses have called on employees at SVB's rescued UK arm to assure clients "their deposits are safe and loans are supported" as the process of integration following its takeover begins, a memo from the bank showed.
And in an attempt to avert a similar crisis down the line, the US Federal Reserve is considering tougher rules and oversight for midsize banks similar in size to SVB.
Earlier, the Tokyo Stock Exchange banks index jumped more than 4%, after three days of heavy selling in a row.
Investors had been particularly concerned about the huge bond holdings of Japan's lenders, but Japanese finance minister Shunichi Suzuki said differences in the structure of deposits, meant local banks would not face incidents similar to SVB.