EBS is the latest lender to announce an average rate increase of 0.59% across its fixed rate residential mortgages and increases to its fixed rates for buy-to-let mortgages.
The lender also said today it would introduce increased savings rates across a range of its variable deposit products.
It said this follows the European Central Bank's decision to increase interest rates by 3% since July 2022.
The new fixed mortage rates are effective from tomorrow, March 15.
---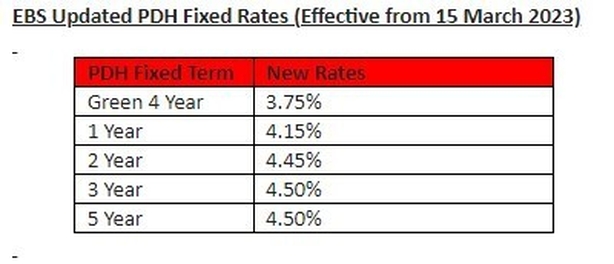 ---
It said that customers who draw down their new mortgage by close of business on April 14 can avail of the previous fixed rates.
There is no change to its variable mortgage rates, EBS added.
EBS said its Family Savings Account will now offer a 1% return up to €1,000 a month for 12 months, up from the current rate of 0.1%
Its Children's/Teen's Savings Account will offer a 1% return up to €5,000 and 0.1% for amounts greater than €5,000, while its EBS Instant Access Account will offer a 0.1% return from the current rate of 0%.
---

Non-bank lender Finance Ireland yesterday said it would increase its fixed mortgage rates by up to 0.75%.
The company said 5-year fixed rates will increase by 0.5%, while 3-year fixed rates will rise by 0.75%.
The European Central Bank's Governing Council is due to meet again on Thursday and it is expected that it will raise interest rates by a further 0.5%.