Revolut said today that it started rolling out Irish IBANs to its new Irish customers.
Since last week, anyone opening a new Revolut account in Ireland has been allocated a new Irish IBAN, beginning with the letters "IE".
The move should enable Irish-based users to send and receive money more easily, because until now they have had a Lithuanian IBAN for their accounts.
Revolut said its existing customers will start getting their new Irish account details from the end of this month.
By adding Irish IBANs to the existing deposit protection guarantee, Revolut said it has now ensured customers can use their Revolut account as their main bank account.
Until now, Revolut said that some of its customers may have experienced IBAN discrimination using their Lithuanian IBAN.
It said that an employer or service provider may have refused to accept an IBAN from a different country within the Single European Payments Area (SEPA).
By providing an Irish IBAN, this will no longer be a problem.
Currently, Revolut customers in Ireland have a Lithuanian IBAN in their Euro bank account.
Revolut will migrate Irish customers to the Irish branch of Revolut Bank UAB, its European business, and replace their Lithuanian IBANs with Irish ones.
Joe Heneghan, CEO Revolut Europe, said the online bank had a "fantastic" reaction to the news that it would be offering IE IBANs to its Irish customers.
"Soon we will be able to start giving Irish account details to the existing two million people in Ireland using Revolut. This will allow them to get their salaries paid directly into Revolut hassle-free and set up direct debits without worries," Mr Heneghan said.
"We recommend that our existing customers keep an eye out for an email from us over the coming weeks, about their new IBAN," he added.
Last month Revolut also launched its credit cards in Ireland.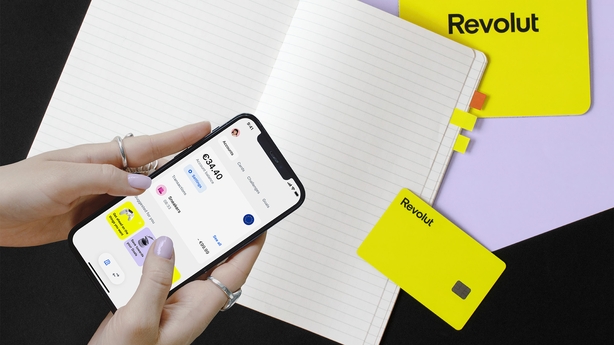 Meanwhile, a new survey from Revolut shows that the average consumer in Ireland is spending 15% more this year compared to last year.
Inflation and the relaxation in Covid restrictions as the pandemic eases are both seen as contributing to the increase.
"The periods of lockdown gave many consumers a new perspective on their priorities," a spokesperson for Revolut said.
"The new priorities include travel, where spending on hotels and airlines continue to increase, and activities for days out, such as museums and theatres."
"These new priorities suggest a continued desire to be around others and get out of the home."
In February travel spending increased 20.3%, shopping spending increased 9.1%, and entertainment spending increased 9.5% year on year, according to the latest consumer spending report.
The data shows that supermarket spending increased by 18.9% compared to last year.
It also reveals that many are looking to cut costs down by shopping at discount stores, which saw an 13.9% increase in the number of customers and where the average customer spent 6.8% more.
Revolut's data shows that spending on petrol increased by 19.5%, while bus companies saw a 36.4% increase in customers and a 36.7% increase in customer spending, year on year.
In travel, customers of cruise lines, airlines, hotels, and travel agencies all increased their spending.
In retail, discretionary spending was also up with consumers spending more at clothing stores, cosmetics stores, department stores and furniture stores.
However, in entertainment, spending in February on digital goods, including media, books, films, shows, and music, declined 15%, year on year.
It also appears that many have cancelled their subscription services, as the number of customers paying for them declined by 22.4%.
But while spending on virtual entertainment dropped, physical entertainment spend increased significantly although the number of customers going to the cinema decreased by 5.6%.
The data suggests New Year's resolutions continued to have an impact on spending patterns in February.
For example, the number of gym customers declined by just 0.7% as people stuck to their fitness plans.