There's something building in the commercial property market here.
Drive around Dublin city and there are "To Let" signs evident on shiny new looking buildings in a way that hadn't been apparent until very recently.
Peer in through those gleaming windows and you'll often glimpse rows and rows of empty desks and chairs.
Some of that is down to people working from home in a way they didn't pre-pandemic.
But in other cases, it is the consequence of whole floors or entire buildings in some circumstances lying vacant.
The result of oversupply, the ongoing retrenchment in the once real estate hungry tech sector, the slowdown in economic activity as a whole and the impact of rising interest rates, it all adds up to a growing problem for the commercial property sector.
Against this backdrop it is little surprise then that sentiment towards investment in Irish commercial property appears to be souring.
In the last week, it has emerged that several sizeable Irish property investment funds have suspended withdrawals, following a jump in investors seeking to take out their cash.
Those investors must now give notice before they can redeem their funds, to give the managers time to sell property where necessary to meet the calls.
Myles O'Grady, the Chief Executive of Bank of Ireland, also weighed in on the topic of commercial property at the bank's midweek annual results press conference, describing it as an "area of some concern" and warning that the office segment is one to particularly watch.
The bank is forecasting that commercial real estate prices could drop by 6% this year and an additional 2.5% next year in the most probable scenario, or by as much as 14.5% this year and 8.5% next year in a worst-case situation.
Also expressing a negative view of the sector was AIB boss, Colin Hunt.
"I think that a valuation challenge may well be ahead for the sector, but I don't expect material impairments on foot of it," the CEO said.
While on Thursday, UK commercial property firm Hammerson, which owns Dundrum Town Centre, Swords Pavilions, Kildare Village and Dublin's Ilac Centre, said it had revalued its Irish assets downwards by £20m.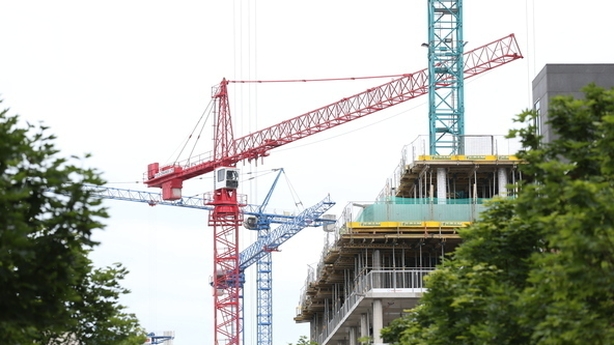 Why the pessimism?
So what is behind this reversal in positive sentiment in a sector that's powered ahead in recent years, including last year?
2022 saw a busy year of activity as the market recovered from a lack of action during Covid, with office construction reaching a high not seen since 2008 as projects that began pre-pandemic completed.
But by the back end of the year, the slowdown in the tech sector had started to bite in the office market, hitting demand.
"Tech habitually accounted for 50% of gross letting activity in the Dublin market over the five years up to the end of 2021," said John McCartney, Director and Head of Research at BNP Paribas Real Estate Ireland.
"So it was a big part of the Dublin market, it had become so, and last year in 2022 it accounted for 23%."
"So you can see that it did leave a bit of a hole on the demand side of the market."
This coupled with the shift to hybrid working, led to a growth in sub-letting as firms gave up space they had thought they would need, but suddenly realised they didn't any more.
"If we get the pain over with, we'll begin to transact again, we'll begin to do deals."
This growth in the so-called "grey market" coincided with a glut of new buildings being completed, driving the level of empty office space to 12.4% by the end of the year.
The result of this coupled with rising rates, according to the JLL Property index, was a 6.6% decline in the value of commercial properties here over the second six months of the year, despite rising rents – the first drop in valuations since 2012.
While the MSCI/SCSI Ireland Property Index put the annual rate of decline at 6.2% last year.
These trends have continued into 2023 and with BNP Paribas Real Estate expecting significant further completions of new developments, it is predicting vacancy rates will peak at 15% later this year or early in 2024.
"In theory there is about 260,000 sq m of office space that could complete this year," said John McCartney.
"So to put that in perspective, Dublin's office market is around 4.3 million sq m, so that will give you some idea how much additional stock this represents."
"It is non-trivial but it is not enormous, but will take more than this calendar year to absorb all that space."
The knock-on effect of this will be that growth in rents will further slow, or perhaps reverse, playing into the hands of commercial tenants.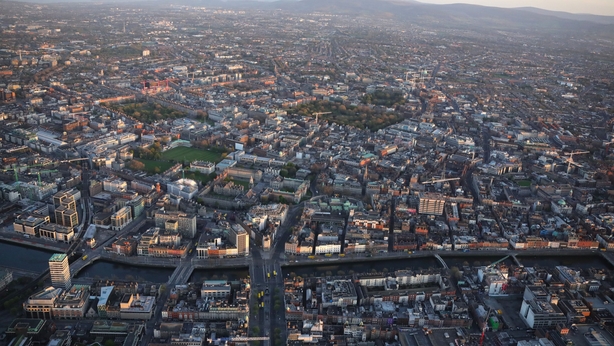 A correcting market
In tandem with these local developments, interest rates internationally have continued to climb into the New Year, with more hikes expected from the ECB as early as Thursday.
Colm Lauder, Head of Real Estate with stockbroker Goodbody, said the effect of rising rates is that property yields also have to increase to meet the rising cost of investment.
While valuations fall, because debt-backed buyers are seeking to pay less for property.
Mr Lauder said that because we don't yet know where interest rates are headed and also because transaction volumes in Ireland are currently subdued due to the economic environment, there isn't enough information available to put a final figure on where valuations will end up.
"We are limited in terms of market evidence out there that gives us more clarity in terms of the breadth of these declines," he explained.
"But if you look at the inputs in terms of how you assess new property valuations, how you assess viability, the logic is that values need to move to reprice for where rates are currently."
The effects won't be the same across all sub-sectors though, he predicted.
Recent research by Mr Lauder and colleagues estimated that Dublin office valuations could drop by up to 20% compared to what they were in June of last year, with older buildings that are less sustainable dropping more.
Retail property valuations, on the other hand, which have already fallen 30% over the last three years due to the pandemic, are holding up a little better and are predicted to fall by up to 10% in 2023.
While industrial and logistics properties will land somewhere in between, with a projected drop of around 14% in values.
"If we get the pain over with, we'll begin to transact again, we'll begin to do deals," Mr Lauder said.
"But that doesn't mean that capital values are going to go back up. Capital values will stay at a level that is sensible as long as rates stay at that level."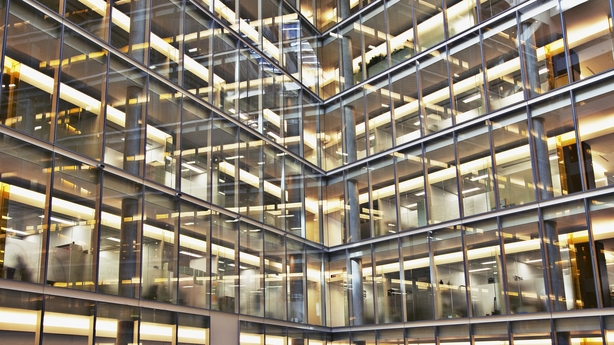 The consequence of all this is that investors, including those from outside the country whose money drives much of the property investment here, are now paused and poised, waiting to see what will happen.
But John McCartney thinks the pause won't last too long, particularly once the tech sector recovers.
"My experience is that once the Nasdaq recovers, those things can very quickly come back onto the radar again and I expect that will probably happen again," he said.
"Tech will come back and begin leasing office space in Dublin, I think that is inevitable really."
In the meantime, as rents soften, developers will pull back until the current overhang in vacant supply works its way out of the system through natural economic growth.
That should then result in rents picking up again, triggering new development and a fresh upward cycle in the market.
Or at least, that is how the theory goes.
But as we know, theory is often not mirrored by reality.