The number of planning permission applications granted for houses and apartments fell sharply in the final quarter of last year, according to the Central Statistics Office.
Total applications granted for all dwelling types were down 43.5% at 7,597 in the final three months of last year compared to 13,450 in the same period in 2021.
The CSO says that changes in the application process for Strategic Housing Developments (SHDs) and "related issues in An Board Pleanála" may have affected the number of planning permissions granted. It also notes there is currently a backlog of applications for SHDs.
Today's figures show there was a 34% decrease in permissions granted for units in SHD's.
For 2022, the number of total planning applications granted was down 20.5% compared to 2021.
Permissions granted for apartment units were down from 26,272 in 2021 to 16,723 last year, a fall of 36.3%. Apartments accounted for 49% of the permissions granted last year.
However, permissions granted for housing developments were up from 9,220 to 10,530 units, an increase of 14.2%. Applications granted for one-off houses were down 7.7% from 7,499 units to 6,924.
Dublin accounted for 65%, or 10,803 units, of the applications granted for apartments last year, followed by Cork at 11% or 1,857.
We need your consent to load this rte-player contentWe use rte-player to manage extra content that can set cookies on your device and collect data about your activity. Please review their details and accept them to load the content.Manage Preferences
Cork had the most permissions granted for houses at 14% or 2,495. Dublin was second at 8% or 1,353 units.
In the final quarter of last year compared to the final quarter of 2021, the number of applications granted for units in housing developments was down 25% from 3,309 in 2021 to 2,483 in 2022.
---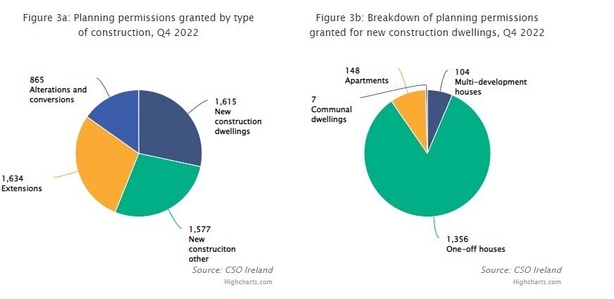 ---
Applications for one-off houses were down 33.3% while applications for apartment units were down 53.6% from 8,107 to 3,758.
Earlier this week the Central Bank forecast that housing completions this year would slow to 27,000 before rising to 29,500 next year.
There were 29,851 housing units completed in 2022. This was up 45.2% compared to 2021.
The 12 month rolling figure for commencement notices, which indicate the number of units currently being built, was 27,204 in January, down 12.8% on an annual basis.
Commenting on the drop in permissions for apartment development, Property Industry Ireland said it could lead to a slowdown in the delivery of this home type over the coming years.
"If we are to meet Ireland's housing need any shortfall will have to be offset by increased delivery of scheme housing," said Director Dr David Duffy.
"The upcoming guidelines on low-rise medium-density own-door homes could play a key role in this regard."
"Our planning system also needs to provide certainty through predictable timelines and must be resourced to meet the challenge of potentially providing up to 60,000 new homes a year."
"This does not include planning for commercial projects and vital infrastructure."