Unilever said today it would continue to raise prices for its detergents, soaps and packaged food to offset rising input costs, and ease up those hikes in the second half of 2023.
The London-based company makes products like Fairy washing-up liquid, Dove soaps, savoury food spread Marmite and Ben & Jerry's ice cream.
It said it expects cost inflation to continue in 2023, forecasting net material inflation in the first half of around €1.5 billion.
The packaged goods industry has hiked up prices over the past year to cope with surging costs of everything from cocoa and sunflower oil to wheat.
The industry had already been battling Covid-era supply chain issues and raw material expenses when Russia invaded Ukraine, further boosting prices of energy and other commodities.
"When it comes to coverage of the inflation that we've seen, we're currently only sitting at about 75% of the total cost inflation covered," said finance chief Graeme Pitkethly. "That needs to go above 100% to repair our gross margin."
Price increases would continue in the second half "but it will be a lower rates of increases - we are probably past peak inflation, but not yet past peak pricing," Pitkethly said.
Underlying price growth for the fourth quarter was a record 13.3% while underlying volumes fell 3.6%.
Some companies in Europe have said they may unwind price hikes introduced in recent years as soaring costs of energy and other raw materials have eased, potentially providing some relief to consumers.
Unilever has had a dramatic past year, featuring three rejected bids to buy GSK's consumer health business, activist Nelson Peltz joining its board and Chief Executive Alan Jope announcing his departure.
At the end of last month, it named dairy executive Hein Schumacher its incoming CEO.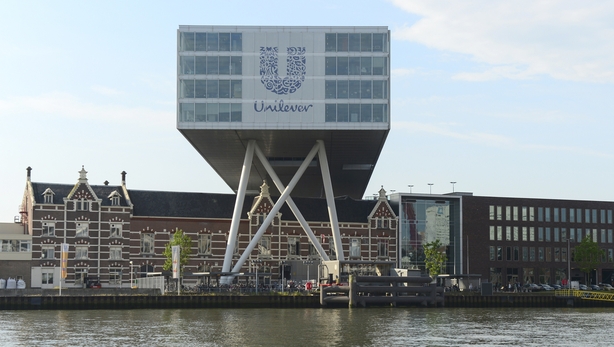 Hopefully, the new CEO will start as input costs ease, enabling the company to gain back market share, said Tineke Frikkee, a fund manager at Waverton Investment Management.
Underlying sales at Unilever rose 9.2% in the fourth quarter, beating a company-provided analyst estimate of an 8.2% increase.
The underlying operating margin declined by 230 basis points to 16.1%, and is expected to stay at about 16% in the first half.
Unilever flags risk it may have to halt Russia operations
Unilever also said today "there is a risk" that it may have to stop doing business in Russia, and that it might have to take a loss or write down its assets there.
The company, which employs over 3,000 people in Russia, in March became the first major European food company to stop imports and exports out of Russia after the country's invasion of Ukraine.
The maker of Dove soap and Knorr soup said at the time it would not invest further in Russia and would also stop all media and advertising spending there, adding that its Ukrainian operations had also stopped.
However, it continued to supply its everyday essential food and hygiene products made in Russia to people in the country, while saying it would not take any profit from those sales.
"We will continue to review and disclose the financial implications from the conflict," Unilever said in its earnings statement today.
"While the potential impacts remain uncertain, there is a risk that the operations in Russia are unable to continue, leading to loss of turnover, profit and a write-down of assets," it added.
As of December 31, Unilever had assets worth about €900m in Russia, including four factories, the company said, adding that in 2022 the business contributed 1.4% of the its total turnover and 2% of its net profit.
"The option that we're following right now is the one that contributes the least to the Russian economy in terms of taxes - simple abandonment would definitely result in more contribution to the Russian economy," chief executive Alan Jope said on a media call.
"Ringfencing and managing these businesses in a way that they don't fall in to the hands of the regime - we believe that is the most principled response alongside our concern for the 3000 people that we have there," Jope said.
"Exiting is not straightforward. And just to be clear, we are not trying to protect the commercial value of our business in Russia," he added.