Shares in India's Adani Group rallied today a day after it prepaid some loans, bringing relief to investors that have seen $113.6 billion wiped off the conglomerate's market value since a US short-seller published a critical report two weeks ago.
The group, led by billionaire Gautam Adani, has been roiled by days of market turmoil after Hindenburg Research on January 24 alleged it had engaged in stock manipulation and used tax havens.
It also said the group had unsustainable debt.
Adani Group has denied the allegations, saying it complies with all laws and has made necessary disclosures over time. Nonetheless, investors dumped its shares as concerns of financial contagion grew.
Moody's rating agency has warned the share-price plunge could hit the group's ability to raise capital, while India's central bank has started checking on lenders' exposure to it.
In a major setback for the billionaire, the market rout also forced Adani to shelve a key $2.5 billion share sale last week.
Yesterday though, Adani Group said it will pre-pay $1.11 billion of loans on shares. Separately, JPMorgan today said the group companies were still eligible for inclusion in the bank's bond indexes.
Anita Gandhi, director at Arihant Capital Markets, said those two factors had helped lift stock prices.
"Also aiding the rise is the sharp correction in the group stocks, which have made them attractive," she added.
The group's flagship company Adani Enterprises was trading 14.7% higher today, but still around half the level seen before the Hindenburg report was released.
The cumulative losses of Adani group's seven listed companies still stand at $109 billion despite Adani Ports and Special Economic Zone also gaining 2.6% today and Adani Wilmar adding 5%.
But the recovery did not reach Adani Green Energy, Adani Total Gas or Adani Power, all of which were 5% lower on the day.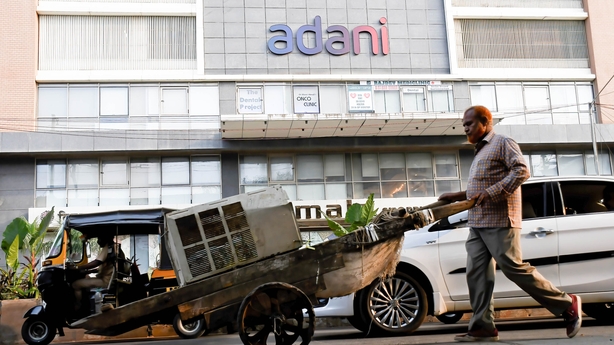 Hundreds of members of India's main opposition Congress party took to the streets yesterday pressing for a probe into Hindenburg's allegations.
Dozens of activists from its youth wing gathered outside the Life Insurance Corporation's office in New Delhi today, carrying posters questioning why investigating agencies have remained silent.
Many Adani group companies report results this week.
Adani Ports posted a lower quarterly profit today as foreign exchange losses soared, and said it will pay back 50 billion rupees ($605m) - or 13% of its net debt - in the new fiscal year from April.