Business conditions in the manufacturing sector stabilised in the first month of 2023, the latest Purchasing Managers Index (PMI) from AIB shows.
This follows two months of contraction in the sector, amid a sharp drop in new orders.
Today's data shows that while the current lull in demand reportedly continued to contribute to sustained reductions in output and new orders in January, rates of decline softened for both.
As a result, firms were more positive about their future and registered the strongest degree of confidence in 11 months.
The PMI, a composite single-figure indicator of manufacturing performance, rose from 48.7 in December to 50.1 in January.
Any figure greater than 50 indicates overall improvement of the sector.
---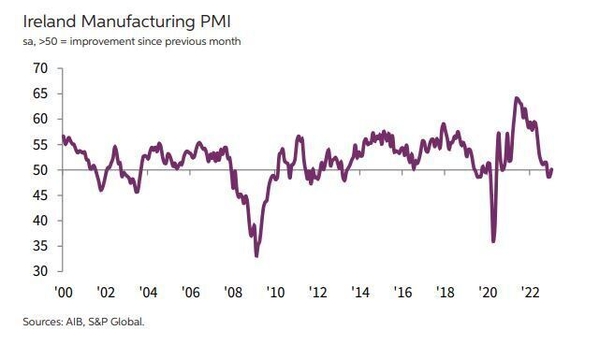 ---
While the latest reading was only just above that threshold, it was the strongest in three months, breaking that two month pattern of decline.
The Irish reading contrasts with the weak flash manufacturing PMIs for the US, euro zone and UK in January.
While improving, they came in at 46.8, 48.8 and 46.7, respectively, pointing to ongoing declines in manufacturing activity in those economies.
"Encouragingly, the Irish data showed the smallest fall in new orders since they first began to decline in June last year, though demand remains muted," said Oliver Mangan, AIB Chief Economist.
"The pace of contraction in output also eased considerably, with just a small fall in the month," he added.
He said two factors helped in this regard.
"There was a further marked decline in order backlogs as firms cleared outstanding work, while stocks of finished goods rose for the seventh month running, recording their second biggest increase in the survey's history," Mr Mangan said.
There were also a number of other positive elements in the January PMI.
Employment expanded at a solid pace, while there was a shortening of suppliers deliver times, the first seen since October 2019 in a clear sign that pressures on supply chains have eased considerably.
Meanwhile, there was also a further marked easing in inflationary pressures.
"The rate of increase in input costs and output prices, while still quite high, fell to 24 and 22 month lows, respectively," Mr Mangan said.
"Not too surprisingly then, there was a good improvement in sentiment in regard to the outlook for the year ahead, with confidence rising to its highest level since last February," he added.
That said, the findings show some concerns about inflation remained.