83,662 residential properties were recorded as vacant in the final quarter of last year, according to a new report by GeoDirectory.
GeoDirectory is Ireland's official complete database of commercial and residential buildings.
Today's figures show that the national average vacancy rate at the end of last year stood at 4%, down slightly on the same time the previous year, and the lowest recorded to date.
Out of the 26 counties, 24 reported declines in vacancy rates compared to the final quarter of 2021.
Dublin recorded the lowest vacancy rate at 1.2%, while Leitrim recorded the highest vacancy rate at 12.2%.
---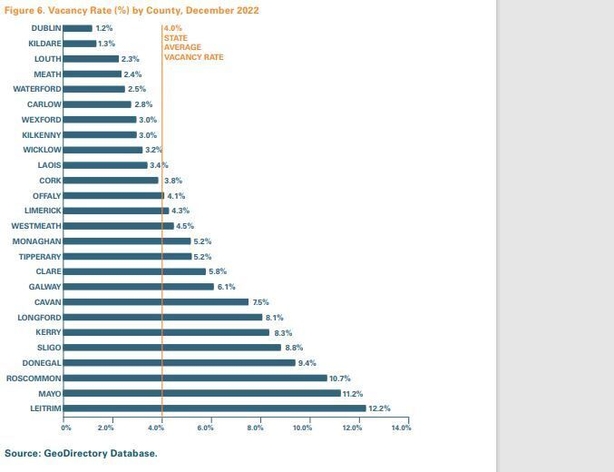 ---
Today's report also shows that the number of derelict residential address points fell by 4.8% in the 12 months to December 2022.
In total, there were 21,481 derelict units identified nationwide, with the highest proportion found in Mayo, Donegal and Galway.
Today figures follow the news yesterday that a fund of €150m will be made available to local authorities to buy vacant derelict buildings in cities, towns, and villages.
The properties will then be renovated with the Minister for Housing hoping this will make them attractive to home buyers.
Total housing stock
As of last December, the total stock of residential properties in Ireland stood at 2,100,905, today's report shows.
Detached properties continued to make up the largest share of this total at almost 31%, followed by terraced at over 28% and semi-detached at 24.7%.
The number of apartments, which are defined as a dwelling which exists in a building of five or more dwellings, amounted to 210,150 units or 10% of the total residential stock.
This was an increase of 13,007 units or 6.2% compared to December 2021.
---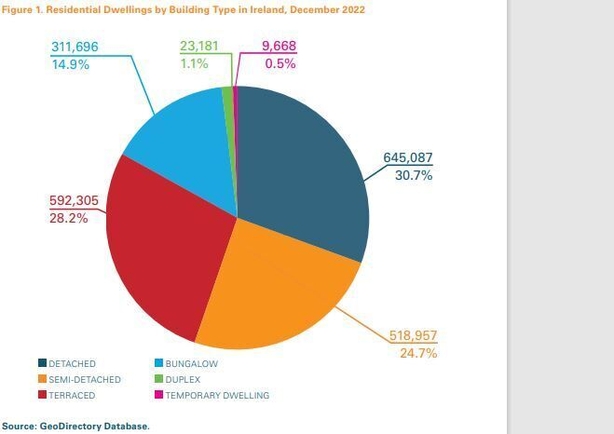 ---
Housing supply
The report also shows that residential construction activity and the supply of housing stock increased last year.
In the 12 months to December 2022, 28,510 new residential address points were added to the GeoDirectory database, representing an increase of 58% on the same period in 2021.
In addition, 22,008 residential buildings were under construction in December 2022, an increase of 12.9% year-on-year.
Over 18% of these buildings under construction were located in Dublin.
The figures also show that construction activity was strong in Kildare, which accounted for just under 14% of the overall total.
62% of all residential buildings under construction were located in the Leinster region.
"The data shows that construction activity and supply of housing stock increased significantly in 2022, but it is still lagging well behind the current rate of demand," said Dara Keogh, CEO of GeoDirectory.
"The number of residential buildings under construction and additions to the housing stock over the past twelve months would indicate that the sector has moved past the disruption brought about by Covid-19," he added.
---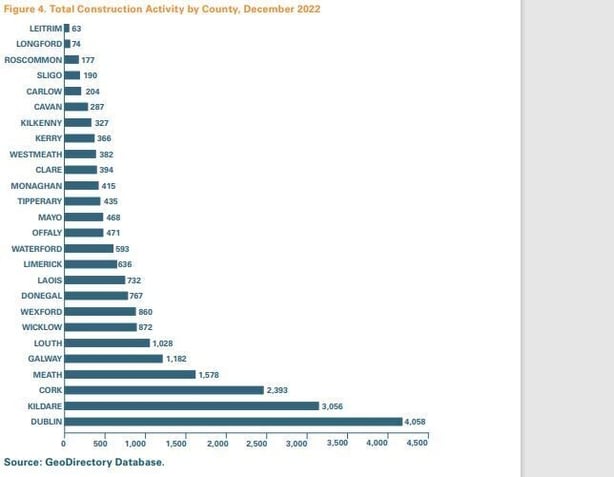 ---
While the supply of housing stock increased last year, the number of commencements declined.
A total of 26,898 housing commencements were recorded in the 12 months to November 2022, representing a decrease of 11.9% or 3,639 units compared to November 2021.
House prices
Average house prices climbed across all 26 counties in the 12 months to November 2022, according to today's figures from GeoDirectory.
They show that the national average house price was €354,060, up 9% on the previous 12-month period to November 2021.
The largest increases in average house prices were seen in Donegal and Waterford both at 18.9% followed by Offaly at 18.8%.
Dublin recorded the highest average house price at €528,211, followed by Wicklow at €467,154 and Kildare at €373,666.
All other counties recorded house prices below the national average.
Roscommon, Leitrim and Longford posted the lowest average house prices across the 12 months to November 2022.
A total of 47,716 residential properties were purchased across Ireland in the 12 months to October 2022, an increase of 3,606 transactions on the previous year.
Almost one-in-five of all residential property transactions in the state involved a new dwelling.
The highest proportion of new dwellings were purchased in Kildare, Meath and Wicklow.
Rental prices
The study also highlighted that the average rent increased by 8.2% between the first and second quarter of 2022.
The highest average rent price in the second quarter was recorded in the Dún Laoghaire-Rathdown region at €2,231, while the lowest average rent price could be found in Donegal at €783.
By examining average rental prices against the metric of 30% of a household's gross monthly income, today's analysis shows that, on average, there is an affordability gap in the three largest cities in the country - with Dublin city at 27%, Cork city at 18% and Galway city at 6%.