ESB Networks, which is the part of the ESB responsible for the transmission of electricity to homes and businesses, has said it will invest €10 billion between now and 2030 in the country's electricity network.
The investment is part of its "Networks for Net Zero Strategy" which it is also launching today. This is a plan to make the electricity network capable of handling the Climate Action Plan goal of 80% renewable generation by 2030.
As part of the plan, ESB Networks will create 1,500 jobs for apprentices, graduates as well as technical and IT roles.
Last May, the ESB Group announced a drive to recruit 1,000 new workers as part of its plan to build a net zero power system by 2040.
The plan announced today will aim to deliver the capability of handling up to 30% of all electricity demand flexibly, which means the network will be able to respond better to peaks and troughs in supply and demand.
This is a characteristic of grids with large shares of renewable power.
In practice, this means coping technically with conditions when sometimes there is abundant electricity generated by wind and sometimes very little.
The investment in the system will enable the connection of 9 gigawatts (GW) of onshore wind, 5GW of offshore wind and 8GW of solar power.
It will also fund commitments under the Housing for All programme to connect more than 300,000 new homes by the end of this decade.
"I welcome ESB Networks' ambitious strategy launched today as it outlines a clear roadmap of how our electricity system will play a key role in Ireland's transition to net zero and address climate change challenges," the Minister for the Environment, Climate and Communications Eamon Ryan said.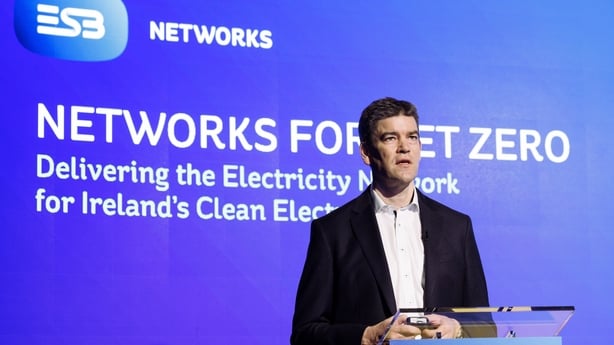 ESB Networks Managing Director, Nicholas Tarrant, said today's strategy also commits ESB Networks to delivering a Net Zero Ready Distribution Network by 2040.
"This will accommodate high levels of renewable generation to provide clean electricity which will be used to replace fossil fuels wherever possible and enable the decarbonisation of Irish society," he added.