Visitors to Dublin city centre over the past week might have been struck by the quantity of sharp suited, briefcase-carrying, middle-aged men and women wandering and hanging around the streets, particularly near St Stephen's Green and the Convention Centre.
Dublin is something of a global centre for the world of aircraft leasing and, last week, that world came to the capital for a number of back-to-back conferences, side events, meetings and a general in-person post-pandemic catch-up.
You could almost sense the wealth, as one of the most asset rich and lucrative sectors of the global economy talked up its prospects and showed off its deep pockets in the bars, restaurants and hotels of the city.
It's a sector that's faced more than its fair share of challenges of late.
In the years leading up to and including 2019, it was flying, if you'll pardon the pun.
But then the pandemic grounded airlines all over the world.
Covid was then followed by the Ukraine War, which resulted in hundreds of aircraft owned by leasing companies becoming stranded in Russia, where many of them still remain today.
Another consequence of the conflict has been soaring energy prices and inflation generally, which have made life difficult for the lessors' airline customers and sapped consumer demand.
The knock-on effect of the inflation has been higher interest rates, making it more expensive for the industry and its clients to fund themselves.
But all the time, lurking in the background, is another much longer-term serious challenge, for the sector but also for humanity.
How exactly can aviation be made green, and quickly?
In 2021, aviation accounted for over 2.5% of global energy-related CO2 emissions, having grown more rapidly in recent decades than road, rail or shipping.
Some also argue that the figure is actually higher, when other harmful emissions from aircraft engines and their contrails are taken into account.
With aviation once again on an upward trajectory, the expectation is that those emissions will only continue to increase fast.
And yet, aviation through its representative body IATA has set itself the goal of becoming Net Zero by 2050.
Industry experts admit it is a hugely challenging target, but nonetheless one which for all our sakes must be achieved.
Four methods to Net Zero
Dick Forsberg, PwC's senior aviation finance consultant, figures there are four methods to help get there, which will have to be combined.
The first is new propulsion technology, which will likely involve electricity or hydrogen or some other form of fuel being used.
The second is Sustainable Aviation Fuel or SAF, which is a form of fuel made from a sustainable source that can be used in current modern jet fuel burning engines, but is said to be up to 80% cleaner.
The third is the use of carbon offsets, carbon trading and carbon capture schemes to try to mitigate some of the damage that the aviation engine emissions are doing.
While the fourth one is to change the operating parameters of airlines around the world by streamlining how they fly, allowing them get from point A to point B more directly, thereby reducing their emissions.
But experts reckon none of these "solutions" will on its own solve the problem, and even using them together will likely only achieve so much.
Years from meaningful breakthrough
The very latest aircraft engines have become a little less polluting than the engines of the past.
When it comes to revolutionary clean engine technology to replace the current fossil-fuel burning generation, a meaningful breakthrough is many years away however.
"2050 is not that far away and the ability of the industry and in particular the engine manufacturers to develop new technology, power plants, is going to be slow because it is dependent on getting power efficiencies out of batteries, out of hydrogen and any other alternatives that might be out there," said Mr Forsberg.
"And the reality is that it will only be accessible on relatively small regional aircraft, maybe 100 seats or less, right the way through to the mid-2030s.
"And even it is available on larger aircraft after that, the rate at which the manufacturers can deliver those aircraft to augment or replace the existing fleet of aircraft, it will probably be another 15 years before you get to that critical tipping point where you have more alternative new technology aircraft than old ones."
It will also require trillions of dollars of investment.
That means that even by 2050, we are likely to be hugely dependent on SAF and the other pieces of the jigsaw in order to bring emissions down.
Commitments to spending on SAF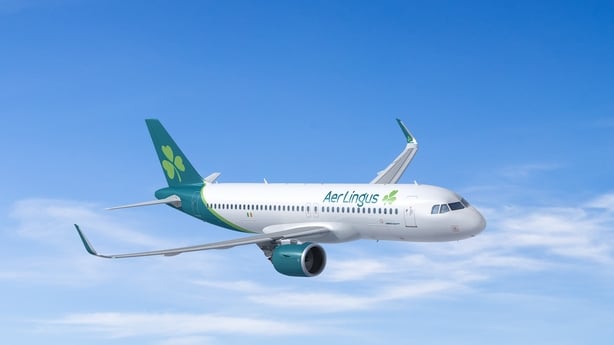 Most large airlines have committed to boosting their use of SAF over the coming years.
Ryanair, for example, recently signed an agreement with Shell which gives it potential access to 360,000 tonnes of SAF between 2025 and 2030, saving over 900,000 tonnes in CO2 emissions and helping it 20% of the way towards its overall target of using 12.5% SAF by 2030.
The airline has also provided funding to a SAF research centre in Trinity College Dublin.
While the IAG Group, the parent company of Aer Lingus, has committed to spending $400m on the development of SAF over the next two decades and has committed to 10% SAF use across its aircraft by 2030.
Yet, those targets seem massively challenging when you consider where the entire sector is at today.
Currently, total global SAF production is at the level of less than 2% of airline requirements and that doesn't take into account the growth expected in airline travel over the coming years.
"Even to get to 10% of fuel originating from SAF would require approximately $250bn of investment," said Andy Cronin, chief executive of Dublin based aircraft leasing firm Avolon.
"So, it is an absolutely colossal amount of commitment and resources to get there and will require all participants – industry participants and government participants - to play their role in that."
Even then, there are question marks around whether the technology is there to produce it in the desired quantities, without turning to synthetic methods of production.
Carbon offsetting
The other issue is that SAF, while arguably better than traditional jet fuel, isn't completely clean either and is only less carbon producing at the point of production, not the point of use.
That brings us to the fourth option – carbon offsetting, trading and capturing schemes.
These are seen by many environmentalists as nothing more than greenwashing.
They argue that, fundamentally, we shouldn't be trying to paper over the problem by planting forests or funding energy efficient cooking stoves to developing countries, but actually end it, by eliminating the use of the cause – fossil fuels.
Greenpeace, for example, says tree planting and renewable energy investment are of course good things in isolation.
But they don't cancel out the emissions.
"Offsetting projects simply don't deliver what we need – a reduction in the carbon emissions entering the atmosphere. Instead, they're a distraction from the real solutions to climate change," said Alia Al Ghussain, Greenpeace researcher and adviser.
"As a result, offsetting allows companies like BP and Shell as well as airlines to continue with their unsustainable behaviour while shifting their responsibility for the climate onto the consumer."
But others argue offsetting projects can help.
Lev Gantly heads up the renewable energy group at Philip Lee Solicitors in Dublin and he says offsetting is not necessarily buying credits just to offset emissions.
"It is actually providing carbon and climate finance that is now provided for in the Paris Agreement," he said.
"It involves both countries and organisations across different industry sectors giving money to carbon project developers.
"Developments that are either based on nature-based solutions such as deforestation prevention or afforestation, but also engineered solutions. Things like direct air capture, biochar production and other technologies.
"The end results of these investments is carbon credits but also the role industries can play by helping these projects to scale and helping them to grow and reduce and remove emissions."
Modernising outdated ATC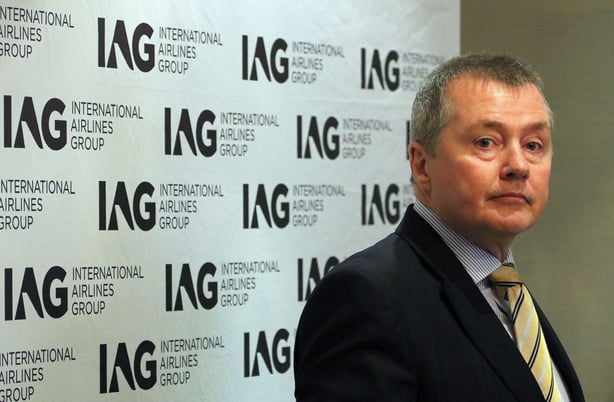 The final option on the list is to improve the efficiency of aircraft in getting from place-to-place.
The Single European Skies project aims to do that, by modernising outdated air traffic control (ATC) procedures and rules that constrain overflights, thereby giving certain ATCs around continental Europe the ability to shut down airspace for strikes and other industrial disputes- such as staff shortages - in a way that can lengthen aircraft journeys greatly.
But the plan has been mired in delays and setbacks which have undermined confidence in it ever being completed.
Last year, Irish man Willie Walsh, who leads IATA and is a former chief executive of IAG, British Airways and Aer Lingus, branded the situation a "disgrace" and a "scandal" at a Eurocontrol conference.
He estimated that 10%-12% of CO2 emissions from aviation could be avoided if the system were more efficient and said it was crazy to think that airlines operate aircraft today in the same way as they did in the 1970s, even though technology has moved on so much.
Fundamentally though, many environmentalists argue that framing the discussion around reducing or mitigating aviation emissions is missing the point.
They argue instead that we need to find less polluting alternative ways to travel, or better still travel less completely, and say governments need to encourage this.
Ireland's strategy
Reacting last year to the Irish Government opening a consultation on its Draft Clean Air Strategy, An Taisce pointed out that it contained no reference to aviation emissions.
The Government does, however, have an action plan for aviation emissions reduction, which was published in 2019.
Ironically though, it seems likely that in the coming years, people may be forced to fly less anyway for economic reasons.
Rising fuel prices coupled with the massive investment required to fund the green transition of aviation will inevitably push fares higher.
And if governments continue to slap on more environmental taxes, travel costs will rise even more.
Ultimately though some believe if we talked more openly about the problems and the solutions, it would have an even greater impact on behaviour and choices.
"I think what all consumers are craving is better quality information so that they can decide how they trade their capital, their time, their lifestyle choices, around what is best for the environment," said Avolon's Andy Cronin.