Prices paid by manufacturing companies for raw materials and inputs declined for the second month in a row in December, bringing the annual rate of the wholesale price index back to 2.5%.
This compares to an annual rate of 3.8% in November and 8% in October.
According to figures published by the Central Statistics Office, prices paid for raw materials for domestic goods rose by 8.9%. Producer prices for exported goods rose by 2.3%.
---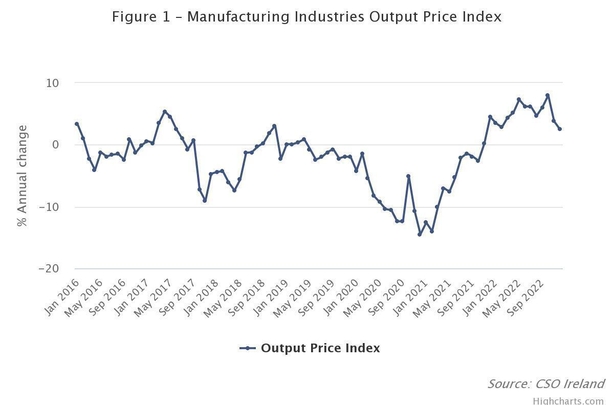 ---
The price of electricity remains very volatile. It rose by 93.2% in December, compared to November. But this follows steep falls in electricity prices in the months of September and October.
Overall, on an annual basis, the price of electricity is now 10.4% higher than it was in December 2021.
---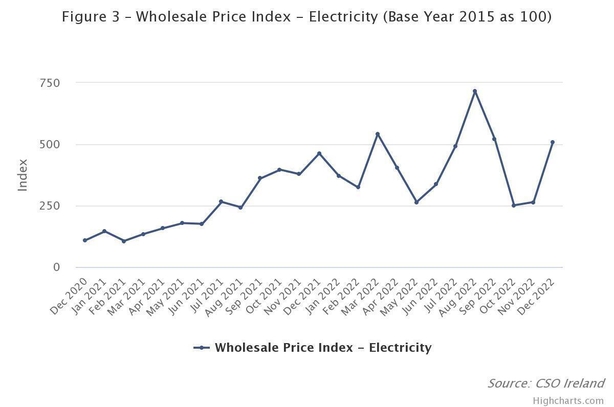 ---
Inflation in the construction sector paused in December with no movement over the month in materials and wages combined, which are up 9.9% on an annual basis.
The cost of construction materials rose by just 0.1% over the month and are up 16.2% compared to December 2021.
Some of the significant increases in construction materials over the year include steel, up 57.1%, cement up 29.2% and PVC pipes and fittings up 26.3%.
The leap in food inflation was evident with food ingredients going by 8.4% over 2022 compared to an increase of just 0.2% in 2021, today's CSO figures show.
Dairy products went up 44.4%, meat by 12.2% and beverages by 12.2% over the year.