Swedish climate activist Greta Thunberg has accused attendees of the World Economic Forum in Davos of "fuelling the destruction of the planet" as she arrived at the event in the Swiss Alps.
"We are right now in Davos where (there are) basically the people who are mostly fuelling the destruction of the planet," she said.
"The people who are at the very core of the climate crisis, the people who are investing in fossil fuels etc, and yet somehow these are the people that we seem to rely on for solving our problems."
The 20-year-old Swede spoke on the sidelines of the WEF with fellow activists Helena Gualinga of Ecuador, Vanessa Nakate of Uganda and Luisa Neubauer of Germany at a CNBC panel that included International Energy Agency head Fatih Birol.
Ms Thunberg said change will have to come from "the bottom up".
"Without massive public pressure from the outside, these people are going to go as far as they possibly can, as long as they can get away with it," she said.
"They will continue to invest in fossil fuels. They will continue to to throw people under the bus for their own gain."
Mr Birol said the energy sector must be transformed or "we have no chance whatsoever to reach our climate targets".
He said that attention to climate change is "sliding down" the international agenda including in Davos.
"It is now time to ring the alarm bells, bring the climate crisis together with other crises, the energy crisis, the food crisis, atop of the international policy agenda," he said.
Ms Thunberg was released by police on Tuesday after being detained alongside other climate activists during protests in Germany.
Former US Vice-President Al Gore said in Davos that he agreed with Ms Thunberg's efforts in Germany and that the climate crisis was getting worse faster than the world was tackling it.
"We are not winning. The crisis is still getting worse faster than we are deploying these solutions," Gore told a WEF panel, highlighting a growing gap between those "old enough to be in positions in power and the young people of this world".
Ms Thurnberg challenged world leaders, including former US president Donald Trump, at the time to act on climate change, saying that "our house is still on fire".
She has also participated in previous protests on the fringes of the gathering, which brings business and political leaders together in the Swiss ski resort for a dialogue on topical issues.
Climate change is one of the main items on the agenda for this year's meeting, which has already seen protests against the role of big oil firms.
Activists saying they are hijacking the debate over how to address global warming.
Representatives of major energy firms including BP, Chevron, Occidental Petroleum and Saudi Aramco are among 1,500 business leaders gathered there.
UN Secretary-General Antonio Guterres yesterday called on the WEF attendees to make "credible", accountable net-zero pledges.
A social media campaign this week added to pressure on oil and gas companies, promoting a "cease and desist" notice sponsored by Ms Thunberg, Ms Nakate, Ms Neubauer and Ms Gualinga through the non-profit website Avaaz.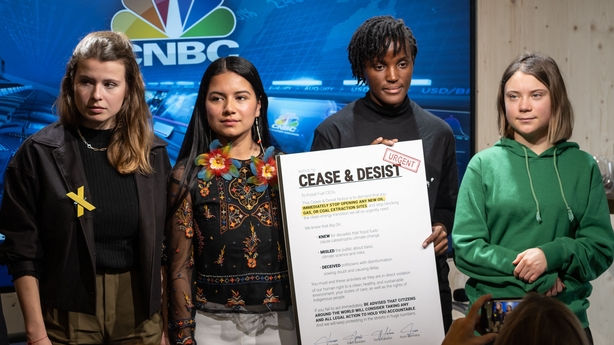 The call, which has garnered more than 850,000 signatures, demands that energy company CEOs "immediately stop opening any new oil, gas, or coal extraction sites, and stop blocking the clean energy transition we all so urgently need".
It threatens legal action and more protests if they fail to comply.
The oil and gas industry has said that it needs to be part of the energy transition as fossil fuels will continue to play a major role in the world's energy mix as countries shift to low carbon economies.