Prices sought for used cars across the country continued to rise in the last three months of the year and are now almost 70% higher than they were before the pandemic began.
But new data from car listings website DoneDeal suggests the rate of price increase is finally slowing down to more normal levels after more than two years of rapid rises.
Between October and December, asking prices for used cars increased by 1.4%, the lowest rate of inflation since the third quarter of 2019.
That means that prices now are 16.2% up on this time a year ago, and 69.7% higher than in February 2020, just as the Covid-19 pandemic was beginning.
---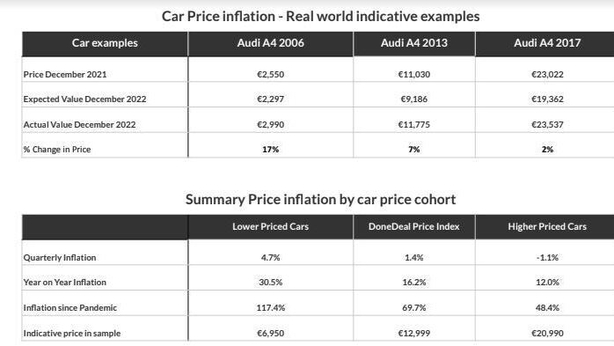 ---
"The inevitable slow down in price inflation at the end of 2022 could largely be attributed to several supply and demand side factors," said economist Tom Gillespie, author of the DoneDeal Price Index.
"In terms of supply, wait times for new cars have started to reduce as microchip production slowly catches up with demand in the motor industry, in turn, this eases the pressure on the almost-new used car market."
---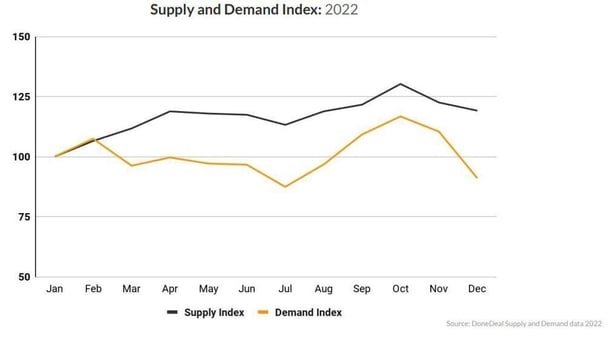 ---
Mr Gillespie added that the number of active listings on the website is now up 19% when compared to the period between January 1 and December 1.
"On the demand side, the cost-of-living crisis inevitably means that big ticket items such as cars are given more careful consideration from a household budget perspective, dampening demand," Mr Gillespie said.
"In-depth analysis of ad view trends on DoneDeal gives an insight into consumer demand over the past year."
"In the last three months of 2022, demand fell by 17% quarter on quarter, which largely is in tune with the observed slowdown in price inflation."
---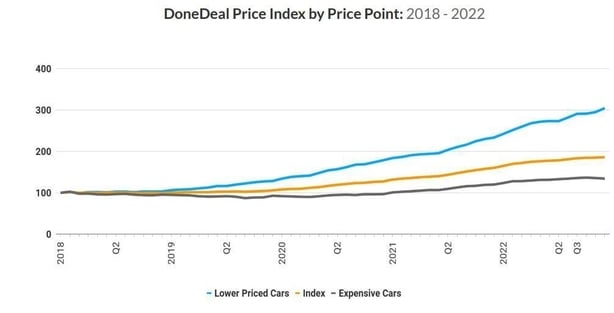 ---
Cars valued at over €20,000 saw their prices fall by 1.1% during the fourth quarter, the first-time deflation has been seen in this market segment since early 2020.
This is being blamed on less demand for good second-hand cars as production of new cars catches up with demand.
Lower price cars worth under €6,000 on the other hand, continued to see strong inflation of 4.7% during the period and have now rise in price by 117.4% since the pandemic began.
"For the lower end of the market the Celtic tiger year cars are rapidly becoming obsolete, and replacing the supply of older/cheaper cars can only come from overseas," said Mr Gillespie.
"For many people who live in rural Ireland and are in the lower end of the income distribution, there is a strong reliance on a car for transport, therefore demand does not fluctuate much for this cohort."
The situation has also been exacerbated by Brexit, which has led to far fewer imported used cars from Britain.
This is creating multiple problems, because as prices continue to rise in the lower end of the market, cars are becoming less affordable, less safe and higher in emissions.
The report also shows that the used car market for electric and hybrid vehicles continues to grow, as more new versions of these vehicles are sold.
During the final three months of the year EV used car inflation slowed to 0.8% and hybrid car price inflation slowed to 1.5% because they are typically more expensive.
---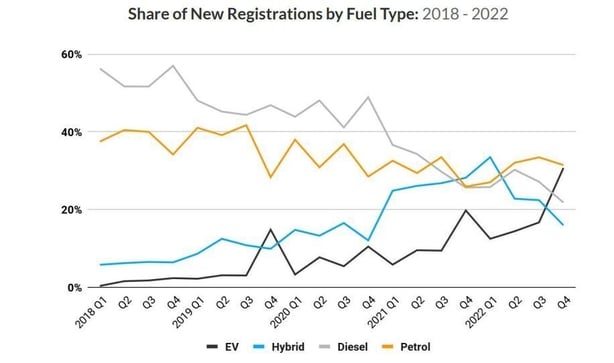 ---