The new chief executive of Dublin and Cork airport operator, daa, will call for a reset of the system of regulation of passenger charges, when he appears before an Oireachtas committee tomorrow.
It follows the latest decision by the aviation regulator on the maximum level of airport charges at the capital's airport, which saw an increase awarded for this year that is one third less than the daa had sought.
In a written opening statement given to the Joint Oireachtas Committee on Transport and Communications ahead of his appearance tomorrow lunchtime, Kenny Jacobs says everyone wants a Dublin Airport that is resilient and can grow and give passengers a better service.
But he adds that if this is what we want, it must be reflected in National Aviation Policy and the regulated price per passenger needs to go up.
"Dublin already has the lowest charges of 18 similar-sized airports across Europe," he says.
"At a time of record cost inflation - when airfares went up by over 40% across Europe last summer and are expected to increase by 15-20% this summer - it makes no sense that airport passenger charges remain substantially less than 2019 levels."
"In our view, now is the time to review aviation policy and to reflect on the role of all players operating within the aviation ecosystem in Ireland, including the regulator."
Two days before Christmas, the Commission for Aviation Regulation (CAR) said Dublin Airport could charge airlines €8.68 per passenger this year, up 7% on last year, but less than the €12.85 sought by the daa and lower than the regulator itself had initially proposed.
In its decision CAR said it chose a lower level than in its draft decision, largely due to its improved forecast for passenger growth at the airport in the coming years.
Ryanair even complained that the regulator had gone too far, describing the price increase as unwarranted and criticising "gold plated" capital investment projects planned for the airport, including a €200m tunnel.
But daa argues it needs the charges to improve standards and resilience.
"In this respect, the recent pricing decision by CAR, the aviation regulator, has a direct bearing on the number of staff that Dublin Airport can hire in security, cleaning and other key areas," Mr Jacobs says in the statement.
"In its decision, the regulator has disallowed the recruitment of up to 240 of the security staff needed at Dublin by 2026 which, in the context of learnings post-COVID, is both unwise and inexplicable."
He adds that it is clear passengers, airlines, the Government and the committee want greater operational resilience at Dublin and to restore efficiency and passenger experience to pre-Covid levels.
"However, there is clearly a misalignment between the service quality standards which policy-makers and other stakeholders require from Dublin Airport and the revenues allowed by the regulatory system to fund them," he says.
"The modelling done to arrive at the price cap needs to support greater resilience and service levels."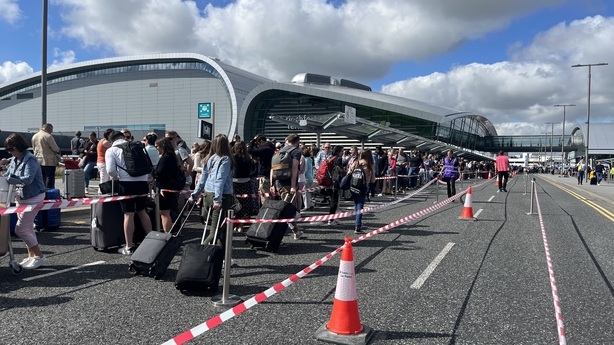 Regarding the delays and poor conditions experienced by passengers using Dublin Airport last May, which resulted in many missing flights, Mr Jacobs says the way the airport team does things has changed to improve security and standards and more still need to be done.
"As the new CEO, my number one priority is to continue to deliver better airports for all our passengers," Mr Jacobs says.
"At Dublin Airport, this means a strong focus on operational performance, security, standards, and resilience to make sure the travelling public get the service they expect."
He says to prevent the issues from recurring, industry-wide resourcing problems need to be addressed and also a sustainable pricing and regulatory environment needs to be put in place to support the provision of consistent service quality levels.
Mr Jacobs also calls for national policies which are progressive and encourage the development of airport infrastructure and growth in passengers, as it plans to invest €1.9bn in facilities over the coming years to further develop Dublin airport as a secondary hub.
In particular he points to the importance of policies in areas such as planning and regulation.
"A secondary hub involves facilitating through-traffic and based aircraft and connecting Ireland to a range of destinations that might otherwise be commercially or geographically challenging," he says.
"Momentum in this area will provide a much-needed boost to our tourism, FDI and aviation sector. A lack of momentum will see us lose connectivity, jobs and opportunities to competing airports across the UK and Europe."
In relation to Cork airport, the new daa boss says he wants to see it continue to grow and daa plans to continue to invest in its infrastructure to support its growth, including the delivery of C3 cabin baggage screening.
He adds that it is critical that Cork Airport continues to be part of the Regional Airports' Programme which is currently being reviewed.
On sustainability, Mr Jacobs reiterates the daa's commitment to achieve net-zero carbon emissions across its operations by 2050.
"Whilst this is challenging, we fully intend to transition our business to achieve this goal," he says.
He also claims daa is engaging with others in aviation around the delivery of Sustainable Aviation Fuel (SAF), but adds that while the airport infrastructure exists to deliver it, the bigger problem is securing supply.
"I think Ireland should be a leader on SAF in aviation and we fully support airlines increasing their usage of SAF and investing in newer aircraft that have lower CO2 per passenger kilometre," he adds.
Mr Jacobs also reiterates daa support for a Single European Sky which he claims would reduce emissions by 10-12% by preventing longer than necessary flight lengths caused by inefficient air traffic control across continental Europe.