The talent of some of Ireland's best young actors is being deployed in a new campaign by Tourism Ireland aimed at getting more people to visit the country.
New ads featuring actors Sharon Horgan from Bad Sisters, as well as Derry Girls' Saoirse Monica Jackson and Jamie-Lee O'Donnell form part of a marketing spend of €78m to try to restore visitor numbers to pre-pandemic levels.
Chief Executive of Tourism Ireland Niall Gibbons explained that the ads will be played all over the world and beginning on St Patrick's Day they will be shown in the top four markets of the US, UK, Germany and France.
Speaking on RTÉ's Morning Ireland, he said the levels of tourism in 2019 saw 11.3 milion visitors come to Ireland spending almost €6bn.
Last year numbers were back to about 75% of that, thanks to a very strong performance in the second half of the year.
Mr Gibbons said this year is expected to be "another good year".
"The demand indicators from the USA are very strong, mainland Europe reasonably good, Britain a mixed bag at the moment," he said.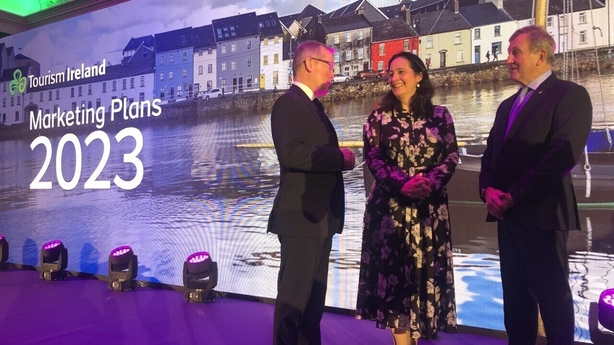 He said that films and television has also helped to promote Ireland as a destination, with Star Wars and Game of Thrones.
"We had great success here over the last decade with the big hits like Star Wars and Game of Thrones filmed in Ireland, and we're able to piggyback on the back of it, but that success has continued," Mr Gibbons said.
"And just with the Banshees [of Inisherin], for example, we had already been promoting that in our top four markets around the globe. Our video that we did with the producer and actors has actually been seen 10.6 million times.
"And now with the success in the Golden Globes, will be out again and our European markets and out in the US and the UK with it again".
He said that hotel accommodation is probably not at the level that will be needed.
"I don't know exactly how it's going to pan out over the coming year, but even if there is 20% over the coming year, it still means that from March onwards for example, there are half a million seats every week for sale into Ireland," Mr Gibbons said.
"There are tens of millions of bed nights still to be sold around the globe.
"And we can't take it for granted, because the people that came on holidays last year aren't coming again this year.
"So, the clock goes back to zero on the 1st of January and we have to do it all again."
Mr Gibbons said Ireland is a competitive destination for people to get to as accessibility is very good value.
He said "at peak times of the year accommodation can be expensive" but compared to other destinations he said Ireland ranks reasonably well.
"We do sell ourselves as a premium destination, by the way, and the objective for us is to actually focus on revenue as opposed to numbers, and so, you know, in years to come, we'll be looking at people who stay longer who spend more who have a greater propensity to travel in the regions and to travel off peak," Mr Gibbons said.