Planning permission for new apartments fell by 67% to 2,347 in the third quarter of this year compared to the same period in 2021, according to new figures from the Central Statistics Office.
Planning permission for houses fell marginally by 0.1% to 4,396, the CSO figures show.
When taken together, planning permission for residential dwellings in total fell by 41% in the third quarter to 6,743.
Of this figure, 3,744 units were for new dwellings or "other new constructions", 1,922 were for extensions and 1,077 were for alterations and conversions.
For the period from January this year to September, planning permission for apartments is down 28.6% to 12,965 while planning permission for houses is up 20% to 13,615 compared to the same nine month period in 2021.
The CSO noted that 65% of the units granted permission in the third quarter were houses while 35% were apartments.
Planning permission for estate houses is up 15% while there has been an 18% decrease in one-off houses.
60% of the apartment planning permission are for projects in the Dublin region, the CSO said.
---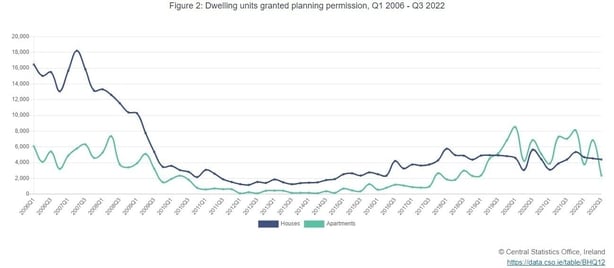 ---
Commenting on today's CSO figures, the Director of Property Industry Ireland, Dr David Duffy, said they show diverging trend in planning permissions by home type.
Dr Duffy said that timescales to get planning permission have widened.
"Reform is needed to reduce these timescales and provide certainty around the process. It is concerning for the delivery plans of Housing for All that the planning permissions for apartments have decreased so significantly. All housing typologies are needed to meet the targets," he stated.