The median, or mid-point, annual household electricity bill in 2021 was €1,268. This was just over 14% higher than the median annual bill in 2020 of €1,111, new figures from the Central Statistics Office show today.
The median annual gas bill for households in 2021 was €740. This was 2.6% lower than the €760 median bill in 2020.
Electricity customers in general paid more last year with 49% that had paid between €750 and €1,000 in 2020 paying between €1,000 and €1,500 in 2021.
Fewer gas customers ended up paying more, today's CSO figures show. 76% of customers who paid less than €500 in 2020 remained in the same cost band.
---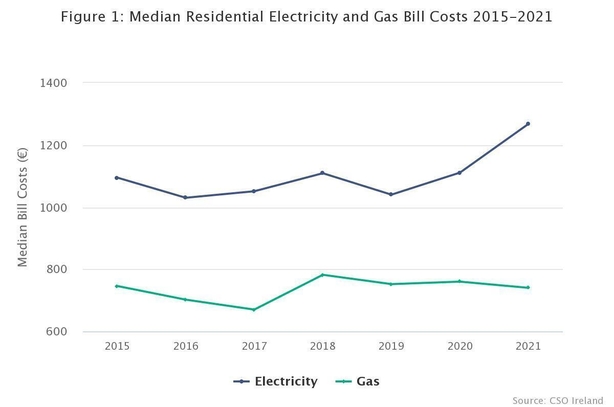 ---
"This is the first time that this report has been published. The Central Statistics Office combined national average electricity and gas final consumption prices from the Sustainable Energy Authority of Ireland (SEAI) with metered consumption from ESB Networks and Gas Networks Ireland," Dympna Corry, statistician with the CSO, said.
"The combined files provide estimates of the bill cost at meter level for the period 2015 to 2021," she added.