There could be a "significant shortfall in housing" in 2024 and 2025, Society of Chartered Surveyors of Ireland President Kevin James has said.
He said that this year is "pretty much in line with projections", and next year "with projects already on site, should probably hit the targets for Government", but there is a concern into the future.
"If we haven't started a significant amount of projects this year, which may take 12-18 months, two years to build. In the year 2024 and 2025 there is going to be a significant shortfall in housing which is going to compromise the Government's Housing for All programme."
We need your consent to load this rte-player contentWe use rte-player to manage extra content that can set cookies on your device and collect data about your activity. Please review their details and accept them to load the content.Manage Preferences
Speaking on RTÉ's News at One, Mr James said the Tender Price Index presented earlier this year showed a 14% increase in tender price inflation, and despite predictions that prices would soften, anecdotal evidence showed "the figures haven't reduced as much as what we thought".
He said it is "fairly notable that some investors are leaving the market and the competition, the appetite for risk in certain private sector resident developments is no longer there".
Mr James said there "a really opportunity for Government to take a leadership position" and that there has to be some "creative thinking around VAT to incentivise and make projects more affordable".
We need your consent to load this rte-player contentWe use rte-player to manage extra content that can set cookies on your device and collect data about your activity. Please review their details and accept them to load the content.Manage Preferences
Meanwhile, the Taoiseach said he believes the Government's housing policies have the agility to respond to fluctuations in the wider construction sector.
Speaking in Longford, Micheál Martin said that the Minister for Housing would bring an amendment to the Oireachtas next week, to facilitate emergency planning for the rapid building of social housing.
It is envisaged these properties would be constructed on publicly owned lands, in order to make up for any decline in construction "on the private side".
Mr Martin said it was "all hands on deck" in an effort to increase completion rates, to make up for the "consequences of the inflationary cycle" over recent months.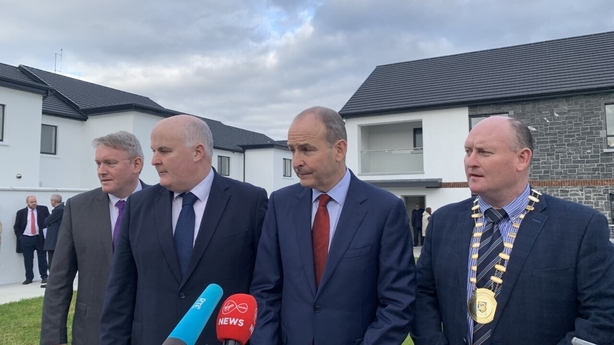 He said a drop in the number of construction completions, as detailed by the CSO yesterday, reflected significant disruption caused by the war in Ukraine, increased costs of materials and the energy crisis.
The latest data from the Central Statistics Office shows a drop off in construction activity of 2.7% from July to the end of September 2022, when compared with the same period last year.
The sector that saw the steepest decline was house and apartment building, down 16.2%
He acknowledged there had been a loss of confidence in the private construction sector.
But he said the Housing for All strategy had the "breadth and depth" to open up new channels for construction.
The Taoiseach said he hoped that would lead to an increase in the number of units built next year. To this end, there would be a particular focus on rapid build housing on public land.
Minister for Housing Darragh O'Brien said that there are challenges ahead "in the next couple of years" in terms of meeting future housing targets, but said he was still focused on reaching or exceeding those where possible.
Mr O'Brien said he does not foresee making any further changes to the concrete levy to bring down costs faced by the construction sector.
However, Mr O'Brien said that other options "around cost" or "to reduce costs for construction" were all being looked at.
Mr O'Brien said that "he was very confident" that they will "exceed... quite substantially" the target of 24,600 new homes set for 2022.
For 2023, Mr O'Brien said that there was "a good pipeline" of projects that have been started.
Meanwhile, Sinn Féin's housing spokesperson Eoin Ó Broin has said that the Government needed to start working "counter-cyclically" when it comes to ensuring enough houses are being built.
"If we're seeing institutional investors or SMEs in trouble, first of all lets get more public houses building up and running, and also lets provide finance, particularly through Home Building Finance Ireland for the SME builder developers. They are the two right policy instruments, not more tax breaks for developers," Mr Ó Broin said.
Mr Ó Broin also said that the CSO figure were not surprising.
Social Democrats housing spokesperson Cian O'Callaghan said the Government had "put all their eggs in one basket almost" in their housing delivery plans.
Speaking on RTÉ's Drivetime, he said "Housing for All" is in trouble and the prediction from the Society of Chartered Surveyors of Ireland is "very serious".
He said the numbers are going in the wrong direction with construction activity going down, homelessness, rents and house prices "are at record levels".
Mr O'Callaghan added: "They are always telling us that the plan is working, that we're doing this and that, but actually the numbers are going up the wrong way on every metric that counts."
'Significant rises in the cost of material'
Conor O'Connell, Director of Housing, Planning and Development Services at Construction Industry Federation said that the CSO figures tally with commencement figures from this year.
"If we look at commencement figures in particular we see a decline of 13.65% in 2022 up to September compared to the same period last year," Mr O'Connell said.
Speaking on RTÉ's Morning Ireland, Mr O'Connell said that this was due to a number of "sequence of extraordinary factors."
"We've had significant rises in the cost of material, (including) double digit increases, the lack of availability of materials had an impact and then of course the rising interest rate had an impact then on development finance then as well," Mr O'Connell said.
Mr O'Connell said it looked like between 26,000 and 27,000 houses and apartments would be delivered in 2022, above the Housing for All target of 24,600.
"But there is a concern for next year as to what figure will be reached," Mr O'Connell said.
"There are various Government initiatives that are in their infancy, such as the First Home (Shared Equity) Scheme, (the cost rental) Project Tosaigh with the LDA (Land Development Agency), Croí Cónaithe (Towns Fund to support bringing vacant and underused buildings back into residential use) and a few other schemes. We would be hopeful that they would kick in but nevertheless there is a real viability and affordability challenge at the moment between what people can afford to get finance for and what we can afford to build for," Mr O'Connell said.
Mr O'Connell said there needed to be "a review of all measures and upcoming levies that will have an impact on (building) costs".
"For instance we came out very strongly in relation to the concrete levy, because that's a straight forward cost increase, so at the very least there should be a regulatory impact assessment carried out in relation to that particular measure," Mr O'Connell said.
Additional reporting Laura Fletcher