The Cabinet has approved plans to ease restrictions on pay and bonuses for staff at the banks that were bailed out by the Irish taxpayer during the financial crisis.
The proposals were brought to Cabinet by Minister for Finance Paschal Donohoe this morning.
As a result, banks will be allowed to pay bonuses of up to €20,000 to their employees.
Restrictions on non-pay benefits, such as private health insurance and childcare, will also be lifted.
The current salary cap of €500,000 will be removed completely from Bank of Ireland, which is no longer partially State owned.
While the other bailed-out banks in which the State still owns a majority stake, AIB and Permanent TSB, will see the cap lifted when the State's shareholding reduces to a specified appropriate level in the future.
Remuneration restrictions were put in place on the banks in the wake of the financial crash over ten years ago, as a result of what subsequently emerged about the actions and practices of senior bankers across the industry.
However, in recent years the banks affected have been lobbying for them to be eased or removed.
They claimed it was putting them at a competitive disadvantage against competitors inside the sector and other companies outside it who are competing for similar talent.
Speaking at a press conference the Minister for Finance said there is really strong competition for workers for the domestic banks in Ireland and in the international financial services sector located here.
"Meanwhile the restrictions that are currently in place are causing challenges for staff recruitment and retention, especially in the critical areas of risk, of IT, of cybersecurity, of compliance and key legal areas," Mr Donohoe said.
He said it was therefore appropriate that the banking review considered the matter and it has concluded that the restrictions be amended.
Because the State is no longer a shareholder of Bank of Ireland, Mr Donohoe said it is no longer appropriate that the State is determining the salary of anyone working there.
He said he absolutely understands the sensitivity of the recommendation he brought to Government today to ease the restrictions.
"And I understand that for many that have been effected in such a negative way by the events that have taken place in our banks over many years, that this recommendation and decision to allow variable play up to €20,000 will be a cause of concern," he said.
We need your consent to load this rte-player contentWe use rte-player to manage extra content that can set cookies on your device and collect data about your activity. Please review their details and accept them to load the content.Manage Preferences
But he said the responsibility he had to grapple with is that the three banks concerned have 20,000 employees and look after €220 billion in deposits, and good people are needed in those banks.
The Minister would not define what the "appropriate level" of State ownership of AIB and Permanent TSB would be for it to warrant the salary caps being removed from those institutions.
He said it would be up to the Government to decide at a future point what is the appropriate time for further share sales.
"And when those decisions are made the Government will then decide is there a point at which the other banks will see their caps removed," he said.
Mr Donohoe said he does not envisage any further changes by the Government on bankers pay beyond those taken today, including around the 89% super-tax on bank bonuses which remains in place but which he said he does not think should be reviewed.
Mr Donohoe said he believed the decision "despite all the sensitivity, is merited and right".
"The key reason being, if I look at the number of people who are leaving the three banks that we have, that employ around 20,000 people in our economy, 40-45% of the people who are leaving our banks at the moment are going to work for other employers who pay bonuses, and I want good people working in banks that really matter to our country," he said.
He said that the individuals whose actions led to the crash in 2008 are no longer employed in the banks.
"Those people are all gone and in addition to all those people now being gone, at national and European level we have a banking system that is far more heavily regulated than it ever has been and it needs to be, and even with the changes that we are making today, the restrictions that we have on pay here in Ireland are far more restrictive than many other cases and many other banks and countries across Europe," he added.
The Financial Services Union (FSU) said that the lifting of the restrictions on variable pay and benefits up to €20,000 will benefit ordinary bank staff.
"Staff in the retail banks should not be treated differently to other staff working in the wider financial services sector who have access to financial assistance with healthcare and childcare costs and access to approved profit-sharing schemes among other benefits," said John O'Connell, General Secretary of the Financial Services Union.
Speaking on RTÉ's Morning Ireland, Mr O'Connell said bank workers are "now dealing with the biggest logistical change in banking, which is the departure of two banks".
"So, we think now is the time for the Minister to act and to lift the restriction on the €20,000 payments to allow staff be rewarded sufficiently," he said.
Mr O'Connell said now is the time for the banks to show that they have changed and negotiate with a fair reward structure for the staff.
He said the change is not about banks "deserving more, it's about staff being shared in the benefits of the banks and the performance of the bank.
"Currently dividends are paid, share buy-backs are given to shareholders and staff and customers, by the way, should benefit from this report."
We need your consent to load this rte-player contentWe use rte-player to manage extra content that can set cookies on your device and collect data about your activity. Please review their details and accept them to load the content.Manage Preferences
He said that none of the union members "were involved in anything untoward in banking, just working diligently on behalf of the public, doing their jobs, and were victims as much as anybody else.
"But I think there comes a time where we have to start to look forward in our banking and it's more about what type of banking system do we want".
On the lifting of the pay cap, he said that is a matter for the minister.
"The important thing is really not what people are paid, but how they behave", he said.
He said his members "have been extremely patient, the last group of workers in the state to have pay restrictions unwound.
"So, our interested is in sitting down and negotiating with the banks a fair reward system for those members."
Under the current restrictions, salaries are limited to €500,000 a year, although the current and former Bank of Ireland chief executives had an exemption which allowed them to earn close to €1m.
Bonuses are also not allowed and there was also a special 89% super tax rate introduced on such payments in 2011 after it emerged some executives were still receiving contractual bonuses linked to performance.
But across Europe there has been a relaxation of such measures as the banking sector recovered.
The plans are likely to prove politically sensitive though, given the focus on the rising cost of living.
The move comes just weeks before Minister for Finance Paschal Donohoe leaves that position to make way for Fianna Fáil's Michael McGrath as part of the Government's mid-point transition.
Today's memo went to Cabinet in the context of the completion of the banking review commissioned by the Minister for Finance.
We need your consent to load this rte-player contentWe use rte-player to manage extra content that can set cookies on your device and collect data about your activity. Please review their details and accept them to load the content.Manage Preferences
Banking Payments of Ireland Federation chief executive Brian Hayes welcomed the plans to ease restrictions on pay and bonuses for staff at the banks.
"We have to look to the future and some of the issues around the past are well known and well versed for everyone, but in looking for the future and we've got to learn the lessons of the past and make sure that we create a resilient and strong sector for the future. It's in everyone's interest that we have that," he said speaking to RTÉ's News at One programme.
Banks are public limited companies and this is a factor that must be considered, he added.
"Every public limited company that I know has fixed and variable pay components in terms of key deliverables for staff who work across that sector.
"We're talking here about just short of 20,000 people, and I think in a circumstance where we have 35 bank licenses in Ireland, and only three of them have these pay legacy restrictions, it immediately creates a distortion that is clear for everyone to see," Mr Hayes added.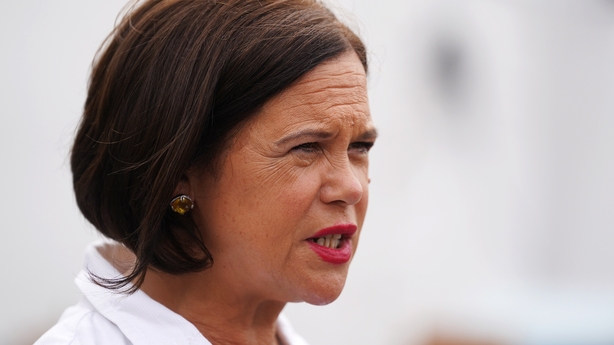 Sinn Féin leader Mary Lou McDonald has accused the Government of being completely out of touch by agreeing to remove the bankers' pay cap and restore bonuses.
At leaders questions in the Dáil, she said the move paved the way for "bumper pay increases for top brass".
She said this was a "twisted time" to reward bankers when workers and families are enduring an unprecedented cost of living crisis.
Taoiseach Micheál Martin said the move was recommended by the Retail Review of Banking published today.
He said 20,000 people work in banks and he asked why Sinn Féin was preventing those workers getting a pay rise.
He said people were leaving the sector because they were not getting variable pay and he said Sinn Féin was ignoring that because the party thinks it plays well electorally to speak of "big brass and top bankers".
Ms McDonald said the lifting of the pay cap would only apply to senior management and she said the Taoiseach was hiding behind ordinary bank clerks and using them as an alibi.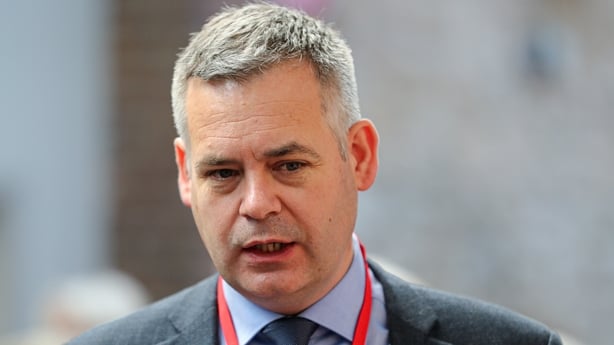 This morning, Sinn Féin's finance spokesman said reports that the restrictions on bankers' pay were set to be eased are a kick in the teeth for struggling workers and families
Pearse Doherty, said the limits were put in place as a result of the "reckless actions of senior bankers".
"Since then, we have witnessed the tracker mortgage scandal, with €270m in fines meted out to banks for the harm they inflicted on their customers," he said.
"This year alone, AIB and Bank of Ireland were fined over €197m for regulatory breaches and actions that led to families losing their homes."
"Harm was meted out even during the Tracker Mortgage Examination."
We need your consent to load this rte-player contentWe use rte-player to manage extra content that can set cookies on your device and collect data about your activity. Please review their details and accept them to load the content.Manage Preferences
He described the decision as tone deaf in the context of recent history and questioned the Minister for Finance's priorities.
Mr Doherty said he recognised that clerical bank workers often start on low wages.
There is scope to ensure that workers are adequately paid, he said.
But, he added, this is not about those workers but more senior workers.
Mr Doherty said this is not the time to be reintroducing bankers bonuses but that there are other initiatives, such as child care, that can assist workers.
"Let's get real about this here. This is about a demand from the very senior levels of banks to reintroduce bonus for those on higher ends. And that's who'll be benefiting from this €20,000 if the minister goes ahead with it," he said.
Pearse Doherty said senior positions in AIB have been filled, despite the pay cap, and the decision to remove this cap "makes no sense."
He told Morning Ireland it is crucial that the culture in banks changes and he said this has not happened.
"So in a situation where we see the largest ever fine issued to Bank of Ireland for the pain and suffering that it caused, not something that happened a decade ago, what happened just up to ten months ago, then I would not be saying to that bank - by the way, now you can pay your senior executive whatever you want. That is not acceptable," Mr Doherty said.
Additional reporting by Sandra Hurley