The number of people in employment increased by 83,000, or 3.4%, to 2,554,300 people in the year to the third quarter of 2022.
The latest Labour Force Survey from the Central Statistics Office shows that the number of 15 to 24-year-olds in employment fell by 8,600 compared to the previous year.
The only age group that saw an annual increase in the unemployment rate was the 15 to 19-year-old group, up to 16.5% from 14.4% 12 months earlier.
Overall, the number of people who were unemployed in the third quarter of the year stood at 119,100, with an associated unemployment rate of 4.5%.
The employment rate rose from 72.2% to 73.2% compared to the previous year.
Across different sectors, the largest increases in employment occurred in health and construction.
The largest decrease in employment was in the agriculture sector.
The estimated total number of hours worked per week in the third quarter of the year was 80.3 million hours, an increase of 3.2 million hours, or 4.2%, compared to the previous year.
The number of absences from work during the reference week in the third quarter of the year declined by 9.9% to 273,100.
---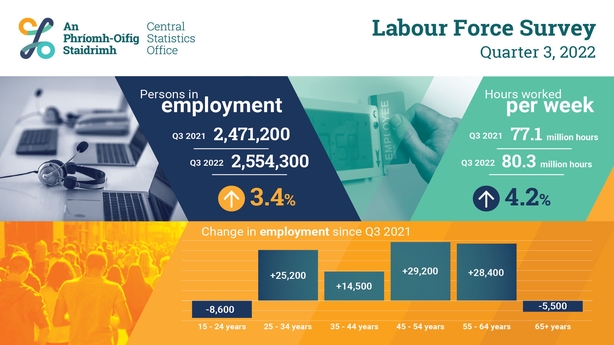 ---
The Labour Force Survey also shows that there was a fall in the number of people working from home.
The percentage of employed people who work at home stood at 32% in the third quarter of the year. This was made up of 10% of people who sometimes work from home and 22% of people who usually work from home.
The figure is down from 37% the previous year.
Welcoming the data, the Tánaiste and Minister for Enterprise, Trade and Employment, Leo Varadkar, said the results were incredible, although he knows that they don't tell the lived experience for all businesses and workers.
"Staff and their families will also be affected by the recent announcements of down-sizing in certain tech companies with a presence in Ireland," he said.
"We will assist any employees affected as they seek alternative employment or other opportunities."
"There are well-established statutory processes to protect employees, and we are confident that all national employment rights requirements for consultation and notification of redundancies will be adhered to once decisions on any reductions in employment are made."