The latest EY Renewable Energy Country Attractiveness Index shows that Ireland has slipped one place to stand in 13th position.
The biannual index examines the world's top 40 markets on the attractiveness of their renewable energy investment and deployment opportunities.
Stephen Prendiville, Head of Sustainability at EY Ireland, said that Ireland's strong showing on the index reflects the robust market for onshore wind here as well as the continued growth prospects for offshore wind and solar projects.
"In the overall rankings we lost one ranking, down to 13th of 40 countries - a reflection more of other countries progress rather than anything necessarily different in our own approach," he said.
"When adjusted for GDP, Ireland punches far above its weight, climbing the rankings to 6th place - reflecting that we are very attractive for renewable energy development for the scale of our marketplace," he added.
The US holds its position at the top of the latest Renewable Energy Country Attractiveness Index.
EY said the US Inflation Reduction Act, passed in August, is being viewed as a game changer for the US green hydrogen industry with tax credits for 10 years making green hydrogen produced in the US the cheapest form of hydrogen in the world.
"Reaching this price would also make green steel cost competitive with steel made from fossil fuels, which would stimulate demand for green steel, and could spark demand for green cement and green glass made with green hydrogen," EY said.
China maintains second spot in the index and it is expected that this year will mark a record year for wind and solar energy production in China.
Chinese think tank, the Renewable Energy Engineering Institute, has projected the market will install a record 156GW of wind and solar power this year, up 25% from 2021, which was also a record year.
Germany came in third position on the table as its energy legislation reform represents the greatest change to the market's energy policy since the introduction of competitive auctions in 2017.
---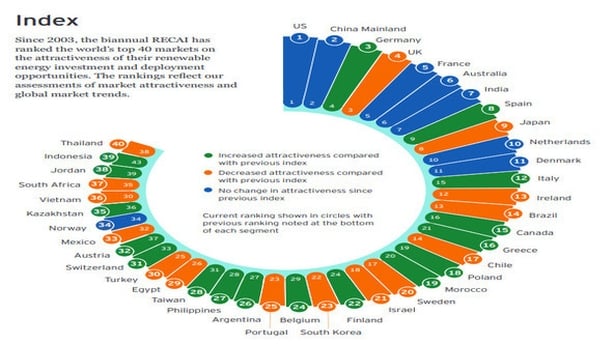 ---
Anthony Rourke, EY Ireland Government and Infrastructure Advisory Director, said that energy transition remains at the top of the agenda for government and business, made all the more urgent in light of the significant challenges facing the global energy market.
"This is reflected in the remarkable commitments made across global markets to drive uptake of renewable energy sources and reduce reliance on gas imports," Mr Rourke said.
"Near-term policy interventions are helping reduce risks in the system, but more regulatory support is needed across the board. From Ireland's perspective, what's positive is that we are spearheading the transition disproportionately compared to our size as a country," he added.