Bord na Móna has partnered with international offshore wind developer Ocean Winds to identify, plan and build a number of offshore wind farms.
The joint venture will initially focus on delivering two potential projects by 2030, which together could generate up to 2.3GW of renewable power - enough to power up to 2.1 million homes.
Réalt na Mara will be located off the coast of Dublin and Wicklow and Celtic Horizon will be located off the coast of Wexford and Waterford.
The development marks the first move by Bord na Móna into the offshore wind space, after decades of developing renewable projects onshore.
"Ocean Winds bring an incredible wealth of experience in developing and delivering offshore energy from around the globe," said Tom Donnellan, chief executive of Bord na Móna.
"Together we will ensure that Ireland's vast untapped reservoir of offshore energy will be harnessed for the good of Irish society, the economy and the planet," he said.
"The projects we will develop will be of such a large scale that Ireland will be able to rely on Irish energy sources and massively reduce dependence on foreign pollutants including gas and oil," he added.
Headquartered in Madrid and operating in eight countries, Ocean Winds is itself a joint venture between EDP Renewables and ENGIE, which began in 2019.
It says it is on target to have 5 to 7GW of projects globally in operation or construction by 2025 and 5 to 10GW under advanced development.
It currently has 14 offshore windfarms in operation, construction or advanced development in seven countries, already producing 1.5GW of power.
However, the development may not necessarily be welcomed by the fishing sector, some local communities and environmental groups here who are concerned about the impact of offshore windfarms on the environment and biodiversity.
The partners say engagement on both projects is currently underway with local communities, stakeholders and the fishing industry.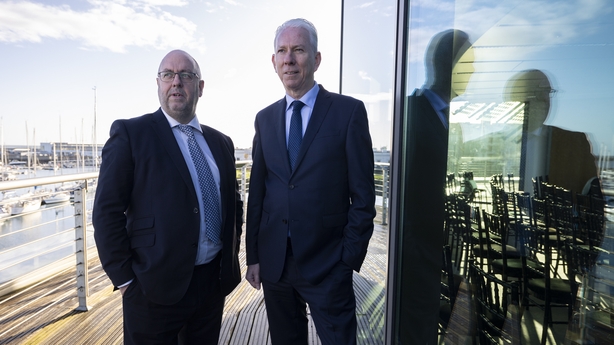 "By working closely with local stakeholders OW aims to bring together communities and to support their development through ongoing engagement and investment with more than a decade's experience," said Grzegorz Gorski, chief operating officer of Ocean Winds.
"OW has a strong track record of using our strength as global leaders in the renewables sector to create opportunities for local companies who want to expand and diversify into the emerging offshore wind sector," he added.
The news was welcomed by the Tánaiste and Minister for Enterprise Leo Varadkar, who said the joint venture is a momentous step towards reaching the Government's commitment to produce up to 80% of Ireland's electricity from renewable sources by 2030.
"It also marks a new chapter in Bord na Móna's 90-year history in supplying energy to local communities across the island. Ocean Winds' international expertise and record of accomplishment is supporting Ireland to increase its offshore wind capacity," he said.