The FIFA World Cup has long been the gold standard in sporting events.
FIFA expects this year's tournament to be watched by more than 5 billion people over the next four weeks.
That compares to the more-than 3 billion people that saw some of the Tokyo Olympics last year, and is way ahead of the 3.5 billion that tuned in to the 2018 World Cup in Russia.
The three most recent World Cup finals have logged global viewerships north of 500m. That puts its reach way ahead of the 200m people that tuned in to this year's Super Bowl.
Those tuning in this year will witness the most expensive tournament in its 92 year history. Host Qatar is estimated to have spent $229 billion on its World Cup preparations.
"That's almost 20 times what Brazil had to invest during their tournament," said Kelli O'Keeffe, managing director of the Sports Advisory practise at Teneo Ireland. "Where that's going is really on the infrastructure - what they call mega projects - so essentially on stadia."
Qatar hopes to recoup some of that through the revenue generated by the hundreds of thousands of extra visitors that will travel to its shores over the next four weeks.
And it promises to be a great money-spinner for competing teams, too, no matter how they perform.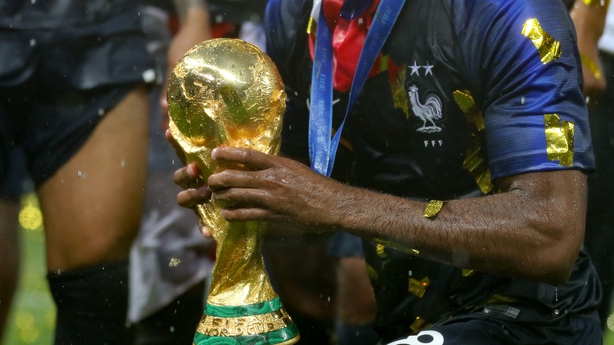 Qualifying for the tournament alone offers a $2m prize – with a further $10m given to teams that simply turn up.
The money rises the further along a team gets, with the eventual winners set to net around $50m from FIFA.
In total the prize fund is estimated to be worth $440m. That's nearly nine times the total fund that was on offer during Italia '90, and nearly 15 times the amount offered in the last women's World Cup.
That's made possible by the fact that this World Cup will be the biggest earner ever for FIFA.
"They are looking at earning over $5 billion, which is significant, and up on every other World Cup that they have had before," said Kelli. "That's made-up of sponsorship revenue of up to $1 billion, and there's $2.6 billion TV rights."
FIFA currently has seven brand partners – including big, global names like Coca-Cola, Visa and Adidas – who reportedly pay somewhere in the region of $100m every four years in order to sit at the top table.
Doing so gives them access to a number of benefits, including the use of official World Cup logos and imagery in their own marketing, and a prominent display for their brands in stadia during matches.
In certain cases it (usually) gives brands the exclusive right to sell their products at the event itself, too.
Aside from those top-tier brands there are also multiple, tournament-specific partners that pay upwards of $10m to be involved in an individual World Cup.
For this year's event, that includes brands like Crypto.com and ed-tech firm Byju.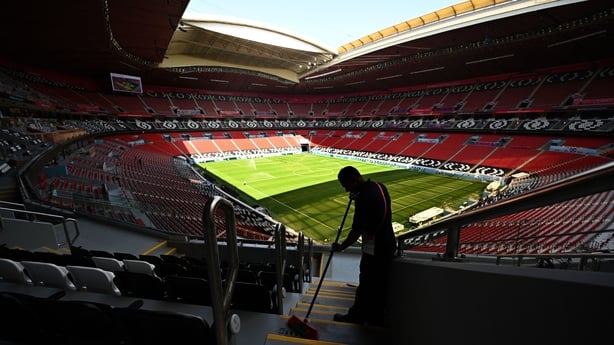 However that partnership fee is only the start of the spending for big brands. It is then up to those companies to invest in ads and marketing campaigns in order to make the most of their privileged position.
In the lead up to major tournaments other brands also tend to unveil soccer-themed campaigns that imply a link to the World Cup - without going so far as to get on the wrong side of FIFA's branding rules.
But that hasn't been happening at nearly the same level this year as it normally does.
"I haven't really seen anything bar some RTÉ advertising saying that they're covering the World Cup on television," said David McHugh, CEO of sports management and sponsorship firm Line Up Sports. "There's no Coca-Cola or McDonalds activation on this island – and I'm not sure what they're doing globally."
The fact that Ireland is not competing may be part of the reason for that. Big brands may be inclined to divert their resources to audiences that have a more direct interest in what happens in the coming weeks.
A brand like Adidas is sure to be spending big in its home market of Germany, for example, while Nike will be making the most of its £400m kit deal with England.
But the absence of Ireland doesn't fully explain the drop-off in the number of companies here that see value in connecting themselves to the tournament.
"What's very clear – and this was evident at the start of the year – was that just 16% of sponsorship decision-makers in Ireland considered there to be any opportunity in the 2022 FIFA World Cup," said John Trainor, founder and CEO of sponsorship and research firm Onside.
It conducts an annual industry survey of sponsorship decision-makers in Ireland to help take the temperature of the market and identify the areas that are most likely to attract interest.
"When the FIFA World Cup was in Russia [in 2018], that too had its own controversies and question marks over it as a tournament, but at that time one in three advertisers was saying there was potentially an opportunity for them," he said.
"If we go back four more years to the 2014 World Cup in Brazil, 45% of sponsors said there was perhaps an opportunity for their business and brands to align with that tournament."
Given that Ireland played no part in either of those tournaments either, there must be more to the drop-off in interest this time around.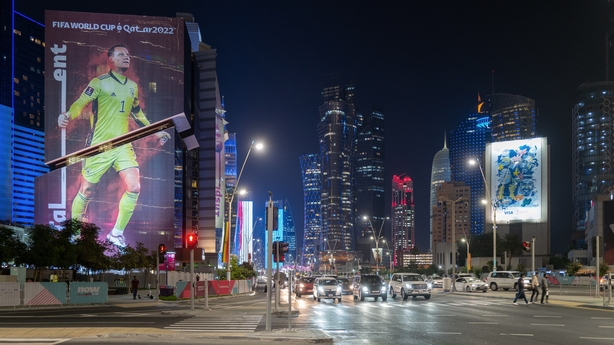 Unsurprisingly, experts agree that where the tournament is taking place is playing a part in the malaise.
Questions around Qatar's suitability as a host have existed since the country won the bidding war in late 2010.
Criticism of its human rights record, its treatment of the migrant workers brought in to build its facilities, and its laws against LGBT+ people, have only grown in the proceeding years.
A recent survey by Amnesty International found that 66% of adults across 15 countries wanted sponsors and partners to push FIFA to pay compensation for the death, injury and wage theft that any of Qatar's migrant workers may have faced.
Given the clear public unease about Qatar, some brands may have simply decided to keep an arms-length distance from this World Cup.
"Brands aren't looking to hitch their bandwagon to this," said Kelli.
"It's not a very inclusive society and it has a dodgy human rights record," said David. "I think that's created an awful lot of negative sentiment."
The current cost-of-living crisis may also be having an impact – as advertising budgets are squeezed and firms adjust to lower consumer spending than before.
However most of the decisions around the ads we see today were likely made many months ago, so neither of these may be as significant a weight on spending as some would assume.
"The decision-making was done this time last year in terms of the World Cup," said John. "The discussion around some of the risks associated with Qatar and its treatment of migrant workers and so on has been amplified over the course of the years, but sponsors already have their minds made up at that stage.
"And I think we'll see the cost of living crisis impacting events next year and the year after, rather than this year."
But the decision to go to Qatar also forced a far more fundamental change to the competition – the holding of it during winter instead of the traditional summer months.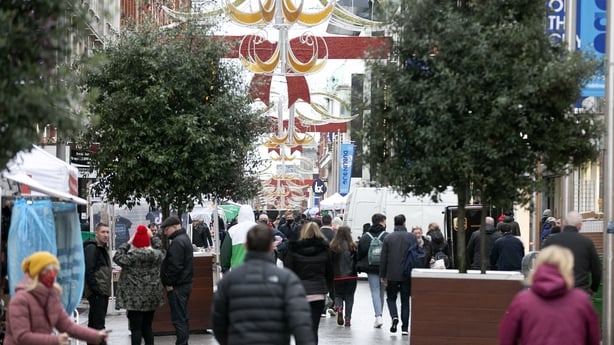 And it's this move that may have had the most significant impact on marketing plans.
"The practical reality of what Qatar brings with it is the time of the year and I think that's had a fundamental influence on the extent to which the sponsors felt that this was going to work or not," said John. "There wasn't really a belief or precedent that would give confidence that this would work.
"Sponsors and brands are adverse to risk and the fact that this was going to run from November into Christmas would have spooked them."
The two high points in Irish consumer spending – and, in turn, advertising – are the Back to School period and Christmas. This year's World Cup falls awkwardly between the two.
"Brands will have weighed up the possibility of doing something around the World Cup, or around Christmas, and Christmas was going to win the watch every time in terms of its potential," said John. "It probably forced some marketing decision-makers into a corner to think about that – as opposed to if the tournament was held in the summer time when there may be less moments competing for the marketing budgets and competing for the effectiveness of the campaigns they run."
And if there is any wiggle room left in sports marketing budgets, the chances are it has gotten pulled back in to boost the company's bottom line at this stage. Or else it is already getting redeployed towards the planned spend for 2023.
That's particularly true at a local level, given what Irish sport has to look forward to next year.
"There's so much more buzz and hype here about the women participating next year in the women's World Cup," said David. "The men's has kind of been forgotten about."
"We've a Rugby World Cup in France next year and an Olympics in Paris the year after that," said John. "We're already seeing quite strong interest and appetite from sponsors and brands about how they might play in that."
It's not to say that ad space around big games won't be in-demand this year – especially not if FIFA's viewership expectations prove even remotely accurate.
But given that many retailers kicked off their Christmas campaigns even earlier than usual this year, it's more likely that the ads punctuating this tournament's matches will be full of fir trees rather than footballs.