Gentle decline is not a description that's often applied to the continually contentious, vexing, unfair and undersupplied Irish property market, but that's where it's at according to the latest figures from the Central Statistics Office.
This week, the CSO published its monthly property price index which showed the price of residential property rose on an annual basis by 10.8% in September.
This was a reduction on the annual rate of 11.9% recorded in August and a reduction from its peak rate of increase in February and March of just over 15%.
Warnings about slowdowns, recessions, inflation and the prospect of a steady stream of interest rate increases have hardly knocked a feather from the fretful business of trying to buy somewhere to live.
But even gentle declines can turn into hazardous descents when the weather changes, as any hillwalker could tell you.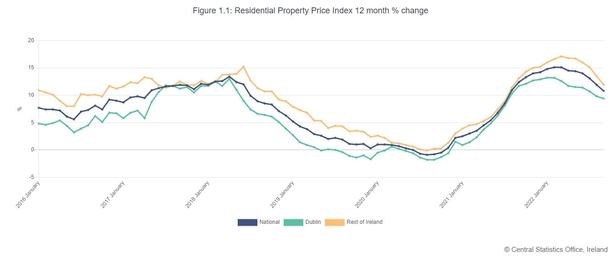 The timing here is very important. September was only two months ago but since then quite a lot has happened.
The European Commission has forecast that the EU will be in recession until the Spring. There's been a wobble in the tech industry of unknown proportions, a key industry for Ireland. And inflation across the euro area has tipped into double digits and spread beyond energy, thus probably ensuring the ECB will continue with its interest rate increases well into next year.
Residential property markets across several countries in the euro area have been looking a bit uncomfortably "boomy" in the past year or so.
According to Eurostat, in the second quarter of this year (the latest for EU wide comparison figures) residential property prices across the euro area were 9.3% higher than a year ago, a rate slightly lower than the first quarter.
In Germany, that annual figure was 10.2%; in the Netherlands, 18.2%; and in Estonia, 27.4%.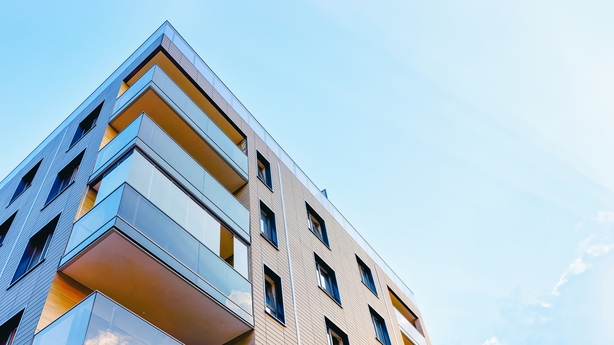 Residential property prices in 24 EU countries have been going up at a rate higher than inflation since 2016.
From 2010 to the second quarter of this year, house prices in the EU have far outstripped rent increases.
Ireland is one of the notable exceptions to this trend, with rents up just over 82% in that period. Across the EU as a whole, rents went up 18% while house prices have risen by 48%.
House price increases range from a gargantuan leap of 196.3% in Estonia and 121% in Austria ... to just under 100% in Germany.
Ireland's increase over the period was demure in comparison with prices up 54% - the lingering impact of the crash tempering our trend.
All of this residential jitteriness led the ECB to warn in its Financial Stability Review this week that the strong growth in property prices across Europe has led "to increasingly stretched valuations in some euro area countries as house price dynamics exceeded the fundamentals".
It warns that house prices have been falling in some national markets since the summer. Its concern is with the impact of this on the euro area financial system, something about which we know a lot in this country.
In September, the ECB increased its interest rates by 0.75%. It did so again in October. These rate rises had not filtered through to the mortgage market in September.
Indeed, it's only very recently that banks in Ireland have been increasing the rates on their mortgage products, and even those moves have not fully reflected the ECB rises.
In other euro area countries, the pass through to the mortgage market has been much more rapid.
This will change. Time will catch up on us. The cost of borrowing will rise which may dampen down house price growth.
The other change that's coming down the tracks is the broadening of the mortgage lending limits which will kick in in the New Year. This will enable first time buyers to borrow more relative to their incomes, although it will also cost them more if interest rates continue to go up, which they will.
Conversely, this move will add to house prices in the long term, even if prices temporarily pause or decline due to broader economic reasons.
And then there's our population, which continues to grow, pushing up the demographic demand for housing.
If the Central Bank has done its job and households and banks are better able to withstand a cyclical downturn - they like to use the word "resilient" a lot - then on balance, the decline in the rate of house price growth may indeed continue to be gentle.
We'll get a better idea when the Bank publishes its Financial Stability Review next week.