A new initiative aimed at introducing women to the idea of setting up their own business has been launched today.
"Inspiring Women Entrepreneurs" aims to encourage women who have not yet taken the steps towards starting a business.
It focuses on tapping into the entrepreneurial potential of women in senior corporate positions, as well as those with doctoral and post-doctoral qualifications, or women seeking a change of direction.
The programme is supported by Enterprise Ireland and KPMG.
It aims to support early stage entrepreneurs to follow through on their ambitions and go on to set up businesses that are scalable, innovative and focused on export markets.
The first event to showcase Inspiring Women Entrepreneurs is being hosted by IdeasLab at the University of Galway today.
Inspiring Women Entrepreneurs has been developed by the same team behind the award-winning Going for Growth development programme.
The panel, who are volunteering their time to this initiative, was selected on the basis of their shared backgrounds in corporate life, the professions and academia, along with their experience building innovative companies across a range of sectors.
They are Áine Denn, founder of Altify; Andrea Doolan, co-founder and CEO of Atlantia Food Clinical Trials; Dr Anne Cusack, founder of Critical Healthcare; Dr Barbara Anne Murphy, Head of Equine Science at UCD and Chief Science Officer at Equilume; Dr Emmeline Hill, Professor School of Agriculture and Food Science at UCD and founder of Equinome; Fidelma McGuirk, Founder and CEO of Payslip; Jennifer Corley, founder of EquiTrace; Leonora O'Brien, founder of Pharmapod; Louella Morton, founder of TestReach and Dr Vanessa Creaven, co-founder of Spotlight Oral Care.
Enterprise Ireland chief executive Leo Clancy said that the agency's six-year Women in Business Strategy aims to increase the participation of women in both entrepreneurship and business leadership.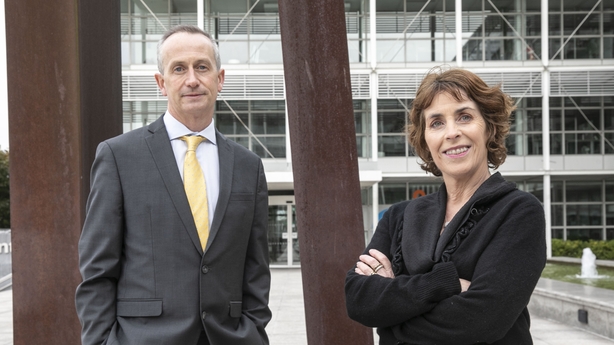 "This is because we recognise the potential for boosting economic performance by maximising all of the skills and talent available in Ireland. We've set some ambitious targets, including doubling the number of women-led companies in the export market by 2025," Mr Clancy said.
"One of our four key objectives is to ensure that we build a strong pipeline of future entrepreneurs, and 'Inspiring Women Entrepreneurs' is all about reaching out to and supporting women who want to become entrepreneurs and build innovative businesses of scale, focused on export markets," he added.
KPMG Olivia Lynch said that KPMG has a strong track record of supporting women in business, so we are proud to be involved with Inspiring Women Entrepreneurs.
"We are excited to see all of the opportunities that this initiative will open for women who have a vision to harness their skills to be entrepreneurs growing scalable businesses," she added.
The National Director of Inspiring Women Entrepreneurs, Paula Fitzsimons, said the objective of this new initiative is to increase the number of female-led innovative businesses of scale, focused on export markets.
"Through the Global Entrepreneurship Monitor (GEM) research, we know that more women in Ireland are aspiring to start new businesses and that the rate of early-stage female entrepreneurs that aspire for significant growth is also increasing," she said.
"Building on this fertile ground, we want to introduce the possibility of an entrepreneurial career to particular groups of women that may not have considered it previously and where we believe untapped, entrepreneurial potential lies," she added.