The representative body for the tourism sector has warned that if the level of tourist accommodation being used to house Ukrainian refugees and asylum seekers does not fall, it will have an enormous knock-on effect for the sector next year.
The Irish Tourism Industry Confederation (ITIC) said nearly one in every four tourist accommodation bedrooms is currently being used to fulfil Government contracts and the number seems to grow by the week.
"While hotels and guesthouses are part of the solution to accommodate refugees, they cannot be the only solution," said Eoghan O'Mara Walsh, the chief executive of ITIC.
Last month the Department of Children, Equality, Disability, Integration and Youth said almost 60,000 people from Ukraine or who had arrived here seeking international protection are now being accommodated by it.
A large number of these are staying in hotels, guesthouses or other tourist accommodation.
"I think it's high time that the Government produced a comprehensive plan, which outlined exactly what sort of accommodation services will be provided to refugees and asylum seekers going forward," said Mr O'Mara Walsh speaking on RTÉ's News at One programme.
We need your consent to load this rte-player contentWe use rte-player to manage extra content that can set cookies on your device and collect data about your activity. Please review their details and accept them to load the content.Manage Preferences
"The tourism sector can be part of the solution, but it can't be the only solution," he added.
The department has predicted there will be a shortfall of 15,000 beds by December as arrivals remain at elevated levels.
Minister for Integration Roderic O'Gorman said the Government recognises that next year a number of hotels and guesthouses will want to transfer back into a tourism offering and that this will pose a challenge when it comes to housing refugees and asylum seekers.
"So we are looking to diversify our sources of accommodation," Mr O'Gorman told RTE News.
Some of the measures being developed include 700 modular home units, refurbishing vacant institutional buildings, a call for vacant homes and a doubling of the recognition payment to €800, he said.
He added that the Government will monitor the situation and will need to continue hotel contracts with many providers as well.
It will also look at other forms of accommodation like the repurposing of office accommodation.
Elaina Fitzgerald Kane, chairperson of ITIC, said: "The tourism industry cannot be asked, to its own detriment, to be the primary provider of accommodation."
The organisation said it will publish an analysis next week on the likely impact these Government contracts will have on the broader tourism economy.
It will urge a more creative solution including modular housing, holiday homes, state buildings and vacant dwellings.
ITIC said it is also concerned about the impact of soaring costs and the deteriorating global economic outlook could have on the industry in 2023.
Ms FitzGerald Kane said the problems could serve to halt the sector's recovery.
She called for further assistance with energy bills from the Government and for the 9% VAT rate to be extended into next year.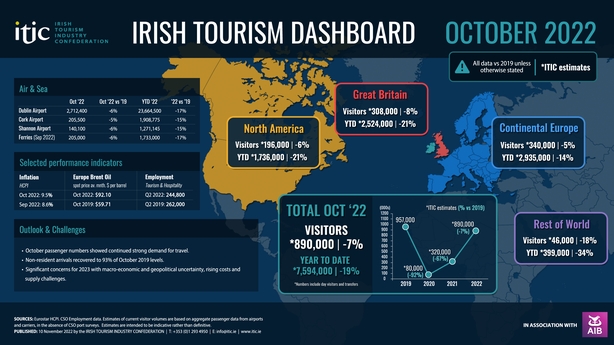 ITIC made the comments as it published its latest monthly tourism dashboard which is compiled with AIB.
It shows that in October, international visitor arrivals were down 7% compared to October 2019 and down 19% year-to-date.
The Continental European market was the strongest performer during the month, with the key North American market also doing well, recording 196,000 visitors.