Permanent TSB confirmed today that it has completed the purchase of the performing non-tracker residential mortgage business of Ulster Bank in Ireland.
The lender said today's deal comprises non-tracker mortgage loans with a value of €6.2 billion.
€5.2 billion is being migrated today and the remaining is expected to migrate in the second quarter of next year, it added.
Permanent TSB said today's deal will see about 56,000 new residential mortgage customers move to the bank with its mortgage book increasing in size by roughly 40%.
The bank said it will honour all the existing terms and conditions of the Ulster Bank loans and is writing to all of these customers to provide them with comprehensive information about the transfer.
As part of the deal, 113 Ulster Bank employees have transferred to either Permanent TSB or its service partner Pepper Finance.
A further 230 additional Ulster Bank workers who are wholly or mainly assigned to the branches, the SME and Asset Finance businesses that are being bought will also transfer to Permanent TSB in due course, it added.
Permanent TSB has also confirmed that it has now opened over 100,000 new current accounts this year - a 250% increase on the same time last year.
It has also opened over 35,000 new deposit accounts year to date, an annual increase of 80%.
As expected, Permanent TSB has issued subscription shares to Ulster Bank parent NatWest Group as partial non-cash consideration for the mortgage deal.
As a result, NatWest now holds 16.66% of the issued share capital of Permanent TSB and the State's shareholding in the bank has reduced from 74.9% to 62.4%.
Eamonn Crowley, Permanent TSB's chief executive, said that today was a transformational day for the bank.
"We extend a warm welcome to the 56,000 mortgage customers and our new colleagues who are joining us today and we want to assure them that we will give them a best-in-class mortgage offering and colleague experience, underpinned by a high-quality service and great people," Mr Crowley said.
He said today is a step-change for the bank because it is growing its mortgage book by approximately 40%.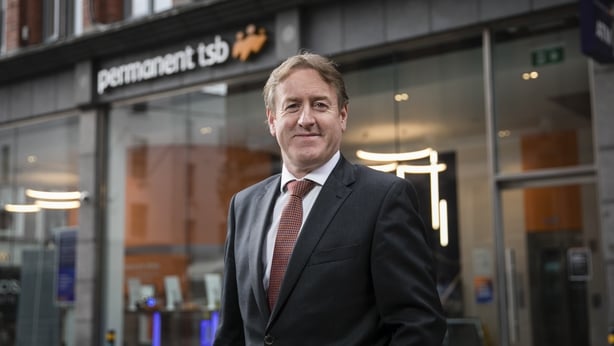 "Together with our imminent acquisitions of Ulster Bank's SME and asset finance businesses and 25 of its branches, we are generating greater scale and becoming a much stronger competitive force in Irish retail banking, with many more personal and SME customers, a branch presence in even more communities nationwide, and a significantly larger platform for future growth," he stated.
"I want to acknowledge the huge efforts put in by so many people throughout Permanent TSB in making this transaction a reality," he said
"In addition, I thank the Minister for Finance and his officials; our wider shareholder base; Ulster Bank and its parent NatWest; and the regulatory and competition authorities for the support they have shown for the transaction," he added.
The Minister for Finance Paschal Donohoe said today's transaction is a hugely positive development for PTSB, its customers, staff and other stakeholders as it enables the bank to strengthen its position in the Irish banking market and position itself for future growth.
"The State has made good progress this year in delivering on its policy of returning our three banks to private ownership," Mr Donohoe said.
"With today's announcement, our stake in PTSB has reduced from 74.9% to approximately 62.4% and I remain very supportive of PTSB in my capacity as shareholder," he added.