Interest rates are rising sharply around the world, high levels of inflation are eating into consumers' disposable income, while many countries are also staring down a recession in the coming months.
All of this is leading to expectations of a dip in property prices in multiple markets – with forecasts for some fairly dramatic declines in certain countries.
In Ireland, however, it's a different story.
What's the current state of play in the housing market here?
We need your consent to load this rte-player contentWe use rte-player to manage extra content that can set cookies on your device and collect data about your activity. Please review their details and accept them to load the content.Manage Preferences

Irish house prices are continuing to rise at a substantial rate – but it's less substantial than it was a few months ago.
The most recent figures from the Central Statistics Office brings us up to August, and they show prices nationally rising by 12.2% in the year to that month.
That's a fairly big jump in a year – it's higher than the currently high rate of inflation – but the pace does appear to be slowing down.
Back in March, prices were more than 15% higher year-on-year – but the figure has been gradually easing gradually easing month-by-month, bringing us to that 12.2% figure.
But, with the exception of a brief spell in the early stages of the pandemic, Ireland has had fairly consistent, robust increases in property prices for the past eight years or so.
Another trend we've had for a number of years now is the fact that prices outside of Dublin are rising at a faster rate than those in the capital.
In August, for example, Dublin prices were 9.7% higher year-on-year – while in the rest of the country prices were 14.2% higher.
Of course Dublin is still the most expensive county to buy a home – but what that trend has meant is that prices in the rest of the country have now actually moved above their Celtic Tiger peak.
That high-water mark was hit in May 2007, but prices are now 1.3% above that.
Dublin prices, meanwhile, are still a bit off their peak, which was hit in February 2007.
As of August they were about 6.5% below that mark. But, of course, if prices continue to rise even for another few months, they'll cross that threshold fairly soon too.
What's behind that slow-down in price growth?
There are a couple of factors at play – but one of the main ones seem to be the fact that we are starting to see supply of homes pick up.
It's still nowhere near enough to properly meet demand – the number of new builds this year is likely to be anywhere from 5,000 to 25,000 lower than experts say we need.
But it is higher than it was, so that's taking a bit of pressure out of the market.
The other big factor are the savings that the country built up during the pandemic.
A lot of that money seems to have gone towards deposits for homes – which helps explain why prices have surged from the middle of 2020 onwards. But there are indications that the bulk of that wedge of cash has washed through the system now.
Of course there are still lots of savings around the place, but it seems as though most of the people who wanted to put that towards a property have done so by now.
There have even been some reports of prices levelling off, too…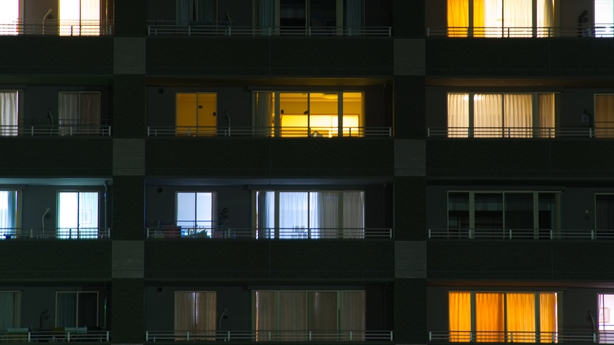 Yes – a recent report by property site Daft.ie pointed to listing prices stabilising between July and September
But that was asking prices – and there's often a disconnect between asking prices and actual sale prices.
Up until a couple of months ago at least, the general trend was that houses would sell for above their asking price – especially in places like Dublin.
But there's now more and more anecdotal evidence that homes are selling at or below their asking prices, while some listings are even being revised downwards.
But it takes time before we can see hard evidence of that.
Even when we look at the CSO data, which is the actual price a property is sold at, there's a time lag there too. The deals registered as sold in August, for example, would actually have been agreed months before.
So really it'll take many months before we can see what trends on the asking price side actually mean for real sale prices.
What impact are higher interest rates having on all of this?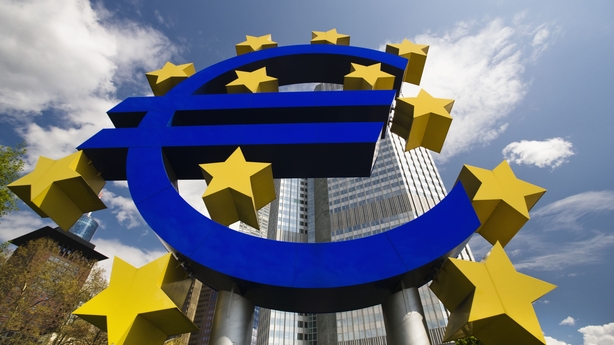 So far they probably haven't had a huge impact.
The non-bank lenders have been relatively quick to pass on the ECB increases, but the big banks have largely shielded non-tracker customers from their impact.
Aside from AIB's fixed rates, most of the variable and fixed rates being offered to new customers now are the same as the ones that were there six months ago.
But with more rate increases on the way it's only a matter of time before that changes. And once that does it will start to push down the amount that people are able to borrow for a mortgage, and maybe even take some people out of the market altogether.
Because, if you're facing a higher interest rate, your monthly repayment obviously goes up – and that may force people to borrow less, in order to ensure their repayments are manageable.
But banks also apply stress tests on mortgage applications – beyond the loan to value and loan to income limits that the Central Bank requires.
For a start they're required to see if a customer could afford their mortgage if rates went up by at least 2% from the current rate. Some go beyond that – but 2% is the minimum.
So with the ECB rate at 2% now (and the fixed and variable rates on offer sitting somewhere above that), it means the current stress test will have to be set at 4% or more.
And banks will also do a rough calculation on your other outgoings – your electricity bills, groceries, ransport costs, and so on – to make sure there's enough wiggle room in your wages in the event of rates rising further, or your income falling.
And, of course, with all of our bills going up due to inflation – they're going to be taking away more of your income than they would have done before.
And what all of that boils down to is the likelihood that many customers simply will not be offered the same size of loan as they would have done before – even though their incomes haven't changed at all.
What other factors could pull prices down?
Inflation in general could have an impact – because it's taking more money out of people's pockets, and reducing the amount they are able to save towards a deposit, or direct towards a monthly repayment.
The economic uncertainty that's out there at the moment is also going to take its toll – because people might be reluctant to undertake a significant move or purchase when they're not sure what's around the corner for themselves or for the economy in general.
And the direction of the economy could be a really significant factor in all of this – because the world is bracing for another downturn.
The US, Eurozone and UK are all expected to see an economic contraction in the coming months, if they're not already in one.
There are predictions that Ireland will actually avoid a dip – in part because our export and multinational sectors – but nothing is certain at this stage.
And whatever about the GDP figures, if we start to see the likes of big tech employers lay people off in big numbers, or the local economy shrink because people are pulling back on their spending, then that could all ultimately have a knock-on impact on the number of people trying to buy a home, and the price they're willing to pay for one.
What might help to keep upward pressure on prices?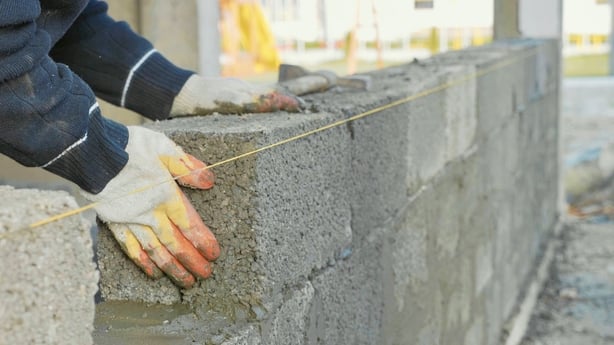 We're still not building the number of homes that most experts believe are needed to meet demand.
And if you've a shortage of supply, it's very hard for prices to come down by any meaningful degree.
There is also significant price inflation in construction at the moment, and there are still labour shortages in high skilled areas – so it's costing more to build homes now than it did a year or two ago.
Developers will also claim that their margins on new builds are quite tight, so if people aren't able or willing to pay the prices they sell at, they may simply scale back their future building plans.
That will just make that supply issue worse.
Our mortgage market – and personal finances – are also far more resilient now than they were at the peak of the Celtic Tiger years.
Those Central Bank rules have kept a lid on individual borrowing, while consumers have also gotten more responsible with their own money. Data from the CSO this week showed that consumers' debt-to-income levels had fallen to a record low, and were now below the Eurozone average for the first time ever.
That's ultimately a good thing – but it also means that a downturn is less likely to lead to more homes being brought to market by over-stretched borrowers.
Meanwhile on the demand side, there's no reason to believe things will change there either.
The country does still have a bulk of pandemic savings sitting in bank accounts – some of which may still be ear-marked for property.
But perhaps more importantly we also have a huge number of people paying extraordinary amounts of money in rent each month who would like to be able to buy.
And it's not the size of the monthly repayment that's stopping them – the chances are they'd actually save a significant amount of money with a mortgage compared to their rent bill.
What's stopping them buying is a lack of choice in the market, and in some cases the lack of an adequate deposit.
So what are the predictions for where prices are going next?
There are a wide range of predictions from various different groups and companies connected to the property market – and a wide range of figures about where prices will go next.
The general consensus, though, is that price increases will continue to slow in the coming months – and into next year.
But few are predicting a fall.
Generally, we're seeing forecasts of something like a 10% increase this year, maybe a little bit below that – with the rate falling to a 4-5% increase in prices next year.
Everyone is afraid to utter the immortal words 'soft landing', but that's kind of what they're pointing to.
But there are others who say prices could fall in the next year or so – finance lecturer Cormac Lucey recently suggested prices could fall by 10%into early 2024.
However he also pointed out that the supply-demand issues would remain, so it wasn't necessarily good news for would-be buyers.
Meanwhile the ESRI recently estimated that Irish property prices were overvalued by 7% – that was based on its calculations that took incomes, population levels and so on, into effect.
But it's important to note that property being overvalued by 7% doesn't mean that prices are going to fall back by that amount. As we know from our own past with property, things can continue sell well above their value for a long time.
What's the international picture like right now?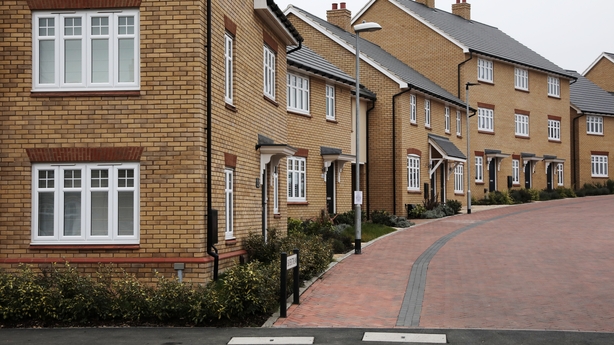 There are far more pessimistic predictions for a number of other property markets at the moment.
Prices in the UK, for example, many are predicting prices will fall by around 10% next year. Credit Suisse has predicted falls of 10-15%.
Moodys is predicting a similar fall for the US property market – possibly evening reaching as much as 20% in certain areas of that country.
Both of those countries have seen even steeper increases in interest rates in recent months than we have in Europe, which is putting pressure on borrowers.
Goldman Sachs is talking about a 15% drop in property prices in Canada, meanwhile Australia is also expected to see prices fall this year and next – and that's a country that has long been known for extraordinary house prices.
None of that necessarily means anything for the Irish market – these all have their own dynamics and local issues that would be different to ours.
But that's not to say that there's a complete disconnect.
Because we know that there are a lot of international players in the Irish property market today – either as developers, investors in developers or as buy-to-let operators.
What's unclear is how they will react if those international price falls come to fruition, potentially mixed in with recessions in those major markets.
In that instance do those investors look to their Irish assets as a reliable income stream – or as something they can sell off in order to shore up their businesses back home?