Anybody who has paid a visit to a forecourt in recent weeks will have noticed that fuel prices are on the rise again.
And the rate of increase will have been particularly apparent to those driving a diesel vehicle.
On average nationally, diesel is now at €2.02 a litre, according to AA Ireland.
That's up 30% on the same month last year and is the second-highest monthly average price on record.
While petrol on average now costs €1.84 a litre and is 11% higher than a year ago.
The gap between diesel and petrol costs has also widened and stands at around 20c a litre.
These increases have only come in recent weeks after a period over the summer where prices fell back quite a bit.
So what has changed since then and why is there such a differential now between the two fuels?
Crude Prices
Oil prices have been extremely volatile since the Russian invasion of Ukraine began in March.
And while crude has not returned to the heady heights of over €120 a barrel that were reached in March, May and June, they have been teetering closer to €100 a barrel mark in recent weeks.
Between 26 September and 7 October, Brent Crude rose from €84 to €97 a barrel and is currently trading around the €94 mark.
There is typically a lag of a couple of weeks between the wholesale price of crude and what we pay at the pumps, so the seeds of what we are seeing now were sown in early October when there was another spike.
Lower global growth could put downward pressure on oil prices over the coming months, but at the same time a significant cut in production agreed at OPEC in early October could also help to keep prices up.
Dollar exchange rates
Over recent months, the dollar has been gaining in value against the euro as fears grew about the economic, inflationary and interest rate outlook in the EU and beyond.
In July, that led to the two currencies hitting parity for the first time in 20 years and they have remained around that since.
Europe pays for much of its oil product using dollars and this means that the cost of buying petrol and diesel has been negatively impacted by the fluctuations.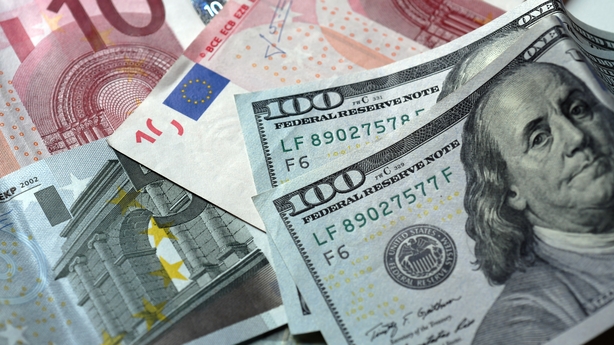 There is no immediate sign of a return to the old exchange rate dynamic of a stronger euro.
So this also looks like to be a factor that helps to keep petrol and diesel prices high.
Russian Sanctions
Although Ireland is no longer using diesel that is coming from Russia, according to Fuels for Ireland, around 30% of Europe's diesel still comes from there.
But the EU has adopted a sanctions plan that will see seaborne imports of Russian crude oil end by 5 December this year and an end to petroleum product imports by 5 February next year.
"People are now beginning to worry around Europe...that those countries that are still bringing in very large volumes of Russian diesel are now sort of scrabbling around trying to work out where they can get their fuel from, from the year end," said Kevin McPartlan, chief executive of Fuels for Ireland.
The impact of that is to create uncertainty in the market which is helping to drive the cost of diesel upwards.
Refining issues
Oil may be a form of energy, but refining it down to the products we put into our cars, vans and trucks also uses energy.
Because the cost of energy everywhere has increased, so too has the cost of refining petroleum products.
Added to that is the disruption caused by strikes at French refineries.
Staff at a number of refineries in the country have been engaged in industrial action for a number of weeks now over the rising cost of living that has caused fuel shortages there.
That has put some upward pressure on prices across Europe, according to industry sources.
However, there have been signs of the protest easing in recent days, which should help the situation.
Why the differential in price between diesel and petrol?
Europe has always been able to refine more petrol than it needs and actually exports it.
But when it comes to diesel we don't refine enough and have to import a large portion of our diesel stock.
So because the market conditions are as they are, it is having a disproportionate impact on diesel over petrol prices.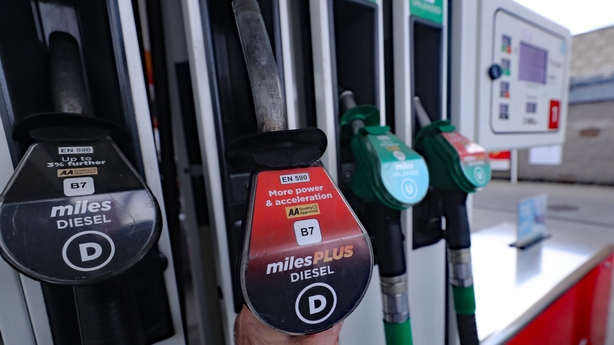 As a result, petrol has stayed quite stable in recent weeks at the same time as diesel has begun rising again.
But that might not remain the case for long.
"As countries back away from Russian oil it looks inevitable that prices are going to increase," said Paddy Comyn from AA Ireland.
Can fuel suppliers and Government not do anything to ease the pressure?
According to Fuels for Ireland, the profit margin on petrol and diesel is incredibly small and most retailers make their money from the other products they sell - from breakfast rolls to coffee to lottery tickets.
Therefore, they claim they cannot do anything more to cut the margin further.
"It is not something that there is a lot of fat that one can trim," Mr McPartlan said.
The Government has already cut the excise duty on petrol and diesel earlier this year and rolled that over in the budget.
It also offset the planned increase in the carbon tax in the budget with a cut to the levy imposed on petrol and diesel for the national reserve.
In theory, it could do more, but for environmental and political reasons, that is seen as unlikely unless there was to be further significant upward pressure on prices.
So for now, motorists it seems will have to just grin and bear it.
We need your consent to load this rte-player contentWe use rte-player to manage extra content that can set cookies on your device and collect data about your activity. Please review their details and accept them to load the content.Manage Preferences