Minister for Public Expenditure and Reform Michael McGrath said he believes that the Central Bank has "struck the right balance" in its easing of mortgage lending rules and he welcomes the move.
The Central Bank confirmed today that it will ease mortgage lending limits to allow first-time property buyers to borrow up to four times their income.
He said: "The aim has to be to strike the right balance between supporting people who want to buy a home, while at the same time protecting the financial system and making sure that people do not end up borrowing too much money and getting into difficulty."
The minister added: "I believe that there is a need to provide more opportunity for people to buy a home. We have a situation in Ireland where many people are paying a far higher level of rent than they would be on a mortgage were they to purchase that home. So I think that this change will be broadly welcomed and I do welcome it. I think it is a positive change."
Minister McGrath also said he fully respected the independence of the Central Bank to take such a decision.
The decision follows the Central Bank's review of mortgage lending rules which were designed to prevent another lending bubble.
The prior rules were put in place by the Central Bank in 2015 and aim to ensure borrowers are able to meet their repayments and prevent an overheating of the property market.
The rules are reviewed annually by the Central Bank, which has long maintained that they are having the desired effect.
Currently lenders can only offer loans up to 3.5 times the income of first-time buyers. But that is set to rise to four times from January, the Central Bank said today.
The 3.5 times limit will remain for other buyers, it added.
The bank also raised the loan-to-value limit for those buying for the second time to 90% from 80%, putting them in line with current limits for first-time buyers.
The loan-to-value limit for buy-to-let buyers will remain at 70%.
The Central Bank also said that a number of changes are being made to the criteria required for a borrower to be considered a first-time buyer for the purposes of the mortgage measures.
These include a "fresh start" perspective where borrowers who are divorced or separated or have undergone bankruptcy or insolvency may be considered as a first-time buyer where they no longer have an interest in the previous property.
First-time buyers who get a top-up loan or re-mortgage with an increase in the principal may also be considered "first time", provided the property remains their main home.
The Central Bank also said today that the use of allowances - which allows lenders to issue a certain amount of lending over the limits - has been important to provide flexibility to cater for individual circumstances.
Mortgage lenders will have allowances to permit 15% of their lending above these limits, it added.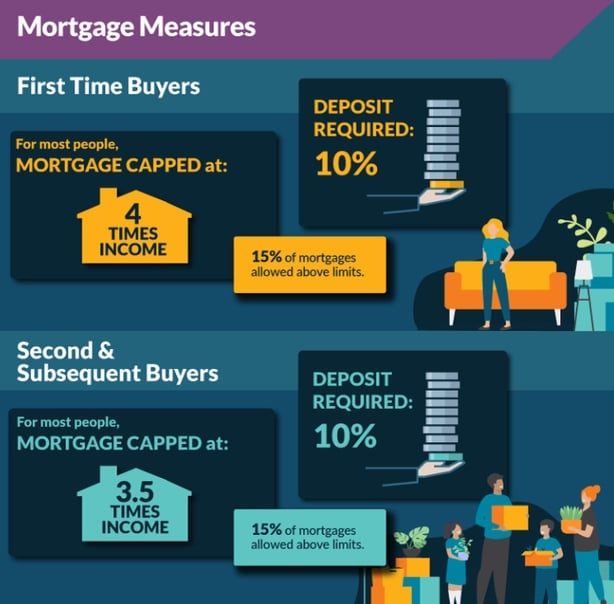 Central Bank Governor Gabriel Makhlouf said the mortgage measures are essential in the regulator's mission to serve the public by maintaining the financial stability of the economy and households as a whole, so it is good policy practice to review these given the broader changes in the economy.
Speaking the morning, the Governor accepted that the changes could lead to 'a modest increase' in house prices but there many other factors influencing prices in the property market.
"While not always immediately visible to people in their daily lives, the benefits of the measures are long-term," he said.
The Central Bank chief said that over 70% of people who responded to its online survey believed that these types of measures have a permanent role to play in mortgage market.
"At the same time, it is clear that affordability and access to housing are key challenges facing many people in Ireland. At the core of these challenges is the need to increase the supply of housing," he said.
"The review shows the measures have increased the resilience of borrowers, lenders and the broader economy," Mr Makhlouf said.
Speaking on RTÉ's News At One, he said that the bank is not telling people to borrow four times their income, but rather setting "guard rails" for lenders and borrowers.
We need your consent to load this rte-player contentWe use rte-player to manage extra content that can set cookies on your device and collect data about your activity. Please review their details and accept them to load the content.Manage Preferences
He said that initial rules were introduced in 2015 for very good reason, and have worked and delivered substantial benefits for borrowers and lenders across the entire economy.
He said that the mortgage measurements in place are not targeted at doing anything to house prices or housing supply, adding that the focus is the maintenance of financial stability.
"We're not saying to people to borrow four times their income, the rules are guard rails that set a perimeter within which the banks themselves need to be make prudent credit assessments and the borrowers need to make sure that what they're borrowing is something that will be the most significant financial decision of their lives and they'll be able to manage over the lifetime of the loan".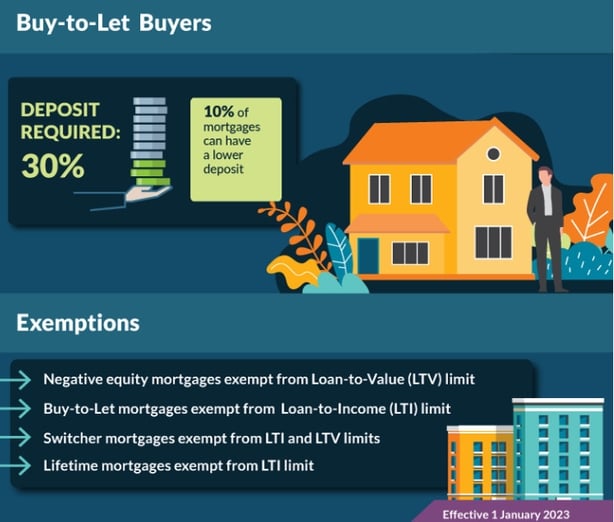 Joey Sheahan, head of credit at online broker MyMortgages.ie, said today's Central Bank mortgage rule changes will enable a couple on a joint income of €80,000 to borrow €320,000, rather than the previous max of €280,000.
Mr Sheahan said this should make a considerable difference to so many trying to buy their first home.
He also said that allowing second time buyers to access a mortgage based on a 10% deposit will come as a much-needed reprieve for the very many second time buyers who simply cannot save the required 20%.
"This is particularly pertinent to certain individual's situations. For example, we have seen several cases whereby an individual has gone through or is going through a separation/ divorce and needs to buy a new home having left the family home," he said.
"In other cases we have come across, one half of a couple has owned a property previously, maybe even a decade ago, but they are currently renting with their partner and saving the 20% deposit is nigh on impossible," he added.
Brian Hayes, Chief Executive of Banking & Payments Federation Ireland said its member will be reviewing the changes announced today.
"BPFI and its members recognise the critical importance of ensuring the stability of the banking system while providing essential credit to potential home buyers and protecting Irish households from the risk of over-indebtedness," he said in a statement.
"The sector recognises the role that the Macro-prudential rules have played in ensuring more prudent lending, a reduction in the overall levels of consumer indebtedness, and the establishment of reasonable and transparent requirements expected of customers seeking mortgage approval. We support the implementation of the mortgage measures for those important reasons," he added.
People Before Profit TD Richard Boyd Barrett told the Dáil that the Central Bank's decision risks repeating the mistakes of the Celtic Tiger by saddling another generation with crippling debts if interest rates go up.
Sinn Féin's Finance spokesperson Pearse Doherty said the Central Bank's decision is a direct result of a failure in Government housing policy.
"How are they able to convince us that this is not just going to lead to higher indebtedness, that this isn't going to put pressure on house prices," he said.
Mr Doherty said house prices will increase when there is more credit in the market but people are still chasing the same number of homes.
"The concern here is by allowing people, even a small number of people to borrow more - because there's a small number of homes available, then it pushes up house prices because everybody has the ability to borrow that extra €30,000/€40,000, so therefore, everybody now just has more money in their pockets to chase the same and outbid the same type of houses."
He said the Central Bank will have to carefully monitor the situation.
But a financial mortgage specialist has said the Central Bank changes to its mortgage lending rules will result in some people being able to buy a home that would not have been able to under the current criteria.
Speaking on RTÉ's Morning Ireland, Michael Dowling said the changes will, however, not change the fact that it is not easy to get a mortgage.
We need your consent to load this rte-player contentWe use rte-player to manage extra content that can set cookies on your device and collect data about your activity. Please review their details and accept them to load the content.Manage Preferences
He said the changes are not "extreme" and income is only one aspect that is assessed in granting a mortgage.
"It's not going to take away from the fact that it's not easy to get a mortgage, and a multiple of your income is one part of the test in getting a mortgage," he said,
The mortgage specialist also said he does not think the Central Bank changes will increase house prices in an environment where interest rates are rising.
Mr Dowling said that single applicants will always struggle to get mortgages because there is only one salary to be used in calculating repayment.
He said that anyone who earns under €60,000 is not entitled to an exemption to the loan to income ratio currently, so it will only be people earning above that who were able to avail of this.
Ireland is unlike other European countries as is "an outlier" in loan to income restrictions, he also said.
He said that only two other countries in Europe lend based on loan to income multiples - Denmark, which lends currently at four times - and the UK, which lends at four and a half times income.
"All other countries in Europe lend based on your net income as a percentage of the mortgage amount. And typically, that ranges between 30 and 40% in Europe," he added.
Mr Dowling also pointed out that today's change to lending rules will not in any way affect the number of homes available to buy.