AIB said it has signed a Corporate Power Purchase Agreement (CPPA) with NTR to source energy generated from two solar farms NTR will build in Co Wexford.
News of the deal comes as the bank holds its sixth annual Sustainability Conference on the theme "No Time to Waste".
Speakers at the conference include Cate Blanchett, Global Goodwill Ambassador for UNHCR, the UN Refugee Agency, and Dr Jane Goodall, the founder of the Jane Goodall Institute.
AIB said it is the first Irish company to conclude such a deal with NTR, which it said will help it deliver its commitment to source 100% of its power requirements from certified renewable energy sources by 2030.
The two solar farms at Enniscorthy and Gorey combined will result in 21.4 GWh of new renewable energy being placed in the Irish grid.
This will provide up to 80% of AIB Group's electricity needs to service its retail and office network of over 270 properties while providing additional generation capacity into the national grid at a time when the country faces energy supply challenges.
The bank noted that given that visible light drives solar panels, Ireland's long summer days, particularly in the sunny south east of the country, make solar an important resource for Ireland to develop.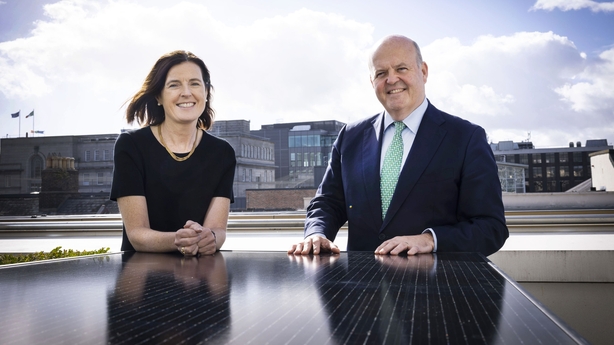 AIB's chief executive Colin Hunt said that sustainability is a key strategic priority for AIB as it seeks to help protect its fragile planet from the devastating impact of climate change by reducing its own carbon footprint and helping its customers to do the same.
"We are delighted to partner with NTR on this innovative project to enable two new solar farms to be built in Ireland, guaranteeing that the electricity we use to power AIB's own operations will be certified to a fully traceable renewable solar energy source," he said.
NTR CEO Rosheen McGuckian said that corporate PPAs such as this are an integral part of the solution to drive the clean energy transition across European markets.
"It is particularly gratifying to sign a PPA in our home market with AIB who is leading the charge for Irish companies in embracing this way to access clean affordable power. AIB's dedication to sustainability is clear, and we're excited to be partnering with them to help them achieve their vision," she added.