Nearly 900,000 international tourists visited Ireland in September, down 9% on the same month in 2019.
New figures from the Irish Tourism Industry Confederation (ITIC) show so far this year, visitor numbers are down 20%.
338,000 people visited from continental Europe last month, down 5% on 2019 - making it the strongest performing market.
Meanwhile, the North American market continued to recover, with 230,000 visitors during the month.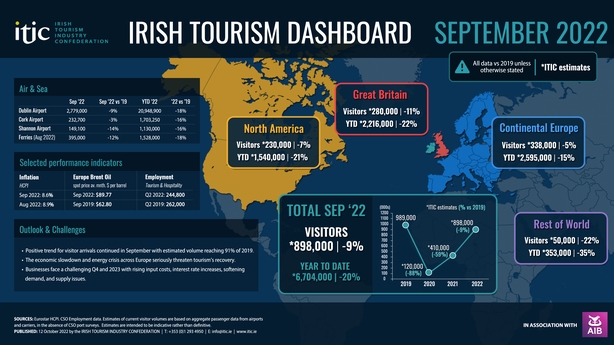 The ITIC said it was concerned that the recovery of the sector would be threatened by soaring cost inflation, the energy crisis and supply constraints.
Eoghan O'Mara Walsh, CEO of ITIC, said members such as hotels and restaurants, were reporting that energy bills had jumped "to unsustainable and unprecedented levels" warning that profit margins "have come under serious pressure".
Mr O'Mara Walsh welcomed the Temporary Business Energy Support Scheme announced in last month's budget but criticised the Government for not extending the tourism VAT rate of 9% beyond February.
"20,000 tourism and hospitality businesses up and down the length and breadth of the country are facing soaring energy and cost inflation," he said.
"The thought that Government would add to business woes early next year by hiking the Vat rate by 50% beggars belief," he added.