Aviation has not yet recovered from the pandemic but is not in a bad place, the head of the European air traffic control agency has said.
Irishman Eamonn Brennan, who is director general of Eurocontrol, said that over the summer the level of air traffic in European airspace returned to 87% of 2019 levels, with 30,278 flights a day.
But he said the recovery has not been even and last week, for example, while flights on routes between Europe and North America were down -4% on the same week three years ago, on routes to and from Asia, flights were still -29% lower.
Addressing his organisation's conference in Brussels, Mr Brennan said the recovery for airlines has not been uniform, with Ryanair flights up 16% last week on the same period in 2019, but some long-haul legacy carriers such as Lufthansa down as much as -25%.
Mr Brennan said cancellation levels between June and September, when many airlines struggled to cope with huge demand, were 6.6% on average across the EU, but higher among some carriers.
While arrival and departure punctuality so far this year are both down 6% on the same period in 2019.
Mr Brennan also told delegates that high oil prices are hitting everybody in the sector.
"Generally inflation is really nailing us very hard here in Europe," he stated.
He said the Ukraine war has decreased available airspace in Europe to 80% of pre-pandemic levels, because overflights of Russian territory have been restricted.
As a result, long-haul flights are now using airspace once only occupied by short-haul, creating congestion, he said.
"So it is like the bucket basically has got smaller and the water has got just a little bit bigger," he claimed.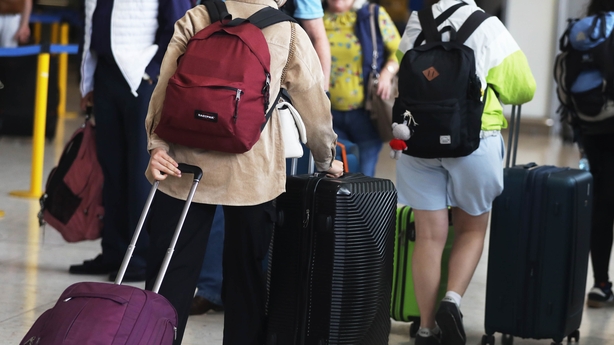 Looking ahead to next summer, Mr Brennan said it doesn't look that good at the moment.
He said airlines continue to add capacity, but the war in Ukraine if it continues will force airspace closures.
Air traffic control strikes will still be there, he added, and there is also a question mark around airport capacity, although he expressed optimism that it could be sorted out in time.
"I'd be kind of confident we will get a better outcome next year because we have a better lead in time," he said.
Mr Brennan said progress on reforming air traffic control in Europe to cope with sustained traffic growth, under the Single European Sky initiative, has stalled.
"The reality is we are not making progress on this," he claimed.
On sustainability in the sector, Mr Brennan said Eurocontrol produced a paper last year which showed raising taxes on aviation didn't reduce the amount of flying people did.
"I think something, a little bit more incentivisation, is needed, to lure people into different types of stuff, but I don't think actually taxing aviation delivers it," he said.
He added that it would be very difficult to get something agreed globally on carbon reduction in the aviation sector.