Ryanair has announced plans to grow its workforce in Ireland by 2,000 over the next eight years.
The positions will include roles for pilots, cabin crew, engineers and IT developers.
The carrier is planning to grow its annual passenger numbers by 10 million between now and 2030 as it continues its expansion.
Ryanair currently employs 2,600 people in Ireland and 17,000 across its international network.
The news comes as the airline published a report outlining its contribution to the Irish economy over the past 35 years.
"From very modest beginnings in Waterford, Ryanair has grown to become Europe's largest airline, and the world's number 5 airline by passenger volumes," Ryanair DAC's CEO Eddie Wilson said.
"However, we are now embarking on a new decade of growth and investment here in Ireland," Mr Wilson said.
"In partnership with our main airport partners at Dublin, Cork, Shannon, and Belfast, Ryanair plans to grow Irish traffic from 20 million to 30 million a year over the next decade," he added.
Today's analysis, compiled by PwC, found Ryanair currently operates 200 routes out of seven airports around the country, carrying 20 million passengers a year.
The airline supports over 26,000 jobs in Ireland every year, it also concluded, with the company itself and passengers it carries spending more than €1.5 billion here per annum.
It also found that since 1985, the airline has carried 230 million passengers to and from the country.
With the airline recovering faster than any other EU-based competitor, clocking up 15% growth here this year compared to pre-pandemic, the company has outlined growth plans for the future.
This includes the arrival into Ireland of some of the 210 new Boeing 737 Gamechanger aircraft, a new maintenance hangar in Shannon and the opening of a new €8m engineering excellence centre of excellence.
The company's technology arm, Ryanair Labs, is also to grow from 600 to 1,000 staff over the next five years.
"We call on the Irish Government to pursue policies to promote low-fare connectivity, and reduce the environmental impact of air travel by pushing for urgent reform of Europe's chronically inefficient ATC system, and opposing unfair environmental taxes which penalise the most efficient point to point flights, while exempting the most polluting long-haul and connecting flights across Europe," Mr Wilson said.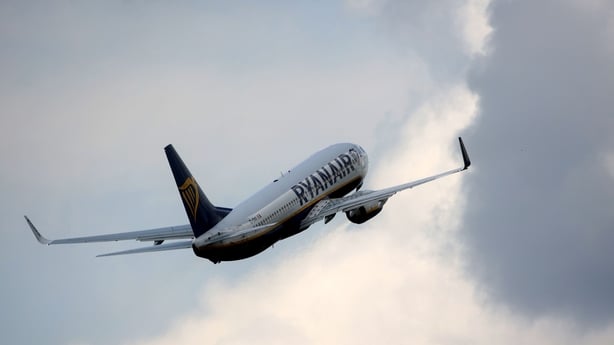 "As a peripheral country on the edge of Europe, it is vital that Ryanair continues to promote low-cost environmentally efficient connectivity for Irish citizens/visitors to Europe and the world, and also that we continue to bring many millions of European visitors to Dublin and the regions of Ireland on a year-round basis," he added.
Leo Varadkar said Ireland can be proud of Ryanair as an Irish company and a "driving force for change".
"As an island, we rely heavily on our connectivity with Europe and the inbound tourism it brings," he said.
"There's more good news today with Ryanair's commitment to grow its Irish passenger numbers to 30 million per annum, to create over 2,000 new high-skill jobs and invest further in its seven airports in Ireland," he added.
Meanwhile, Mr O'Leary described recent energy policy decisions in the UK as "nuts".
He said you cannot have an energy guarantee that runs for two years that is completely uncosted.
"I think it could bankrupt the UK economy in the next two years," Mr O'Leary claimed.
"We've been there with the bank guarantee back in 2007/2008. We can't go back there again."
Speaking at the event, the Tánaiste said he is not unduly concerned about the economic situation in the UK, but added that the Government is paying attention to what is happening as the UK is our nearest neighbour and one of Ireland's biggest trading partners.
"Just as it is the case with the United States or the euro zone, if one of our major trading partners goes into recession that has an impact on us and so we really just are looking closely at the situation in other countries, but I'm not unduly concerned at this stage," Leo Varadkar said.
Questioned about yesterday's budget, Mr O'Leary said that care had to be taken to ensure the budget here is not inflationary, but added that he thinks the Irish Government pitched it sensibly.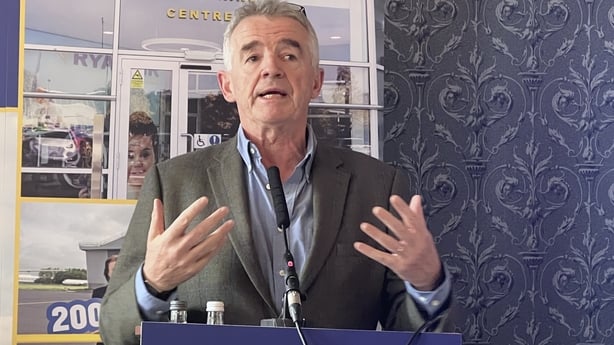 He said he would not personally agree with some of the spending decisions.
"As the father of four children, I don't need additional children's allowance, a supplement to my children's allowance," said Mr O'Leary, who is one of Ireland's wealthiest businessmen.
Mr O'Leary welcomed the move to increase the upper limit of the point at which people must pay the higher rate of tax, as a "great first step".
He said people who are working and working families must be allowed to keep more of their money.
The CEO added that he would like to see the Government increase it further in the next couple of budgets.